Small Startup Company Invents New Infrastructure Tools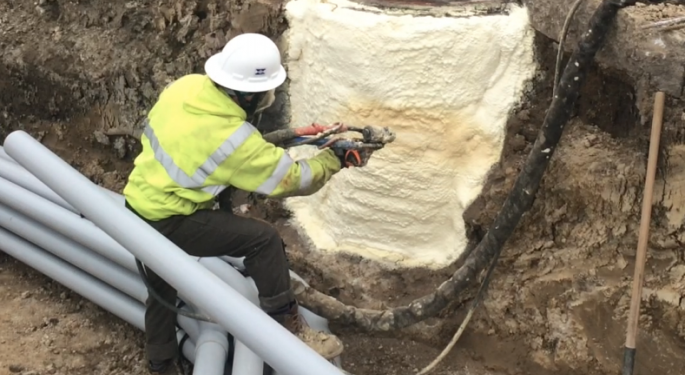 Infrastructure is a rising issue across the United States. How to best approach fixing these systems has been contemplated for a long time. A company called Havener Tech has stepped in with a new process to help make fixing infrastructure a simpler task.
From Startup To Federal Level
Havener Tech began several years ago with a company called Detroit Thermal. Havener was initially brought down to spray polymer inside of vaults to try and keep the water from hitting the pipes. From there, the relationship between Havener Tech and Detroit Thermal blossomed. This was the beginning of Havener Tech's expansion as a small startup business to help make fixing infrastructure more affordable and accessible.
Havener Tech began inventing with distributors and manufacturers different coatings for actual pipes. What Havener Tech strives to do is solve century-old problems of how to protect pipes, but also insulate them so they don't lose their steam.
Related Link: Young Entrepreneurs Join Forces To Create PWR Detroit
"The spray insulation works by achieving a complete thermal barrier which is an air and vapor barrier. It essentially air seals whatever we're spraying it against," said Roscoe Serrels, vice president and head of insulation and coating. "What we're trying to achieve is the thermal productivity of a building. There's no heat transfer in regards to convection, conduction and radiation."
Senior Vice President Mike Guerin explained how — in terms of infrastructure — their product is a very fast, efficient, lost-cost, maintenance product that is about 25 percent less expensive than the traditional replacement of a lot of the structures Havener Tech has dealt with in the past.
Relationship With DTE Energy
Guerin talked about some of the work Havener Tech has done with DTE Energy.
By using the polymer insulation, Guerin said DTE doesn't have to remove the infrastructure and put in a new one. Guerin explained how DTE uses the insulation in their vaults for water stoppage.
Furthermore, Guerin explained the importance of the product in this situation and how there's water coming into vaults that shouldn't come in contact with high voltage power.
"We can use the insulation to actually seal the vault. We can get it water tight," Guerin said.
Farmington Hills' Usage
The director of public services in Farmington Hills, Kevin McCarthy, said the city has been using Havener Tech's product for a couple years ever since they started the process. McCarthy said it's a really good product, he has tested it a couple times with Havener Tech and even paid Havener Tech to see a demonstration.
"We had them do a couple of projects for us for catch basins that had failed. We liked the product so much that we went out for bid with a contractor and extended the bid to other communities," McCarthy explained.
McCarthy said he calls Havener Tech in when they are needed, and they put their product in the ground.
"They are a real good company. They have saved us a lot of headache and a lot of money," McCarthy said.
The work that Havener has been doing is beginning to spread among municipalities.
Ohio DoT
Havener Tech was approached by Ohio Department of Transportation where they are currently rebuilding section of I-475 outside of Toledo. They were asked to insulate, coat and line 20 new catch basins.
Related Link: Citizen Yoga Opens The Door For Yoga Community
"When we talk about insulation, you can think about it in terms of insulating your house. You spray the rafters and after you spray rafters, the cool or warm air from outside can't infiltrate the foam," said Jeff Henning, vice president.
Henning elaborated on how exactly the spray foam is created. Henning said there is a two-part chemical solution to create a reaction that produces the spray foam.
"You can spray the foam and it expands, filtrates, fills. Then it hardens," Henning explained. "It's bulletproof. You can think of it as insulation but it's also a filling, expanding, and supporting and protective material as well."
The foam turns into a rigid plastic when it hits the surface and cools. Henning said you can think of the foam as classic insulation.
"We invented our process and our technology is now being introduced on a federal level. This is pretty exciting for a small startup company in a quick amount of time," Guerin said. "To go within a couple years from startup level to federal level is unheard of. This is pretty encouraging for us."
Image Source: Used with permission, courtesy of Havener Tech.
Do you have ideas for articles/interviews you'd like to see more of on Benzinga? Please email feedback@benzinga.com with your best article ideas. One person will be randomly selected to win a $20 Amazon gift card!
Posted-In: Detroit Thermal dte energyNews Success Stories Startups Exclusives Interview General Best of Benzinga
View Comments and Join the Discussion!