Markets Await FOMC Meeting Minutes for Direction
Can you hear that finger thumping on the desks around you? That's the drumming of impatience as the markets appear to be waiting, waiting, waiting for some direction from the Federal Reserve on what direction it will take on interest rates.
That is expected to come this afternoon, at 2 p.m. ET, when the Fed releases its minutes from the July meeting of the minds of the Federal Open Markets Committee. The FOMC briefing typically offers some insight into the thinking of the Fed and analysts say last month's deliberations, followed by its first bullish statements about the economy after a healthy June jobs report and long after the sell-off of the Brexit vote, may give investors a true glimpse of when to expect a hike in interest rates.
In the meantime, the markets appear to be in wait-and-see mode, hugging the flat line in the early going. What direction will they go once the minutes are released?
Yesterday, the three major benchmarks pulled back from Monday's record-setting closing positions after markets overseas retreated coupled with hawkish statements from three Federal Reserve members. Volume was still at a seasonal trickle as the three dropped less than 1% each in tandem.
The Dow Jones Industrials Average (DJIA) gave back 84.03 points to settle at 18,552.02, off 0.45% while the S&P 500 (SPX) lost 12 points, or 0.55%, roughly double Monday's gains, to close at 2,178.15. That marked the SPX's 27th straight session without a move of 1% in either direction, underscoring how little movement there has been in the markets while the benchmarks have been trading near record territory.
The only sector to move ahead among the SPX's 10 biggest was energy, which followed the four-day rally in oil prices. West Texas Intermediate (WTI) logged a 1.8% gain to end at a support level of $46.58 a barrel, setting a fresh one-month high as it inches its way closer to a key resistance level of $50 a barrel. It was moving sideways in the early going.
The Nasdaq Composite Index (COMP6) snapped a three-day advance by falling 34.90 points to 5,227.11, or 0.66%. All three indices have moved in lockstep for the better part of a month.
Yesterday's pullback was evident even before the open but analysts said the session lows at the finish appeared to be wrenched by Federal Reserve comments that an interest rate hike may indeed be on the table yet this year, something the futures markets have scoffed at for many months. Those remarks by New York Fed President William Dudley and Atlanta counterpart Dennis Lockhart may have caught the attention of futures traders who marginally upped odds higher of a move this year, according to CME futures.
Dudley said in a television interview (see below) that policy makers may act as soon as next month to boost interest rates, while Lockhart says he envisions at least one increase and maybe even two in 2016, according to his Fed speech. That may have been behind spikes in CME futures odds of a move this year to 51% from where they stood at 36% at the end of July.
Treasury yields picked up, possibly after Dudley also said that the outcome of the presidential race will not have any impact on what direction the Fed chooses on interest rates. Yields, which rise when bond prices fall, on the benchmark 10-year notes climbed 2.2 basis points to 1.576% from 1.554% Monday.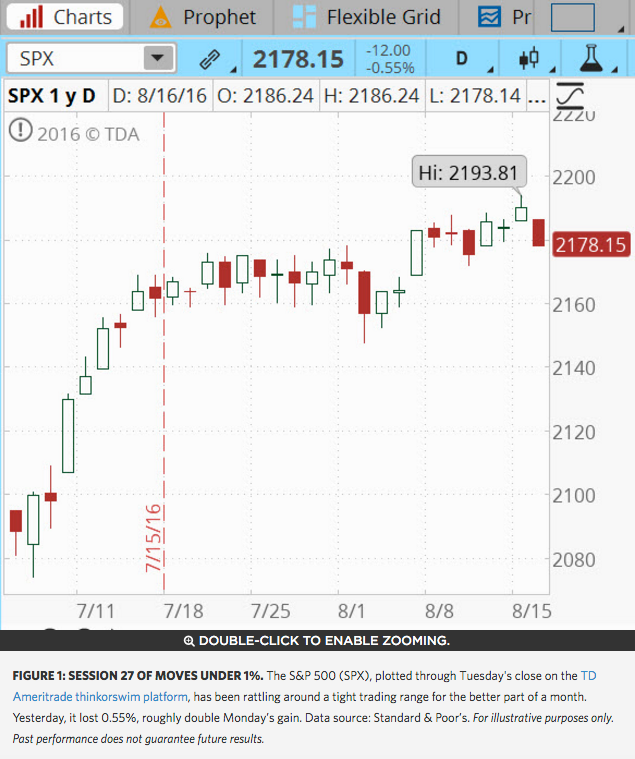 Why Did CME Futures Climb? Could it be hawkish comments from New York Fed President William Dudley? Analysts pontificated yesterday that it may have been his interview with the Fox Business News network. His hawkish comments appeared to have moved the futures market probability for a hike this year above that 50%-50% point for the first time in many months, they said. In the interview, widely reported by other media outlets, Dudley said futures expectations are "too low," noting that the "market is complacent about the need for gradually snugging up short-term interest rates over the next year or so.
"We are looking for growth in the second half of the year that will be stronger than the first half," Dudley said. "I think the labor market is going to continue to tighten, and in that environment I think we are getting closer to the day where we are going to have to snug up interest rates a little bit." (Does "snug" suggest tight rate moves?)
Why does this all matter? Some analysts believe, and at times the markets appear to have acted accordingly, that if interest rates start to climb off of their historically low perches, the stock markets will spiral downward. All three have notched record closes in recent sessions, and all together twice, which hasn't happened since Dec. 31, 1999. Oh, and there's this, analysts point out: Dudley is a close ally of Chair Janet Yellen, and they say his views may hold more weight with the person who ultimately calls the shots than some other members do.
Then There Are the FOMC Minutes. Analysts say this puts a spotlight on today's release of the comments made during last month's Fed policy meeting when interest rates were held steady. The Fed comments at the time were parsed with a fine-tooth comb, as they usually are, and analysts pointed to a first-time mention that the "near-term risks to the economic outlook have diminished." They say they will be looking for other remarks in the minutes that might offer clues as to what direction Fed policy is likely to go, particularly after last month's recent blowout jobs number.
And Now for Something Completely Different. American consumers have kept more than $38.4 billion in their pocketbooks so far this year because of lower gasoline prices, according to GasBuddy.com. "Thank the continued imbalance in supply and demand for resulting in lower crude-oil prices, as well as refiners that have continued to amply supply the market with gasoline this summer," Patrick DeHaan, senior petroleum analyst at GasBuddy, told MarketWatch.
Prices for regular gas stood at $2.31 a gallon yesterday, according to the retail fuel-pricing information provider. That's roughly $0.55 a gallon below prices at this time last year. What's more, DeHaan says prices at the pump are going to keep falling for the rest of the year and could be as low as $1.67 a gallon by December. If the trend is on point that might mean that consumers will have saved upwards of $45 billion to $50 billion by year's end, according to GasBuddy's calculations.
MarketWatch points out that's a big if and bars any unexpected changes or disruptions in output and/or transport caused by anything from terrorist attacks to major hurricanes, or from production or price decisions by OPEC, the Organization of Petroleum Export Countries.
TD Ameritrade and all third parties mentioned are separate and unaffiliated companies, and are not responsible for each other's policies or services.
Inclusion of specific security names in this commentary does not constitute a recommendation from TD Ameritrade to buy, sell, or hold.
Market volatility, volume, and system availability may delay account access and trade executions.
Past performance of a security or strategy does not guarantee future results or success.
Options are not suitable for all investors as the special risks inherent to options trading may expose investors to potentially rapid and substantial losses. Options trading subject to TD Ameritrade review and approval. Please read Characteristics and Risks of Standardized Options before investing in options.
Supporting documentation for any claims, comparisons, statistics, or other technical data will be supplied upon request.
The information is not intended to be investment advice or construed as a recommendation or endorsement of any particular investment or investment strategy, and is for illustrative purposes only. Be sure to understand all risks involved with each strategy, including commission costs, before attempting to place any trade. Clients must consider all relevant risk factors, including their own personal financial situations, before trading.
TD Ameritrade, Inc., member FINRA/SIPC. TD Ameritrade is a trademark jointly owned by TD Ameritrade IP Company, Inc. and The Toronto-Dominion Bank. © 2016 TD Ameritrade IP Company, Inc. All rights reserved. Used with permission.
Posted-In: News Futures Economics Federal Reserve Markets General
View Comments and Join the Discussion!