Trump's No Good, Very Bad Week In Numbers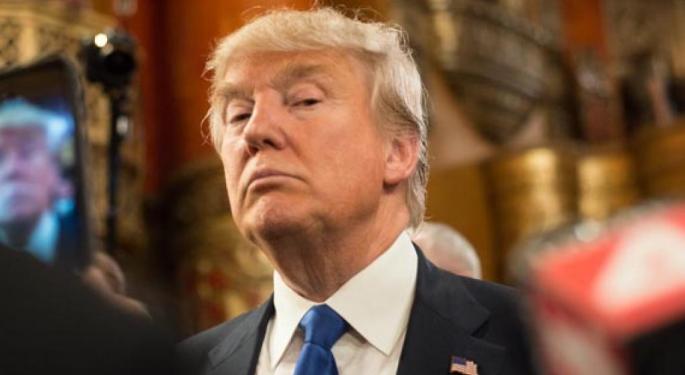 If you Googled "Bad Week, chances are you would find news about Donald Trump.
So, why was this week so terrible for Trump?
The worse news probably came from polls this week, which showed Hillary Clinton gaining traction.
Related Link: The Man Who Knows Trump's Business Better Than Anyone Else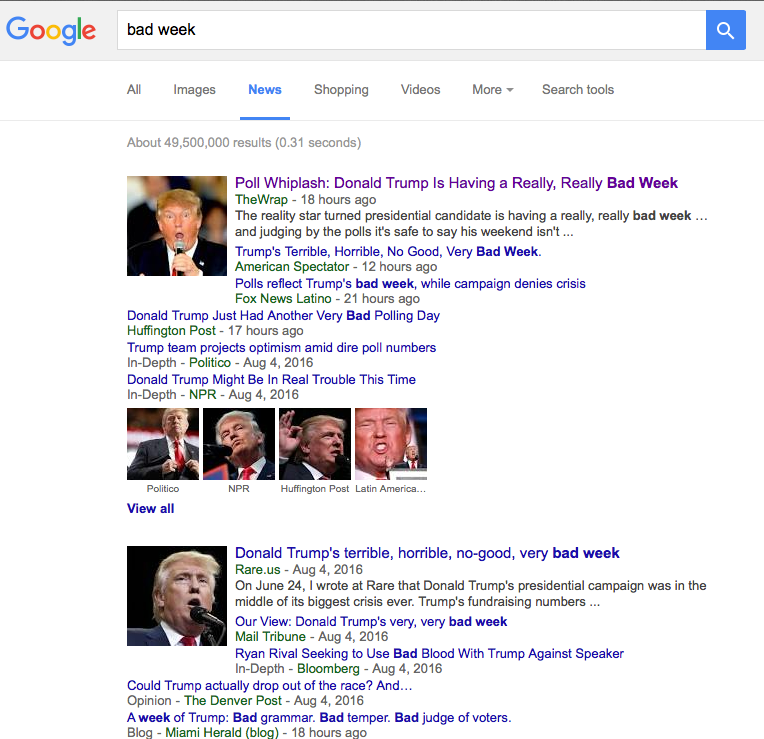 According to an NBC News/Wall Street Journal survey, Clinton has a 9-point lead over Trump, with 47 percent of respondents declaring intentions to vote for the former, versus 38 percent for the latter.
A Fox News poll gave Clinton a 10-point lead, with the scoreboard marking 49 percent to 39 percent.
Another poll conducted by McClatchy-Marist said the Democratic candidate had in fact a 15-point lead – 48 percent versus Trump's 33 percent. Interestingly, the study revealed that the Republican candidate is even losing ground among traditionally red demographics.
Finally, FiveThirtyEight's polls-plus forecast predicts Clinton will win by roughly 4 percentage points on the presidential election of November 8.
Related Link: What Presidential Candidates Think About Marijuana Policy And Legalization
On a state level:
Suffolk University learned that Clinton has a 6-point advantage in Florida, one of the most important swing states.
Franklin & Marshall found that Trump had an 11-points disadvantage in the highly relevant Pennsylvania.
WBUR discovered a 15-point lead for Clinton in New Hampshire.
WDIV-TV noticed that the Democrat had a 9-point advantage over the Republican.
The Atlanta Journal gave Clinton a 4-point lead in Red state Georgia.
A Detroit News survey had Clinton 4 points ahead of Trump in Michigan.
Declining GOP Support
Beyond the polls, a series of prominent Republicans bailed on Trump. The disenchanted range from strategist Cyrus Krohn to Meg Whitman and Seth Klarman, to former GOP Senator Gordon Humphrey. Other notable Republicans who have withdrawn their support for Trump include Barbara Bush, Jeb Bush, Mitt Romney, Richard Armitage, Hank Paulson and Sally Bradshaw.
Related Link: Clinton's Campaign Money: Attorneys And Hedge Funds Are Crucial
This week, Trump was also caught in a spiral of criticism after criticizing the parents of a Muslim-American soldier who died in action.
Blind Eyes
Despite all of the bad news, Trump's followers and campaign team remain optimistic. Campaign chairman Paul Manafort repeatedly assured there is still time to recuperate the ground lost, adding that the team remains very confident, especially as contributions hit a record high of $80 million in July.
Posted-In: Donald Trump Hillary ClintonNews Politics Events General Best of Benzinga
View Comments and Join the Discussion!