Citizen Yoga Opens The Door For Yoga Community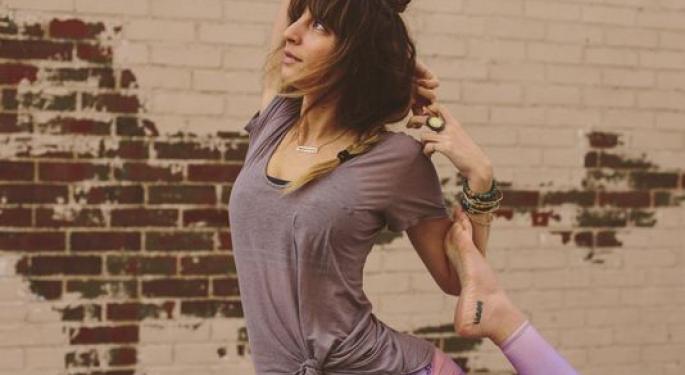 Kacee Musts' passion for yoga began when she was only 10 years old. Yoga turned into a family activity for Kacee and her family. Since Kacee first discovered her passion for yoga, her love for yoga has continued to grow exponentially.
Kacee decided to open her own studio after she moved back from India, where she studied yoga philosophy at Vedanta Academy.
"In the area, nobody had been teaching any form of alignment-based vinyasa. Citizen yoga was the first alignment-based studio in the area to do that," Kacee explained.
Kacee wanted to create a true community where people acknowledge each other and see each other, which is something that upon returning from India she didn't feel like existed yet in Michigan.
"Yoga is the ability to create a relationship with the body and the mind. When you create any form of connection, the integration allows you to gain more perspective," Kacee said.
Kacee explained how her experience in India taught her to value to perform in action just for the sake of performing in action. She said one of the main aspects of business that has really helped her grow her company is to not do something because you're going to get something out of it, but just to do the right thing because it's the right thing.
Related Link: The History And Growth Of Detroit's Campus Martius
Opening And Expansion
The first Citizen Yoga studio opened in Royal Oak on August 18, 2013. The next studio opened in Detroit on January 5, 2015. Citizen Yoga has plans for much greater expansion to launch new studio locations in the near future.
"We hope to grow what we've grown in each place which is community that is truly connected. Whether that's in Bloomfield Hills, Detroit, or our next city out of state, our goal will always be to authentically connect with the surrounding city and bring a greater sense of capability and happiness and joy to whatever surrounds us," Kacee said.
Serving People
In Detroit, Citizen Yoga hopes to expand their subsidy program so they can offer more de-stressing yoga classes for people who work downtown. Kacee said that's one of their biggest goals. Currently, Citizen Yoga has a total subsidy program with Quicken Loans where all employees have access to $5 drop-ins.
Citizen Yoga also offers a free class in Grand Circus Park every Sunday and a free community class every Sunday at 4 p.m. ET. Citizen Yoga's third birthday is in August and they're holding a huge free class out in the belt.
Kacee explains how Citizen Yoga does a lot of outreach events. A couple weeks ago, they held a yoga event at the Detroit Zoo where over 600 people attended. They also hold a yoga class in the Big House at the University of Michigan.
"I think some of the greatest tools that I learned in the academy is the idea of service and truly serving people from place of unselfishness," Kacee explained. "Just showing up for people because it's the right thing to do in action more unselfishly or as unselfishly as possible."
Improve Your Life
Kacee describes yoga as a practice where she encourages through different tools of breath to essentially create an introspective experience. She said when you're introspective and reflective, you can see more objectively different patterns that you participate in or don't participate in. This practice ultimately helps decrease stress, change your behaviors, change your actions, and change your stress levels.
"We like to equip people with effective coping skills and that's how we empower you. Just because you are a human being doesn't mean you are equipped with coping skills, it means you have potential for them and actually use them is a completely different thing," Kacee said.
Citizen Yoga teaches you through practice how to equip yourself with coping skills. You have to think of poses like daily life experiences. Every pose offers you a different type of experience, Kacee said.
"Some are difficult, some are things you don't like, some are things that you love, some are things that make you feel defeated, and throughout all of that then you find this piece of you that objectively experiences them and when you need it outside of this space, you know how to better handle it whether it's through breath or perspective," Kacee explained.
Posted-In: Citizen Yoga DetroitEntrepreneurship Startups Small Business Exclusives Interview General Best of Benzinga
View Comments and Join the Discussion!