New Product Aims To Combat Dangerous Artificial Blue Light Exposure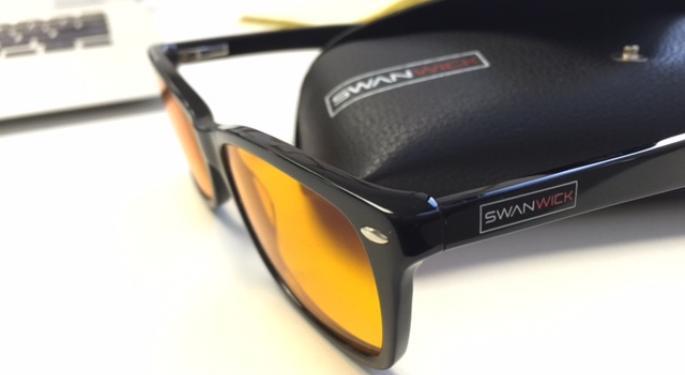 Artificial blue lights are emitted by countless appliances, from computer monitors to cellphone screens, and the light is not harmless.
New studies continue to highlight the effect artificial blue light emitted from electronics have on user health.
However, companies and entrepreneurs alike have taken a keen interest in combating these ill effects. For example, Apple Inc. (NASDAQ: AAPL) took notice and added a night shift feature on the latest iOS update to combat this problem.
Entrepreneur James Swanwick has taken this a step further and created glasses that help wearers reduce their exposure to artificial blue light.
Swannies
The product is called "Swannies," and it continues to gain traction on Amazon.com, Inc. (NASDAQ: AMZN).
"People don't realize that artificial blue light is tricking your body and brain into thinking its daytime, because of this your body is not creating melatonin needed to sleep," said creator James Swanwick.
Related Link: BMO Plays Nice With Mattel, Puts Hasbro On The Shelf
Swannies have already caught on with celebrities Arnold Schwarzenegger, Superbowl MVP Von Miller, Terrell Owens and "Game of Thrones" actor Alfie Allen.
Effects Of Electronic Use On The Body
As the world becomes increasingly dominated by electronic use, society often remains unaware of the affects electronic use has on sleep and overall health. Because of the universal prevalence and reliance on electronics, the issue is likewise universal, affecting the vast majority of the American population.
Recent studies have found that adults now spend half of waking hours on digital devices and 90 percent of Americans use some type of electronic device at least an hour before bed.
"Your body takes about 90 minutes to really start producing melatonin, if you are not blocking that blue light, then your body is missing out on that deep REM sleep, the most restorative elements," said Swanwick.
A Harvard study warned that exposure to artificial blue light has been linked to diabetes, obesity and even cancer.
Swannies' Goals
Swannies combats this problem by blocking almost 100 percent of the dangerous blue light, and users have reported numerous health benefits while wearing the glasses.
"They will feel sleepier, sleep deeper in the night, and be more refreshed and energized when they wake up with an increased level focus and productivity," added Swanwick.
Swannies are available on Amazon and at swanniesglasses.com.
Did you like this article? Could it have been improved? Please email feedback@benzinga.com to let us know!
Posted-In: blue light James Swanwick SwanniesNews Health Care Success Stories Tech General Best of Benzinga
View Comments and Join the Discussion!