Failed Turkish Coup Consequences: Heightened Western Tensions, Increased Authoritarianism And 'Fleeing' Foreign Capital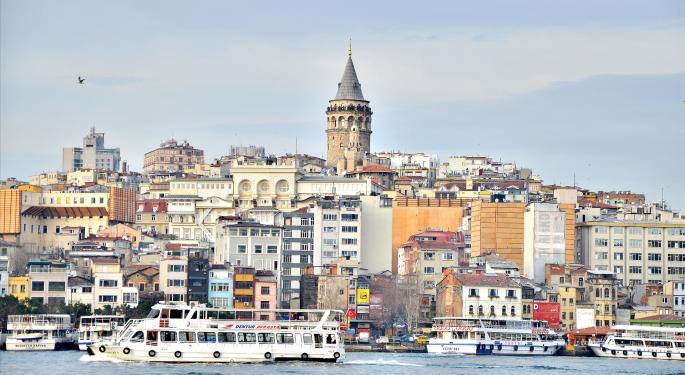 The recent failed coup d'état in Turkey attempt has caused headaches for Turkish investors due to three immediate consequences from the event.
These reactions include increased U.S./E.U.-Turkey relations, heightened authoritarianism from Recep Erdogan, president of Turkey and increased uncertainty over Turkey's future leadership structure.
U.S.-Turkish Tensions
According to Bloomberg, Erdogan accused a Muslim cleric by the name of Fethullah Gulen, living in Pennsylvania's Pocono Mountains, for plotting the weekend's military coup. Some Turkish officials even accused the United States of playing a role, according to Bloomberg's Eli Lake.
The Erdogan administration "has been pressing the Obama administration for more than two years to extradite Gulen," but has found no success said Lake.
Related Link: Keys To More Upside For The Turkey ETF
According to the Huffington Post, Gulen preaches a "new, modern form of Islam" that opposes Erdogan on major issues.
Heightened Authoritarianism
According to the Telegraph's Henry Bodkin, over 6,000 people have been arrested in the crackdown, with the death toll from the event at 294 thus far. Knowing Erdogan's authoritarian policies, world leaders on Sunday expressed their fear that Erdogan would use the coup as an opportunity to crack down upon his opponents.
Re-instituting the death penalty, which the country abolished in 2004, is one of the feared possibilities Erdogen could enact as a consequence of the coup said Bodkin.
Turkey And The EU
According to the Telegraph, "Guenther Oettinger, the European Commissioner, said Mr Erdogan would move Turkey away from the core values represented by the EU and the Nato defence alliance, of which Turkey has been a crucial member in the fight against Isil, if he decided to use the attempted coup to restrict basic democratic rights further."
What Does That Mean For Investment?
According to Brian Jacobsen, chief portfolio strategist at Wells Fargo Funds Management LLC, foreign investment was expected to "flee" from Turkey. "We are probably going to see foreign capital fleeing the country, because the political instability creates additional risks that investors don't need," said Jacobsen.
Companies with significant exposure to Turkey traded on American stock exchanges include Turkcell Iletisim Hizmetleri A.S. (ADR) (NYSE: TKC), Turkish Investment Fund Inc (NYSE: TKF) and Yandex NV (NASDAQ: YNDX).
Relevant ETFs include Ishares Msci Turkey Inv Market Index Fd (NYSE: TUR) and SPDR S&P Emerging Europe (ETF) (NYSE: GUR).
Did you like this article? Could it have been improved? Please email feedback@benzinga.com with the story link to let us know!
View Comments and Join the Discussion!
Posted-In: News Sector ETFs Short Ideas Emerging Markets Eurozone Emerging Market ETFs Politics Events Best of Benzinga