Here's Why Valeant Is Happy To Relinquish Its European Brodalumab Rights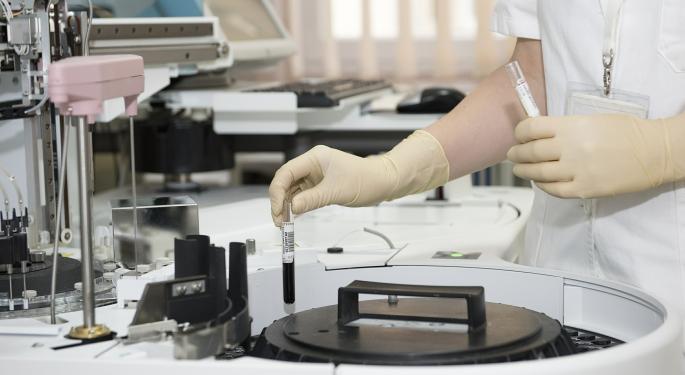 Valeant Pharmaceuticals Intl Inc (NYSE: VRX) announced last week that it had accepted an upfront payment and a schedule of milestone payments for relinquishing the European rights to a drug it had developed in conjunction with AstraZeneca plc (ADR) (NYSE: AZN). The drug in question is Brodalumab, a plaque psoriasis indication, and the announcement is particularly timely as its US advisory panel review date is set for July 19 – a week on Tuesday. Why was Valeant happy to give up the rights so readily, and what does it mean for the parties involved going forward? Let's take a look.
First, let's look at the drug in question and a bit of the science behind its mechanism of action (MOA).
It's a plaque psoriasis indication and its part of a family of drugs called IL-17 receptor inhibitors. The MOA is not all that complicated. IL-17 is a cytokine that activates its host IL-17 receptor, and on this activation, induces inflammation. Most people are aware that psoriasis is an immune disorder – disorders that come present when the immune system over responds to an internal stimulus. In psoriasis, this over response involves the excessive rushing of something called monocytes to the site of IL-17 activation. Monocytes cause inflammation, and this inflammation causes the common red, pink skin abrasion and silvery plaques associated with the condition. This can happen pretty much anywhere in the body, hence the widespread nature of plaque psoriasis when it takes hold.
Related Link: Valeant Crossed $20 Today; Rodman & Renshaw Sees Shares Getting To $90
Brodalumab, according to the data that supports its NDA, inhibits the IL-17 receptors, meaning the IL-17 cytokines cannot active them. Without activation, the excessive monocytes don't flood the site in question, and the inflammation doesn't occur. No inflammation, no psoriasis. Or at least, that's the theory. And there's some pretty strong data to support the theory. IL-12 inhibitors are already a go-to drug in the plaque psoriasis space, and Brodalumab beat out one of the current SOCs head to head. It also showed a (somewhat) favorable safety profile – we'll get to this in a little more detail shortly.
So what's the situation with the commercialization rights? Well, Astra and Valeant partnered on the drug last September, at which point the latter paid the former $100 million and promised to pay up to $170 million more in pre launch milestones. There was also an agreement for an extra $175 million in milestones post-launch, and a profit share on commercialization sales.
The latest announcement sees these rights transfer to a privately held Danish company called Leo Pharma, reportedly, on similar terms to that of the initial Valeant agreement. Here's where the details get a little murky. We know that Valeant has retained US rights, and these remain on the same terms (profit share, post commercialization royalties), and we know that the Leo deal echoes the Valeant one in terms of structure. What we don't know, is what Astra has agreed with Valeant to get the latter to give up its rights. For Valeant, the take must exceed the opportunity in Europe, at least near term. Chances are, then, whatever Leo has paid to Astra will transfer directly to Valeant, and that Valeant isn't set to pick up any royalties or anything similar from European sales. Why do this, then? Especially given approval could be just around the corner? Well, there's only one real reason, and that's capitalization. Valeant isn't cash poor (the company had $1.31 million cash on hand at March 31) but it's had a tough twelve months (those who follow biotech will need no introduction as to why) and it might find it difficult to raise open market capital near term. A capital injection ahead of what will no doubt be an expensive commercialization push for Brodalumab is worth more now than future revenues might be once the company reverses its negative market sentiment, and that looks to be the primary driver behind it accepting the rights transfer. The cash will help it focus on the US and push hard for sales at the same time.
So how are all three companies going to play this one going forward, and what does it pose in terms of opportunity for investors? Well, Leo is not publicly traded, so let's focus on Astra and Valeant. Both will get a boost come the advisory review on July 19, if the panel votes in favor of approval. Beyond the bottom line yes or no, the key opinion to watch will be that surrounding the suicide related adverse events. These types of drugs are renowned for inducing suicidal tendencies (or at least this is what past trials would lead us to believe) and this could make for some restrictive labeling. As a bit of a collateral play, Amgen, Inc. (NASDAQ: AMGN) should also get a boost, as it stands in line for some single digit royalties on sales based on its early stage involvement in the drug.
Beyond that, PDUFA in the US and the EMA review in Europe are the major catalysts. PDUFA is set for November 16 and the EMA should rule a little before then based on its acceptance of the drug in October last year.
All said, it looks like a risk averse, but smart (given current conditions) move from Valeant, while it also gives Astra a dedicated European partner that can push its IL-17 inhibitor on the continent.
Posted-In: News Eurozone Global Markets Best of Benzinga
View Comments and Join the Discussion!