Some Defensive Stocks Are Becoming Way Too Expensive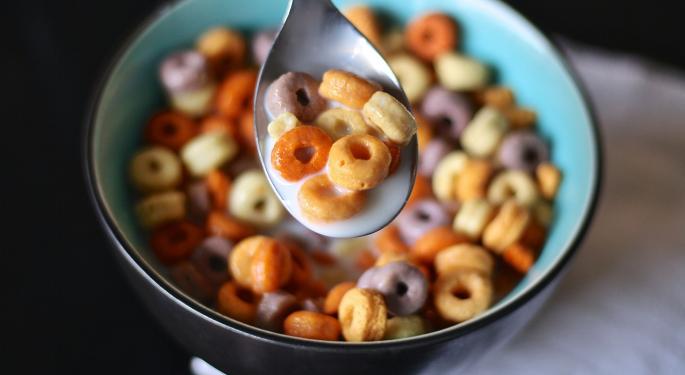 Many defensive stocks--particularly food, tobacco, utilities--have been on tremendous runs the past few months. But are these traditionally safe investments becoming too expensive for their own good? Veteran trader Dennis Dick wondered exactly that on Wednesday's edition of PreMarket Prep.
In particular, Dick noted Tuesday's runup, which saw Campbell Soup Company (NYSE: CPB), Southern Co (NYSE: SO), Duke Energy Corp (NYSE: DUK) and DTE Energy Co (NYSE: DTE) all making new all-time highs.
"If you were bidding any food stocks or any utility stocks or any of the other defensive stocks yesterday, you were instantly rewarded," he said. "It was just free money basically."
Still, Dick cautioned against chasing up at these levels. "In this market, if you're looking for stocks that are moving up, it is those stocks. I just wonder when those trades beocmes too crowded, because it feels crowded now. A lot of these moves really feel overdone. The people who feel these stocks are defensive, who are buying them thinking they can't go down, I think will be surprised to see that eventually the air will come down in these things.
Dick noted General Mills Inc. (NYSE: GIS), which is up six points in four trading sessions. "This isn't a stock that's some high-flying beta tech stock thats gonna change the world here. This is cereal. When they become inflated like this, there is risk."
Looking forward, interest rates may end up being the kryptonite for defensive stocks. "If interest rates go up in the future these stocks will be hit hard," Dick said.
Listen to Dennis Dick's rant starting at the 4:55 mark in the clip below.
For more trading ideas and insight on the markets check out PreMarket Prep LIVE every morning from 8-9:30 a.m. ET here. You can also listen to complete episodes on Soundcloud, iTunes and Stitcher.
Posted-In: News Markets Trading Ideas Interview General
View Comments and Join the Discussion!