50+ Business Leaders To Endorse Hillary Clinton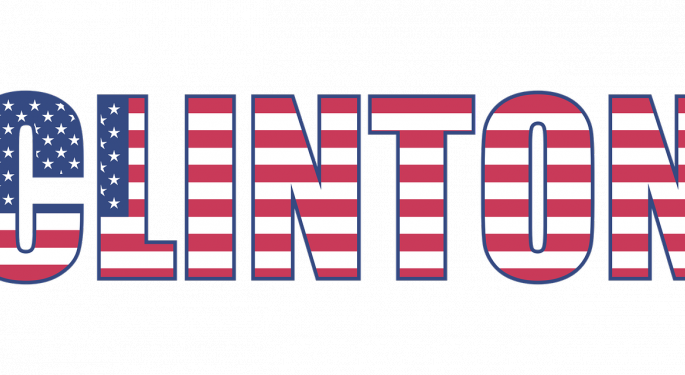 After a heated Wednesday, where presumptive presidential candidates Hillary Clinton and Donald Trump dissed each other in public speeches, Clinton's campaign decided to release a list of important supporters.
On Thursday, the Clinton campaign committee made public a list of endorsements that ranged from Berkshire Hathaway Inc.'s Warren Buffett to the three co-founders of Airbnb. Also included in this register were several other startup leaders: top executives from QUALCOMM, Inc. (NASDAQ: QCOM), Facebook Inc (NASDAQ: FB) and Delta Air Lines, Inc. (NYSE: DAL); some big-time celebrities and even a few well-known Republicans
The list of endorsements comes at the right time, not only to back up Clinton in her verbal battle against Trump, but also to confirm she hasn't lost Wall Street's support, as CNBC recently reported several investors said they would no longer finance her campaign if she chose Elizabeth Warren as her running mate.
Below is a full list of the endorsements disclosed by Clinton's campaign, as reported by MarketWatch:
Miki Agrawal, Founder and CEO of Thinx
Dan Akerson, Former Chairman and CEO of General Motors Company (NYSE: GM)
Richard Anderson, Executive Chairman at Delta Air Lines, Inc.
Stewart Bainum Jr., Chairman of Choice Hotels International Inc (NYSE: CHH)
James Bell, Former Interim CEO of Boeing Co (NYSE: BA); Former Corporate President and CFO of Boeing
Marc Benioff, Chairman and CEO of salesforce.com, inc. (NYSE: CRM)
Nathan Blecharczyk, Co-Founder and CTO of Airbnb
Jeff Brotman, Co-Founder and Chairman of Costco Wholesale Corporation (NASDAQ: COST)
Warren Buffett, Chairman and CEO of Berkshire Hathaway, Inc.
Robert Burt, Retired Chairman, CEO FMC Corp (NYSE: FMC); Former Chairman Business Roundtable
Ron Busby, President and CEO of the U.S. Black Chambers
Brook Byers, Partner, Kleiner Perkins Caufield & Byers
Peter Chernin, CEO, The Chernin Group
Brian Chesky, Co-Founder and CEO of Airbnb
Jim Cicconi, Senior Executive Vice President, AT&T Services, Inc.
David Crane, Former CEO of NRG Energy Inc (NYSE: NRG)
Erroll Davis, Retired Chancellor, University System of Georgia
Barry Diller, Chairman and Senior Executive of IAC/InterActiveCorp (NASDAQ: IAC) and Expedia Inc (NASDAQ: EXPE)
John Doerr, Partner at Kleiner, Perkins, Caufield, and Byers
Margot Dorfman, President and CEO of U.S. Women's Chamber of Commerce
Candy Ergen, Co-Founder, DISH Network Corp (NASDAQ: DISH)
Joe Gebbia, Co-Founder and CPO of Airbnb
Reed Hastings, Founder and CEO of Netflix, Inc. (NASDAQ: NFLX)
Reid Hoffman, Partner at Greylock
Drew Houston, Founder and CEO of Dropbox
George Hume, President and CEO of Basic American Foods
Irwin Jacobs, Founding Chairman and CEO Emeritus of Qualcomm
Paul Jacobs, Executive Chairman, Qualcomm
Leila Janah, Founder and CEO of Sama and Laxmi
Earvin "Magic" Johnson, Chairman and CEO, Magic Johnson Enterprises
Robert Johnson, Chairman, The RLJ Companies and Founder of Black Entertainment Television
Andrea Jung, CEO of Grameen America, and Former CEO of Avon Products, Inc. (NYSE: AVP)
Lynn Jurich, CEO and Co-Founder of Sunrun
David Karp, Founder and CEO of Yahoo! Inc. (NASDAQ: YHOO)'s Tumblr
Ellen Kullman, Former Chair and CEO of E I Du Pont De Nemours And Co (NYSE: DD)
Debra Lee, Chairman and CEO of Black Entertainment Television
Ted Leonsis, Founder and CEO of Monumental Sports & Entertainment
Aaron Levie, Co-Founder and CEO of Box Inc (NYSE: BOX)
Peter Lowy, CEO of Westfield
Monica Lozano, Former Chairman and CEO, U.S. Hispanic Media
Rob Marcus, Former Chairman and CEO Time Warner Cable Inc (NYSE: TWC)
William L. McComb, CEO (retired) of Liz Claiborne & Fifth and Pacific Companies, Inc.
Rebecca Minkoff, Founder of Rebecca Minkoff
Hamid R. Moghadam, Chairman and CEO of Prologis
James J. Murren, Chairman and CEO, MGM Resorts International (NYSE: MGM) and Chairman, MGM Growth Properties LLC (NYSE: MGP)
Charles Phillips, CEO of Infor
Mark Pincus, Co-Founder of Zynga Inc (NASDAQ: ZNGA)
Laura M. Ricketts, Co-Owner, Chicago Cubs
Gary Rodkin, CEO (retired) of ConAgra Foods Inc (NYSE: CAG)
Sheryl Sandberg, Chief Operating Officer of Facebook
Jim Sinegal, Co-Founder, Director and former CEO of Costco
Jeremy Stoppelman, CEO and Co-Founder, Yelp Inc (NYSE: YELP)
Walter Ulloa, Chairman and CEO, Entravision Communications Corporation
Wendell P. Weeks, Chairman of the Board, CEO and President, Corning Incorporated (NYSE: GLW)
Anne Wojcicki, CEO and Co-Founder, 23andme
View Comments and Join the Discussion!
Posted-In: Airbnb Donald Trump GOP Hillary Clinton Magic JohnsonPolitics Media General Best of Benzinga