Reliq Health Technologies: New Leadership Driving A Recent Acquisition Offers A Potential Inflection Point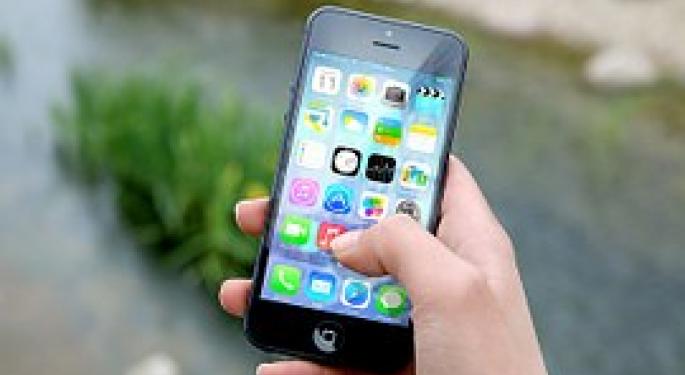 Reliq Health Technologies Inc. (RHT.V, RQHTF) is a technology company focused on developing progressive mobile health (mHealth) and telemedicine solutions for community based healthcare. As a $10.8M CAD nancap trading on the TSX Venture exchange, Reliq targets the $20B community care market. With a new and experienced CEO leading a recent acquisition that is already bearing fruit, Reliq is worth diving into.
About The Company:
Following a reverse takeover in September, 2014 wherein Reliq acquired Mobsafety, Reliq has since evolved into its most advanced form of securing mobile healthcare and homecare. Formerly known as Moseda Technologies, the new management team just augmented the company's name to Reliq Health Technologies Inc. to better reflect the company's evolution from mobile secure data to its much larger community care market. The company's key offering is iUGO Health, a care coordination platform.
iUGO Health: A Powerful Platform
iUGO Health, formerly CareKit, is the leading driver for Reliq. The solution is a platform for care coordination and home healthcare that integrates wearables, sensors, a proprietary voice technology hub and intuitive mobile apps / desktop user interfaces (for patients, clinicians and healthcare administrators) as described by the company.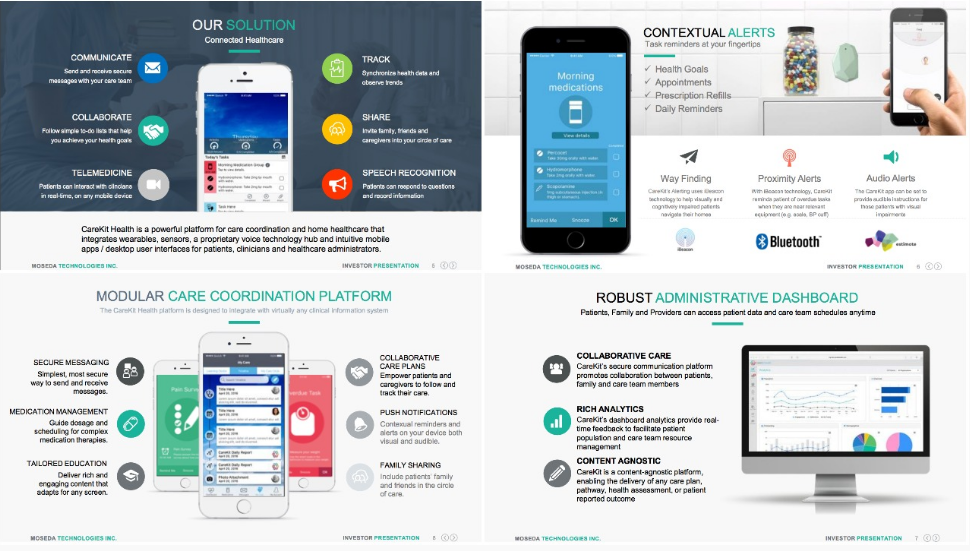 Reliq's iUgo Health platform brings patient care into the 21st century and beyond. Doctors, patients and their family members can receive contextual alerts on patients instantly. Patients can communicate by calling out for help from their bedroom and their doctor will receive an alert. There are available alerts reminding patients to weigh themselves in the morning. The seamless gap between patient, doctor and family members is revolutionary. There is no need to call your doctor in the morning, set an alarm to take your pills or train your elderly grandparents how to use a smartphone since they can communicate with their doctors from anywhere in the home through Reliq's sensors.
Reliq's goal for iUgo goes beyond enhanced in-home patient care. The goal here is to reduce patient readmissions within the healthcare system. U.S. hospitals are subject to penalties if patients are readmitted within 30 days of release. By bridging the gap between healthcare providers and patients in the home, Reliq is focusing on bringing down the 20% readmission rate. Further,we expect a near $7B in patient transportation costs in the U.S. alone. Reducing repeat transportation adds value to the proposition offered to industry providers. iUgo is HIPPA compliant utilizing a secure software portion of the platform. This allows doctors and patients to access all of the cloud-uploaded data on a smartphone or tablet.
Current Pilots Denote Clear Execution:
iUGO is positioned to drive the company's near and long term growth. Following Reliq's purchase of iUgo 3 months ago, the company has already garnered attention and has numerous pilots underway.
Last month Reliq announced a pilot for iUGO with Sacred Heart Hospital (a 566-bed location) in Florida. If this pilot is successful it opens the door to Sacred Heart's parent company, Ascension Health, which is the nation's largest system of catholic, nonprofit health care facilities. This location is significant having north of $2B in total patient revenue.
iUGO's uptake encompasses the entire range of the healthcare industry as smaller offices are undergoing pilots as well. In late March, 2016, iUGO's pilot with The Feldman Institute in Baton Rouge, LA began. Dr. Arnold E. Feldman's comments uncover the value he sees in iUGO as reflected in his statement:
"One of our key goals at The Feldman Institute is to provide our patients with compassionate, accessible healthcare." said Dr. Arnold E. Feldman, Medical Director at The Feldman Institute and First Choice Surgery Center." Our pilot with Reliq is designed to validate the use of a novel technology solution that will help our patients better manage and document their symptoms in the home, as well as facilitating secure and timely communication between patients and family members and their care team at The Feldman Institute". (highlight for emphasis, source)
Reliq is not limiting its focus only to institutions (it announced a partnership with Kontakt.io) to provide bluetooth asset tracking for the healthcare industry. The partnership will allow clients to manage a growing list of assets, such as wheelchairs and medical equipment, automatically. This is additional and in line with Reliq's focus to track patients' status and care automatically with iUGO. With 14,000 customers, Kontakt.io offers an expansive, addressable market for this partnership. A VHA Survey found that equipment and supply theft incurs hospitals $4,000 per bed, per year, so this market opportunity is relevant.
What To Look For:
These two pilots debuted last month. They utilize 50-100 patients per pilot and are expected to take 3-4 months to develop. If the pilots are successful, sales contracts will follow. It is worth noting that obtaining pilots from large clients, such as Sacred Heart, is a substantial milestone, especially for a company Reliq acquired just three months ago.
The pilots offer investors a first-mover opportunity and the potential for sales contracts with one or both parties. iUGO's overall software and in-home sensors pack a projected 70% – 80% margin per management and the average revenue per patient is $200 per month.
Management's goal is to secure upwards of 1,500 patients by year end. If successful, this would result in ~$4.65M CAD ($3.6M USD) in revenue at ~70% to ~80% margins. To put into perspective, Sacred Heart's facility alone admitted 30K patients last year. If Reliq's pilot is successful they would only need 5% of this facility alone to reach their target.
A Revised Focus:
In the past, Reliq has encountered negative investor sentiment in the market for past management practices and business deals. With a new CEO growing a recent and successful acquisition, investors should keep the company's renewed dual focus in mind.
Several months ago, Reliq announced a iUGO pilot with a Western Canadian-based senior housing company which was completed in January, 2016. While the pilot did not turn into a contract, management has informed SecretCaps that the eldercare market's razor-thin margin is not a focus for the company.
In October, 2015 the company also announced a 350,000 CAD purchase order for telemedicine solutions for an unnamed client. This particular deal is and in the realm of past management. It is not the current focus of the company (which is iUGO). While it is easy to blame past management practices for a failed pilot and dismissing a key demographic purchase order, neither is in line with the company's current focus. Today we are looking towards evaluating new management, a team led by Dr. Crossley, on its own merit and execution.
A Growing Market:
It is anticipated that the mHealth application market will more than triple (from its current $10B value to $31B by 2020) per data from Research 2 Guidance. The market for mHealth applications is experiencing rapid expansion.
iUGO's History:
iUGO was originally founded by two healthcare and IT entrepreneurs, Leo Godreault, RN, and Giancarlo De Lio, MBA, to allow patients to receive quality care at home, improve outcomes, enhance quality of life and reduce the cost of care delivery. At the time the solution was named CareKit. The ability to remotely monitor patient data to allow for interventions by doctors to reduce hospital readmissions has clearly gained the attention of hospitals and medical offices. iUGO was then acquired by Reliq in February, 2016.
iUGO is clearly the lead driver of growth for the company. Both founders have remained with Reliq as Chief Visionary Officer and Vice President of Products, respectively. Selling the company and remaining with the new owners is a clear indication of their journey from creation to fruition. SecretCaps saw a similar opportunity when SharpSpring's founder Rick Carlson remained with the company following the acquisition by SMTP. He is now the CEO of that high growth company. Regardless of the organization, remaining with the company is a positive sign for investors.
Management:
This past January, Dr. Lisa Crossley, PhD., P.Eng. took the helm as CEO and Director of Reliq. Dr. Crossley has an extensive track record as an experienced healthcare technology executive. Most recently, Dr. Crossley acted as CEO of VitalHub Corp., a healthcare IT company that provides secure mobile access to comprehensive patient health information. Dr. Crossley has also raised over $35M in venture capital and angel financing, negotiated major channel partner agreements globally and serves on the GEnome Alberta Board of Directors and the Mitacs Research Council.
SecretCaps had the opportunity to speak with the company's CEO, Dr. Crossley, at length. We plan to release a recorded interview with Dr. Crossley to provide even more color on this story.
Financials:
With ~700K CAD in cash on Reliq's balance sheet and the company's current monthly burn rate of 120K CAD, this leaves Reliq with over 5 months of cash, per management. In the near term there is no need for Reliq to raise money. At the conclusion of the 3-4 month pilots, contracts would provide cash flow to the company. The company is also aiming to be cashflow positive this quarter based upon legacy business.
With 52.3M shares outstanding, the company has 18,476,634 warrants at an average price of 0.29 and 3,996,335 and options at an average price of 0.21. With shares trading around the 0.20 CAD level, investors should be aware that both scenarios offer a potential price ceiling for shares.
Risks:
Reliq has seen insider selling by the former CEO, Nicholas Murray. We believe that Mr. Murray's focus was on legacy portions of the business. Mr. Murray founded a company Reliq purchased years ago called MobSafety, and Dr. Crossley is focused on the new initiative – iUGO. Mr. Murray owns 2.5M shares total, 2.1M of which are in escrow and are released at a rate of 15% every 3 months. Investors should be aware that continued selling by Mr. Murray, although he is no insider anymore, could put downward pressure on shares until they are churned through.
A key risk for Reliq is a slow down or decreased traction of iUGO in the market. With two key pilots underway, we believe this risk is mitigated for now. If these pilots do not produce sales contracts, or if a lack of future pilots is observed, this would be a negative result for the company.
The usual microcap risks also apply to Reliq, such as share price swings, volatility and illiquidity. Investors should be aware of all of the risks involved with microcap trading and investing.
Conclusion:
With a fresh, focused management team executing on a newly-acquired, compelling home health care technology solution, Reliq's prospects for 2016 and beyond are exciting. With the risks noted, investors should track Reliq's progress, specifically its pilots, as we move into the 2H of 2016.
Ownership Disclosure: Neither authors have a current position (long or short) in Reliq at time of publication.
Posted-In: News Health Care Small Cap Analysis Small Cap Tech Trading Ideas General
View Comments and Join the Discussion!