Tesla Tries To Debunk Alleged Coverup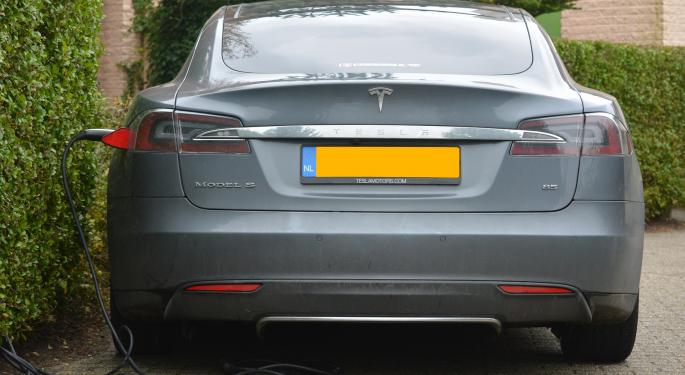 Tesla Motors Inc (NASDAQ: TSLA) is being investigated by the U.S. National Highway Traffic Safety Administration over a potential suspension issue on the Model S sedan.
Edward Niedermyer wrote on Dailykanban that an investigation revealed there is an active coverup at Tesla. Specifically, the company undertakes the necessary repairs in exchange for asking the client to sign a form which discourages them from reporting safety concerns to the regulatory body.
Related Link: Tesla Sells Off Amid NHTSA Model S Review
In a blog post titled "A Grain of Salt," Tesla said it has a few things that "need to be cleared up."
First, there is no safety defect with the suspensions in its vehicles and it has no evidence to suggest such since it owns every service center and is able to accurately track every single issue with every car.
In the instance referenced by Niedermayer, Tesla attributed the issue to "abnormal rust." The individual's car had over 70,000 miles on it and lives in a long dirt road, which was "caked in dirt" when brought in for repairs.
Second, Tesla said it never has and never would ask a customer to sign a document preventing them from reporting issues to the NHTSA or any government agencies. The company does ask clients to sign a "Goodwill Agreement" in which the company may undertake a repair not ordinarily covered by a warranty on condition that the work isn't used against the company in court for further gain.
Tesla added that the document signed by the individual in Niedermayer's article "never even comes close to mentioning NHTSA or the government and it has nothing to do with trying to stop someone from communicating with NHTSA or the government about our cars."
In fact, Tesla meets with the NHTSA regularly and it has established a pattern of initiating proactive and voluntary recalls of its cars "even when there is only a slight risk of a safety issue."
Tesla also called into question Niedermayer's intentions in writing a scathing article.
"We don't know if Mr. Niedermayer's motivation is simply to set a world record for axe-grinding or whether he or his associates have something financial to gain by negatively affecting Tesla's stock price, but it is important to highlight that there are several billion dollars in short sale bets against Tesla," the blog post said.
Posted-In: Bloomberg DAilykanban Edward Niedermyer NHTSA TeslaNews Legal Tech Best of Benzinga
View Comments and Join the Discussion!