The Markets Are At A Crossroads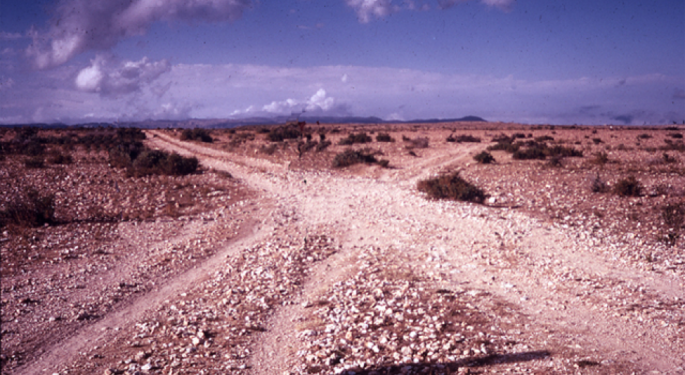 Is There a Disconnect?
Most key risk asset markets (stocks and commodities) are at their recent highs, even as incoming economic data suggest reasons for concern. Are markets ignoring the data, or do they know something we don't? Are markets set to continue higher from here, or are they setting up for a potential major triple top?
The mixed signals are confusing to say the least. I have been advising caution on the current advance since mid-April based on signs of deteriorating economic conditions, not just in the US, but globally. I remain skeptical that upside potential outweighs the downside risks, but who am I to disagree with Mr. Market?
To my thinking, the current strength in risk markets is misplaced for several reasons. Above all, the current rally has closely followed market thinking on how the US Federal Reserve will proceed in the months ahead. As the likelihood of a Fed rate hike began to dissipate in recent weeks, stocks and commodities shook off weakness in May and trudged higher. For me, that's a fundamental disconnect that will need to be corrected at some point.
The reason the Fed is staying on hold, which I have suggested since the beginning of the year, is because the economic horizon is cloudy and, most would say, darkening. Most recently, it was enough for the central bank of South Korea just overnight to unexpectedly cut interest rates to a new record low.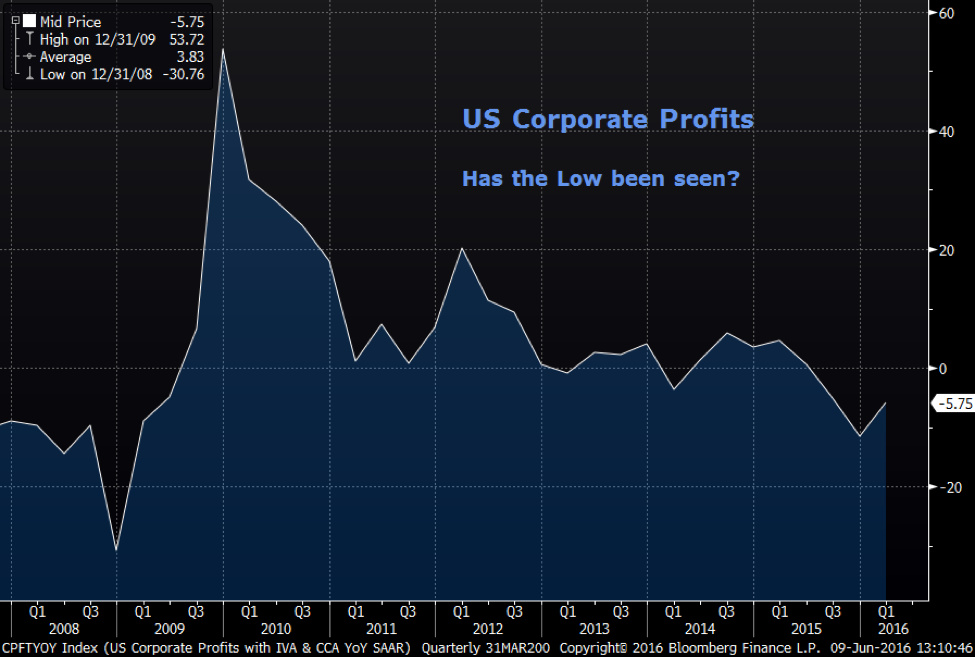 Source: Bloomberg; DriveWealth
This does not suggest an environment where corporate profits, shown above, which have been declining for a while now, are set to rebound vigorously, suggesting stock market optimism is premature. (I'll get to the glass half-full scenario in a minute). Likewise, commodities have surged higher even as global oversupply (of oil in particular) remains against a backdrop of softening global demand.
The only markets that seem to make sense at this point are Treasury yields and the US dollar, both of which have dropped to recent lows on the back of evaporating Fed rate hike expectations.
Risks Ahead
In coming weeks, markets will be faced with several major potential risks. Coming first will be the June 15 FOMC meeting, where I expect the Fed to deliver a clearer message that they are inclined to raise rates in the following month. Markets have all but entirely discounted that prospect, possibly setting the stage for an ugly surprise.
A few weeks later on June 27, the UK will vote on whether to remain in the European Union. Current polling suggests a toss-up, with around 15% still indicating 'don't know' or 'won't vote,' making the outcome highly uncertain. Global markets will not react kindly to a Brexit, the risk of which is also behind the Fed holding fire in June. While my own view is that the UK will 'Bremain,' I can't rule out the potential of a departure in the current anti-immigrant environment.
Or Is the Glass Half-full?
Or perhaps I'm simply focused too much on the near-term, while markets are looking farther ahead. The glass half-full scenario relies on markets anticipating significant positive developments in the months ahead. Corporate profitability in the US did, in fact, rebound in the first quarter. According to research from Richard Bernstein Advisors, US stock markets have averaged around a 13% advance in the twelve months following a bottom in corporate earnings. However, it remains to be seen whether the bottom has actually been seen in corporate profits.
Similarly in commodities, the rebound in oil, for example, could be in anticipation of the supply/demand balance turning more positive as production cuts finally impact supply. More generally, commodity prices have seen a massive decline in recent years, and we could simply be witnessing a return to more normal price levels. In the chart below, the CRB Commodity Index is seen to be testing the weekly cloud following a bullish crossover in the leading Tenkan/Kijun (purple/yellow) lines in early May.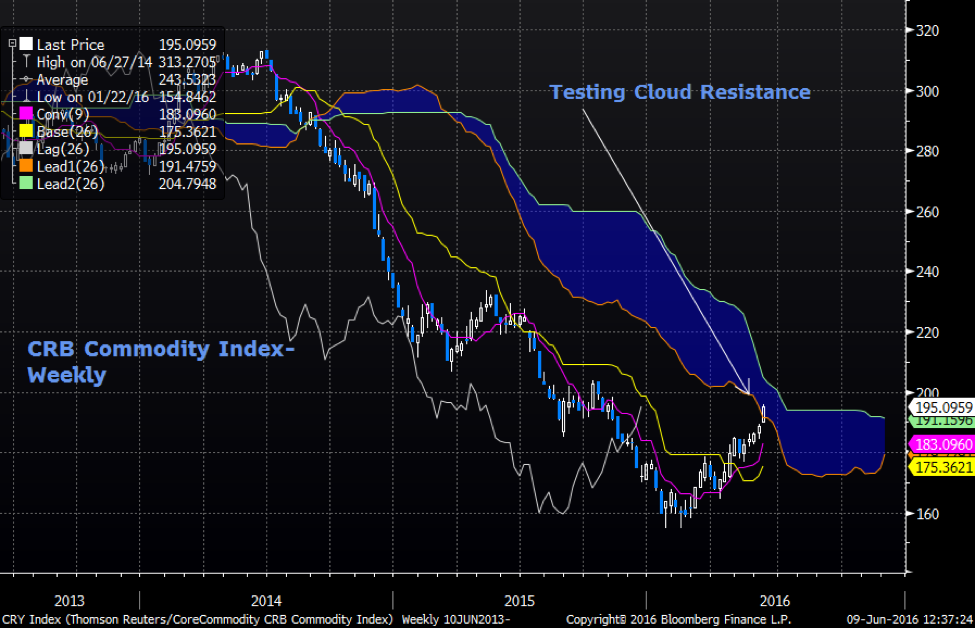 Source: Bloomberg; DriveWealth
What Do The Charts Tell Us?
Given the mixed signals coming from the data and markets, it's always wise to re-focus attention on the charts for clearer guidance. Using the S&P 500 as a proxy for risk markets overall, the immediate look is positive: price is above the weekly (shown below) and daily cloud and the Tenkan and Kijun lines. However, note that the cloud is extremely thin in the weeks ahead, meaning it offers little support. RSI is positive and not yet overbought on a weekly basis. This suggests a key support zone between 1965 (Kijun/yellow line) and 2000 (bottom of cloud/green line), with short-term support at 2073 (Tenkan/purple) and 2027 (top of the cloud/orange line).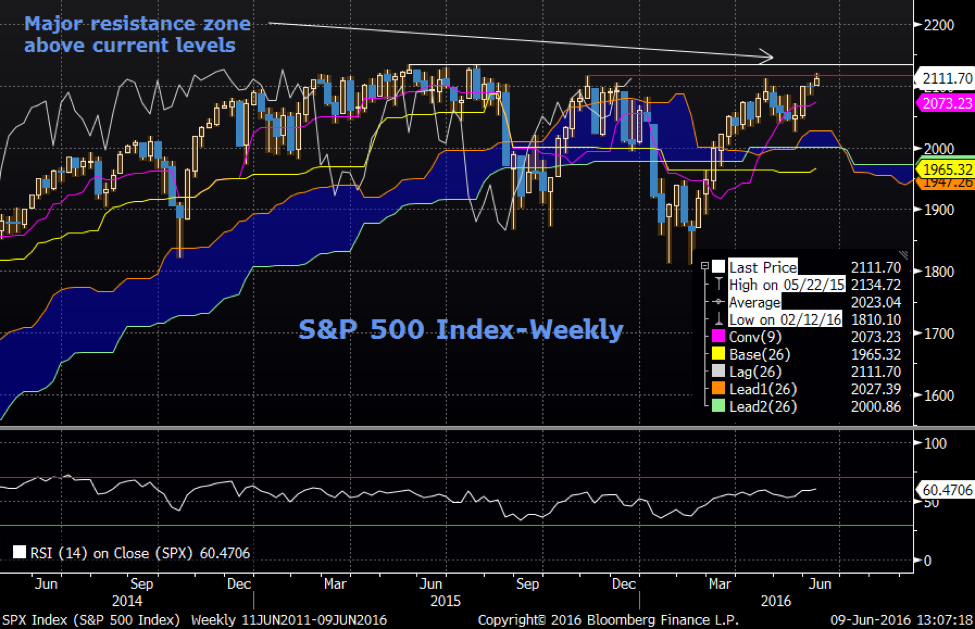 Source: Bloomberg; DriveWealth
In terms of further upside progress, I would first note the lengthy series of tops in the 2100-2130 (white horizontal line) area, suggesting significant technical resistance just above current levels. While this resistance holds, I'll stay on the cautious side. To protect recent gains, investors may want to consider raising stop loss levels in the event one of the risks noted above materializes, or Mr. Market simply has a change of heart.
Posted-In: News Global Economics Markets General Best of Benzinga
View Comments and Join the Discussion!