Benzinga's Recent Market Moving Exclusives
Benzinga's newsroom breaks stories that move stocks. Get access to the "Market Moving Exclusives" channel in Benzinga Pro.
June 2:
We were the first to break StreetSweeper's short position on Mitek Systems, Inc. (NASDAQ: MITK). In the hour that followed, shares dropped from $9.04 to $7.35. In an exclusive interview with Russell Clark, CFO of Mitek, he said the 20 percent price drop was exaggerated, and expressed skepticism toward StreetSweeper's analysis.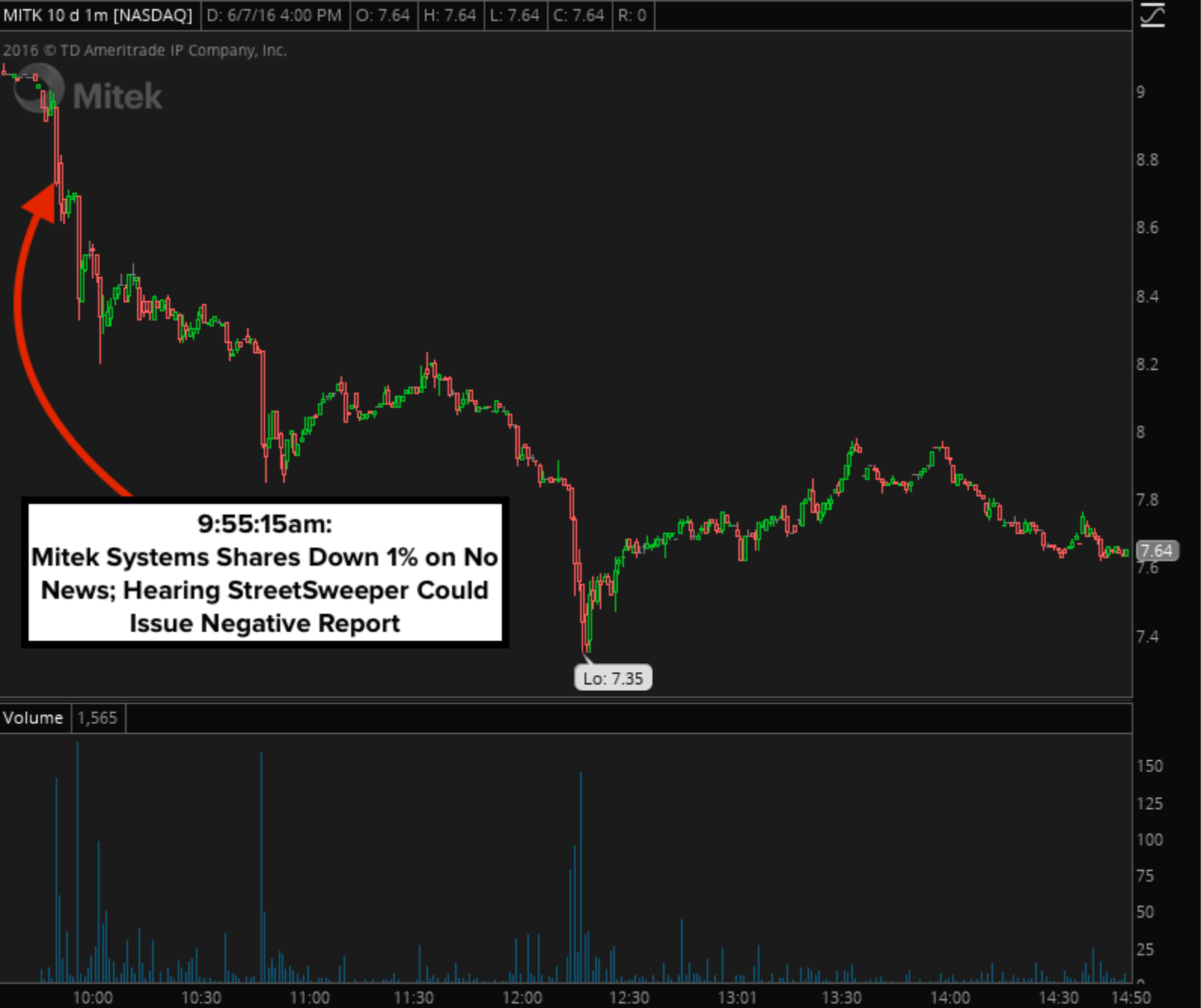 June 2:
As Concordia Healthcare Corp (NASDAQ: CXRX) shares were trading at a nine-month high on rumors, Benzinga broke information that identified the source of the rumors as unreliable and shares dropped 24 percent in a matter of minutes.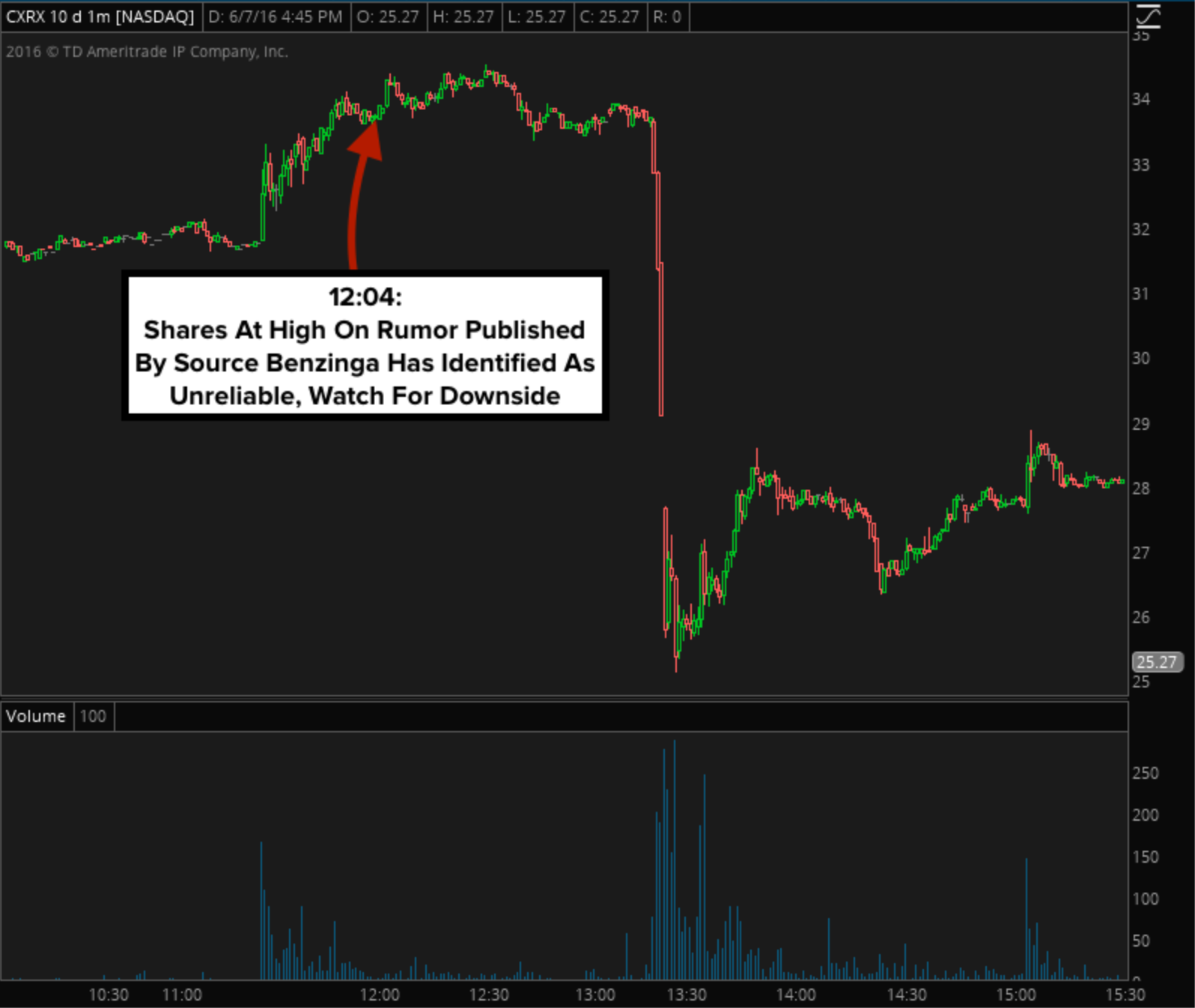 June 3:
Benzinga learned an anonymous source was spreading unconfirmed rumors of a Monsanto (NYSE: MON) takeover by Bayer. We broke the news of upcoming volatility and called the parabolic movement that followed.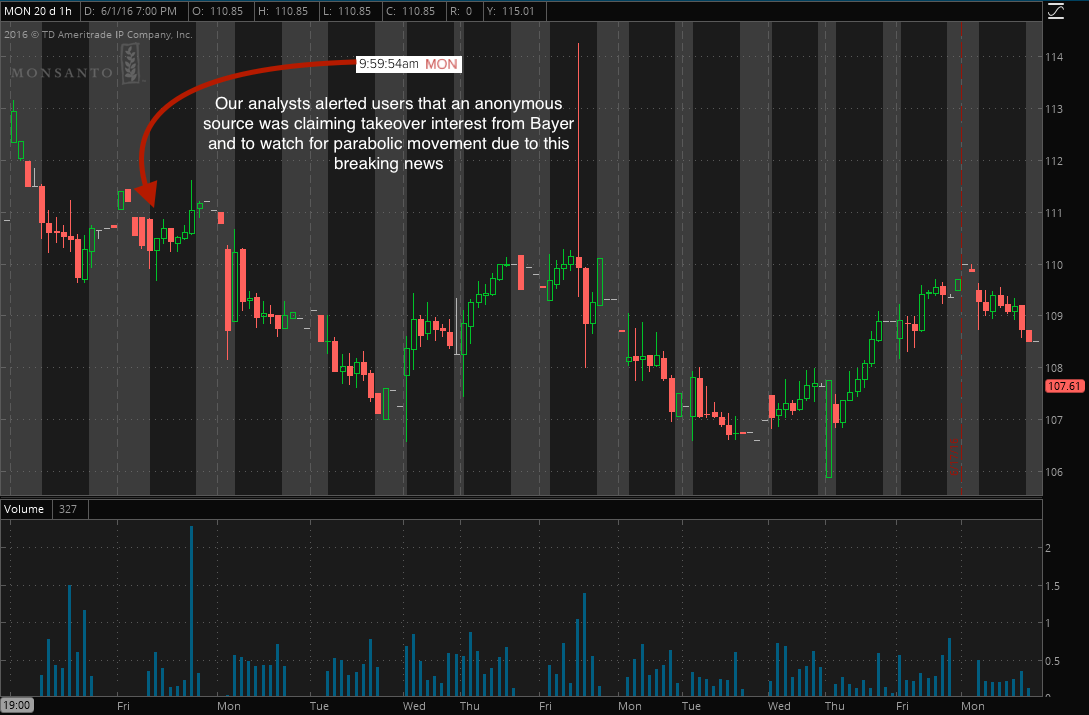 June 8:
Anadarko Petroleum Corporation (NYSE: APC)finished the day trading up nearly 4 percent, peaking at 56. Our analysts were the first to alert chatter of a possible bid for Anadarko by Chevron for $76 per share.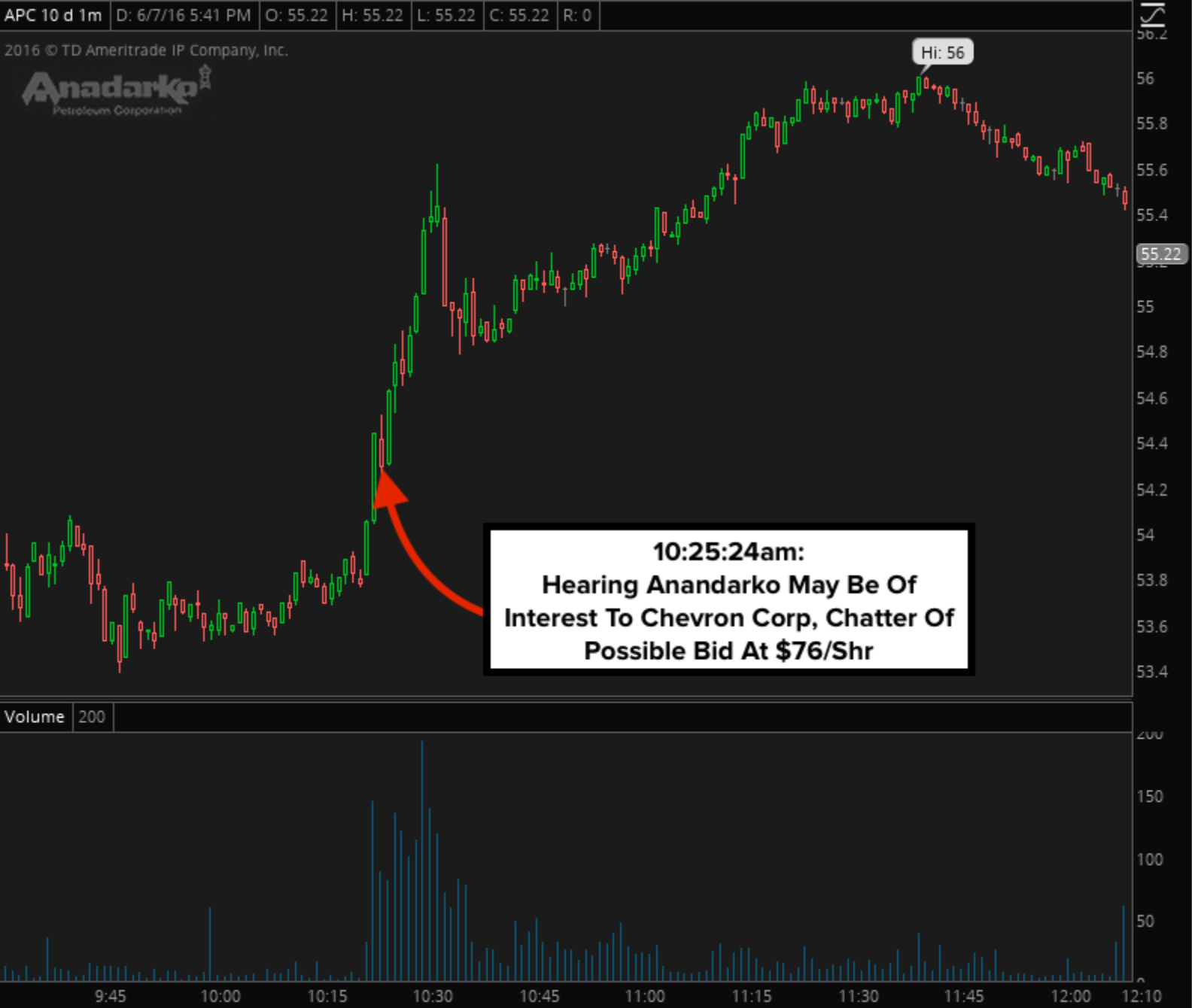 June 9:
We reported that shares of Relypsa Inc (NASDAQ: RLYP) were still up based on false rumors; minutes later, the stock began trading down from $19.97 and continued between $19.35 and $18.76 the rest of the day.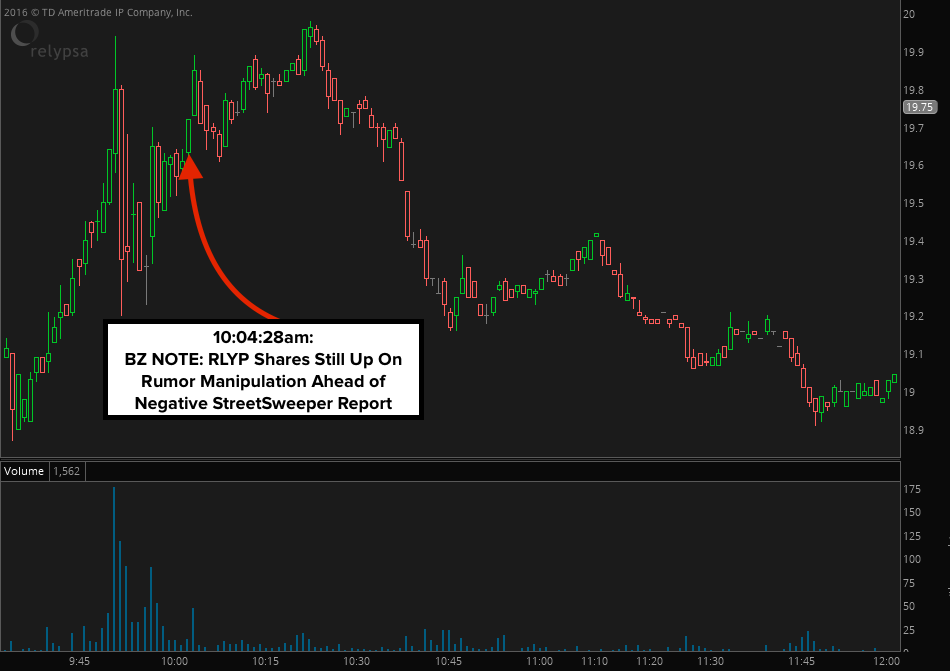 June 9:
We alerted our users to negative reports of Tesla's (NASDAQ: TSLA) Model S suspensions and to expect share to fall. Within minutes, shares fell from $232 to about $227.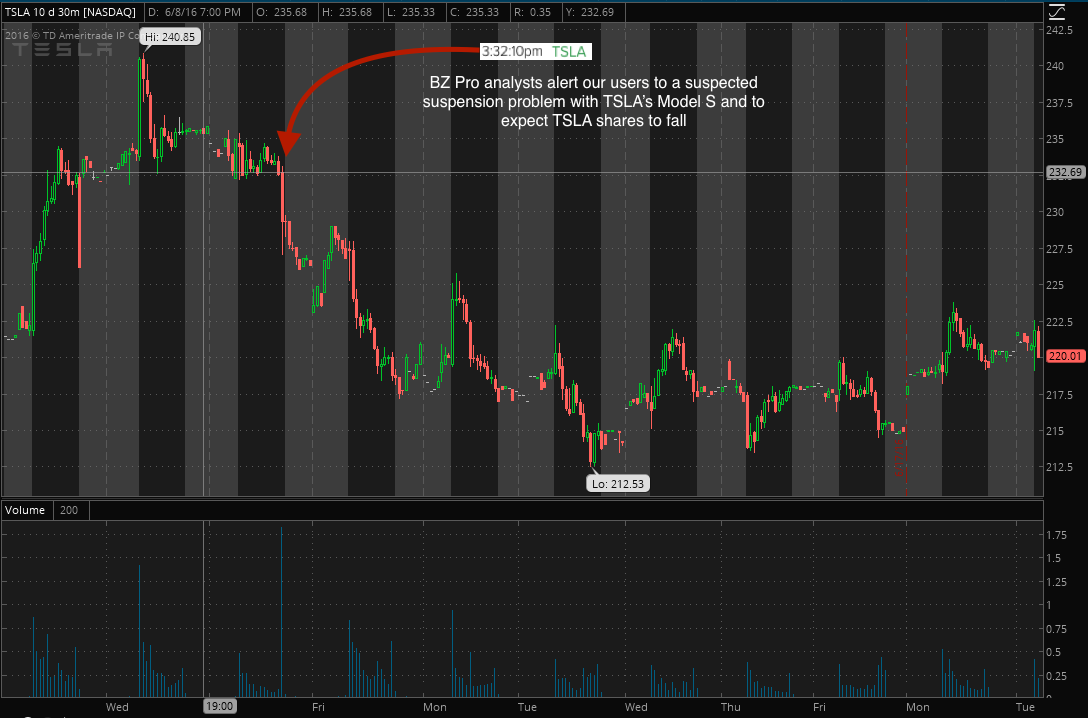 June 14:
We alerted users to vague takeover rumors in Perrigo (NYSE: PRGO) towards the closing bell. Before markets opened the next morning, we confirmed that the rumor was invalid and shares fell about $10 in a matter of minutes.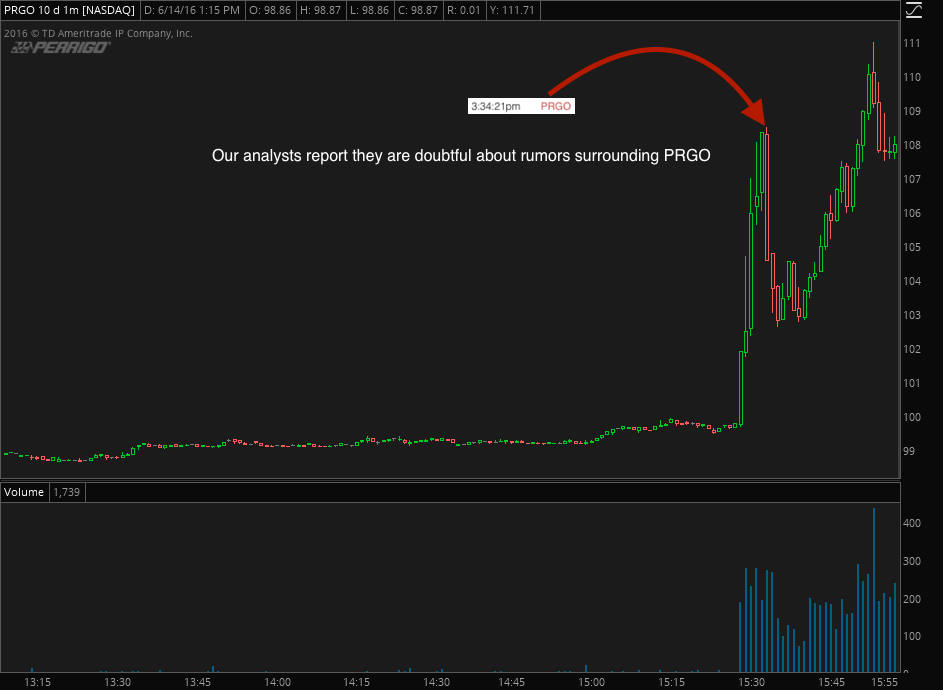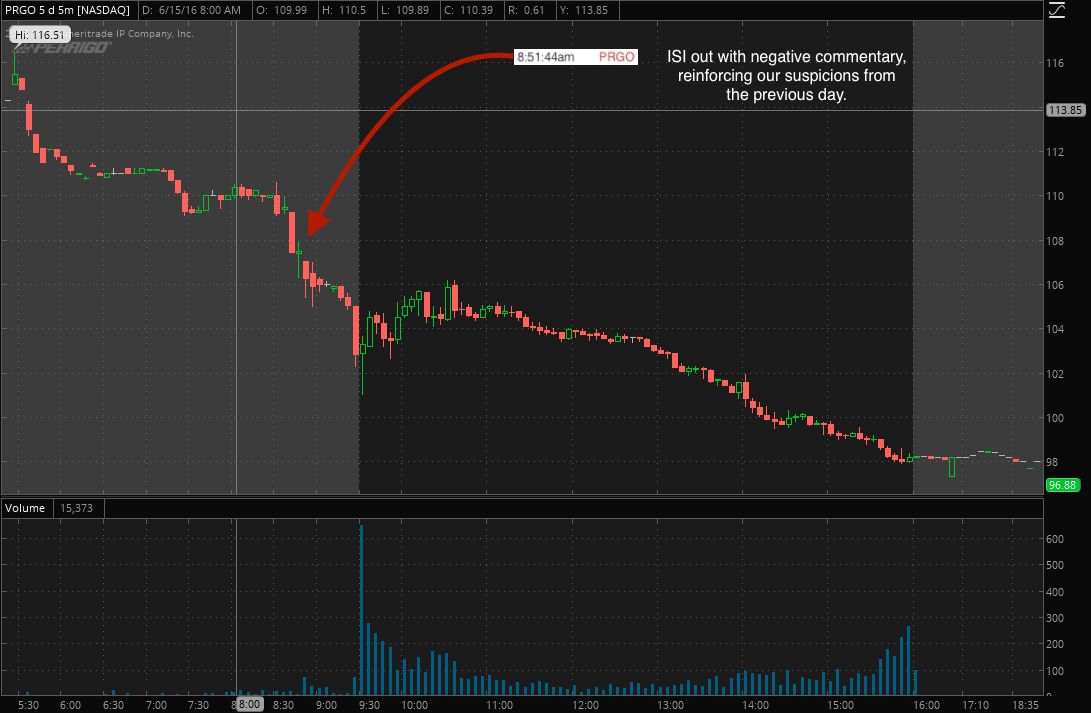 June 16:
Our news desk alerted our users to a rise in the price per share of Hain Celestial (NASDAQ: HAIN). They linked this to the company cancelling on the Jefferies Conference. Moments later, the stock rose to a day high of $51.16.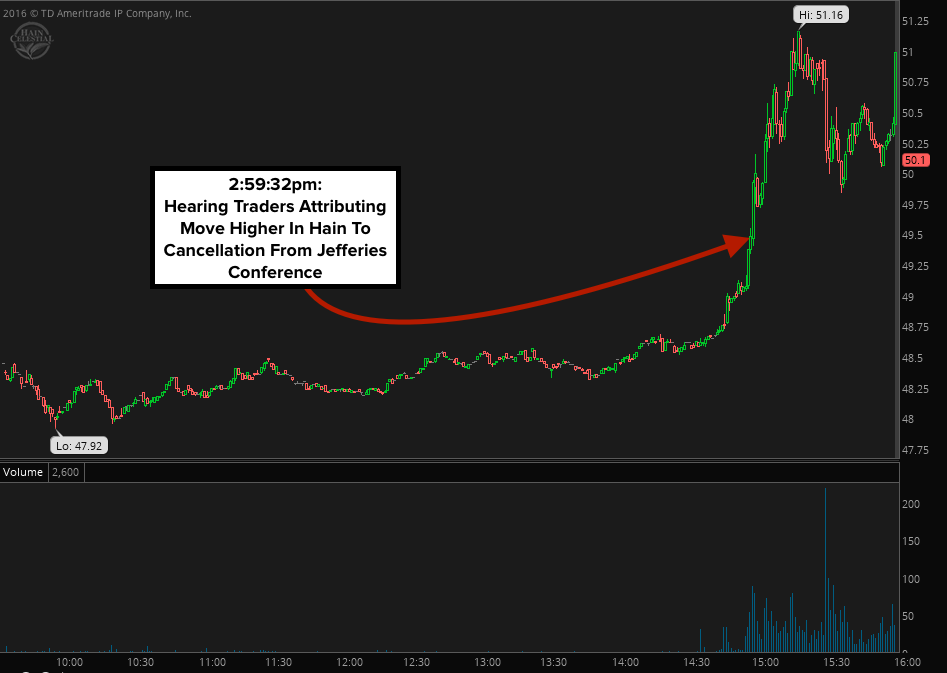 June 20:
Benzinga Pro alerted users to the news that Google was replicating WebMd (NASDAQ: WBMD)'s service with an intelligent search feature. This resulted in a sharp selloff in WedMD shares on fears a new competitor is entering the health information space.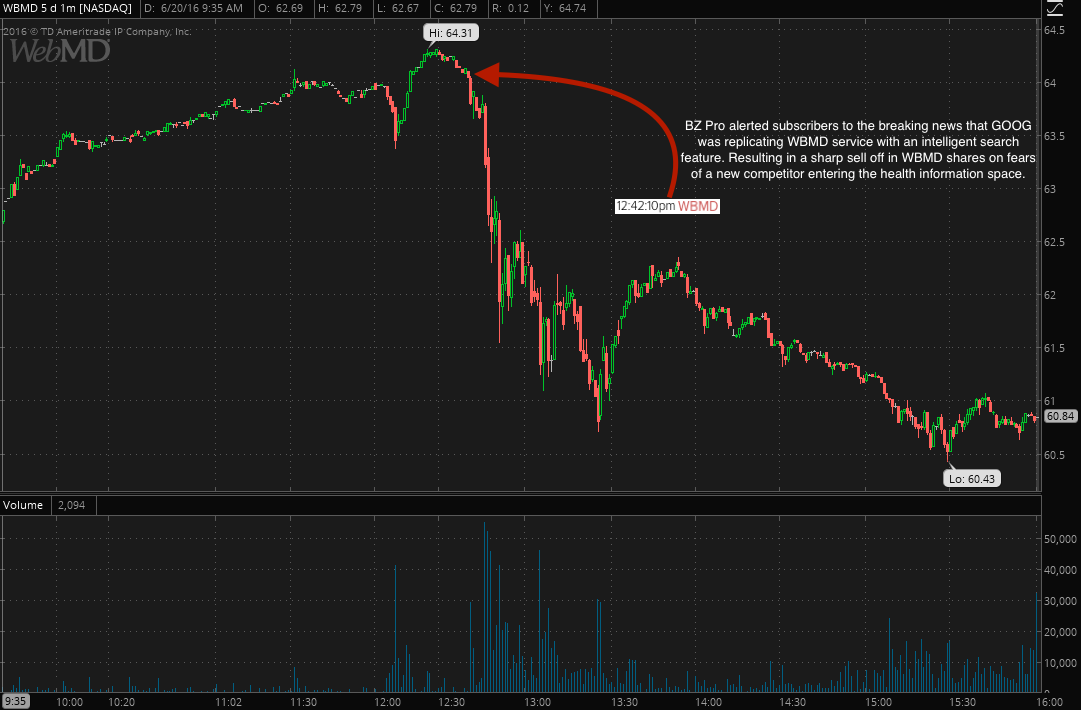 June 23:
The Benzinga Newsdesk alerted users to a breaking negative report on SolarEdge Technologies (NASDAQ: SEDG) from StreetSweeper. Moments later, the stock fell to a day low of $19.43 per share.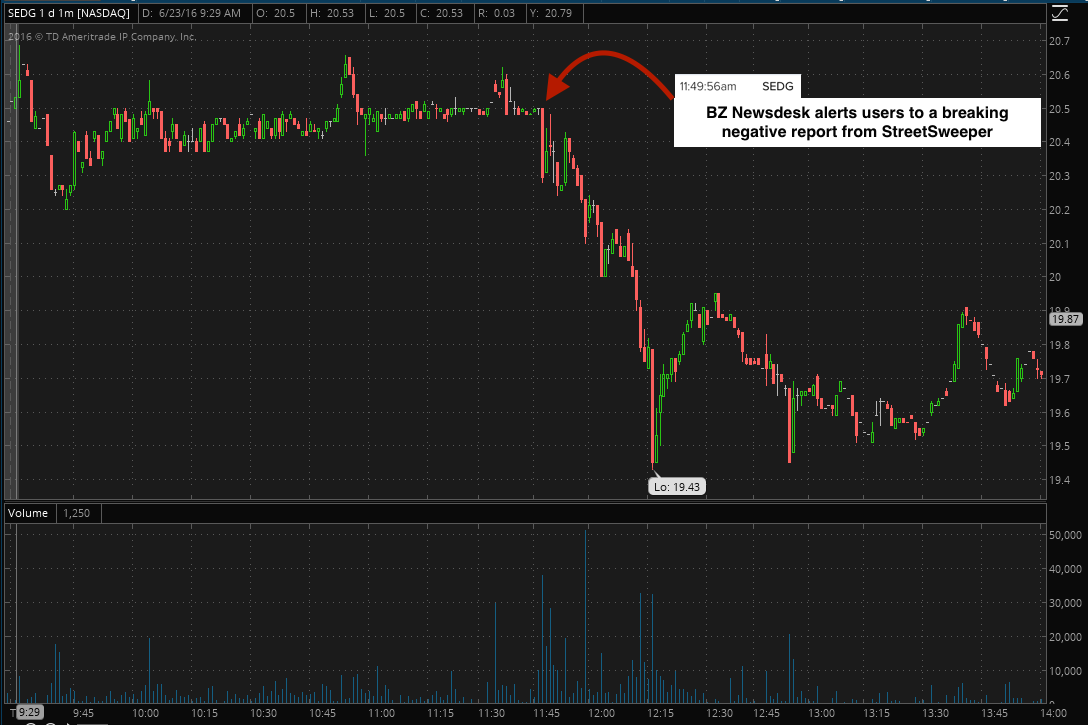 June 20-23:
Benzinga Pro reported that Alarm.com (NASDAQ: ALRM) was in talks to acquire Icontrol in a joint bid with Comcast (NASDAQ: CMCSA). Three days later, the BZ News Desk report was confirmed as Alarm.com and Comcast acquired IControl, resulting in a 10 percent rise in Alarm shares.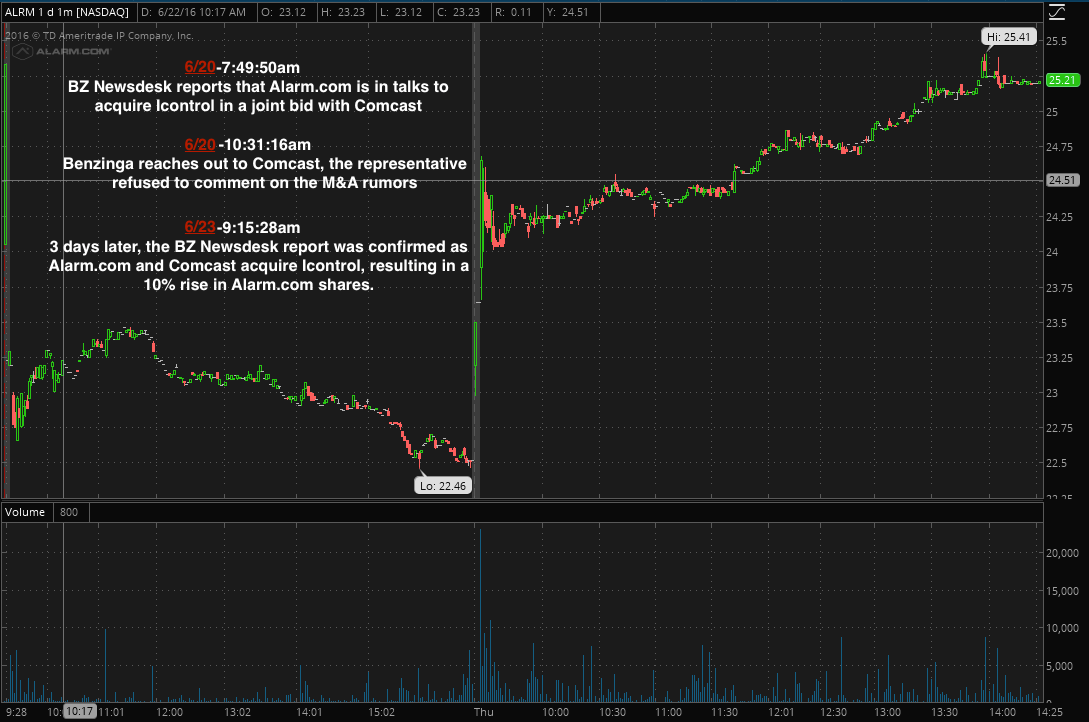 June 30:
At 2:31 p.m. ET, the newsdesk received word there were multiple bidders for FireEye (NASDAQ: FEYE). Just a few minutes after the desk released this breaking news to our users, the stock hit a day high of $17.07.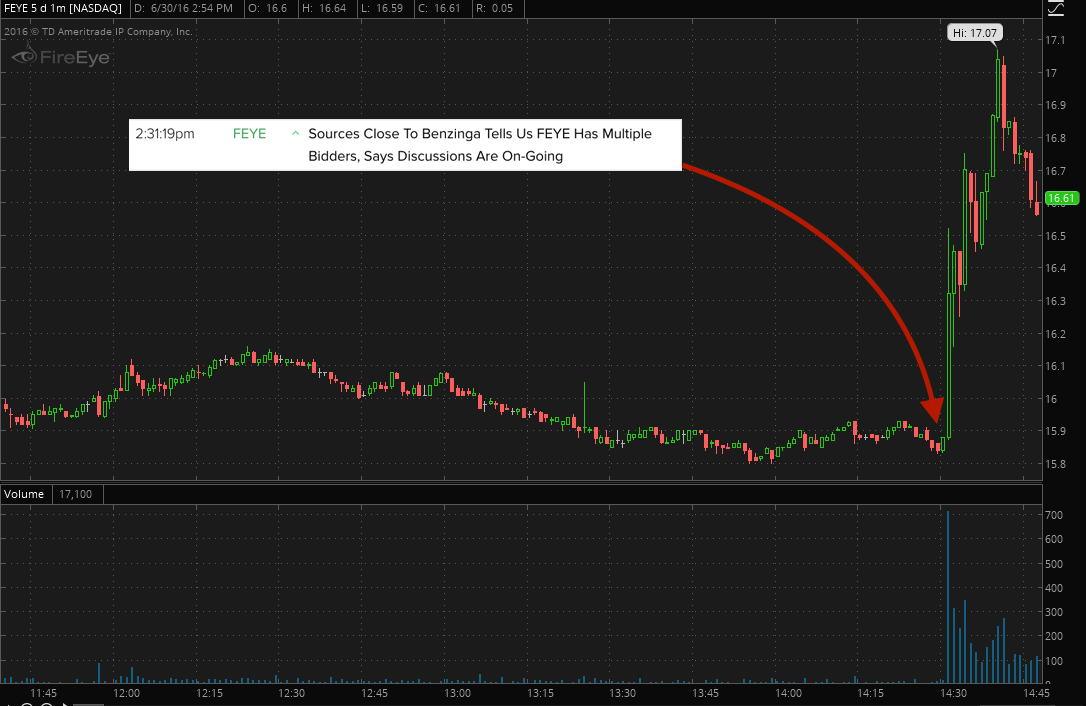 July 1st:
At 10:40 a.m. ET, our newsdesk reported on a rumor of a possible buyer for Harley-Davidson Inc (NASDAQ: HOG). Minutes later the stock rose 15%, eventually reaching a day high of $53.1 per share.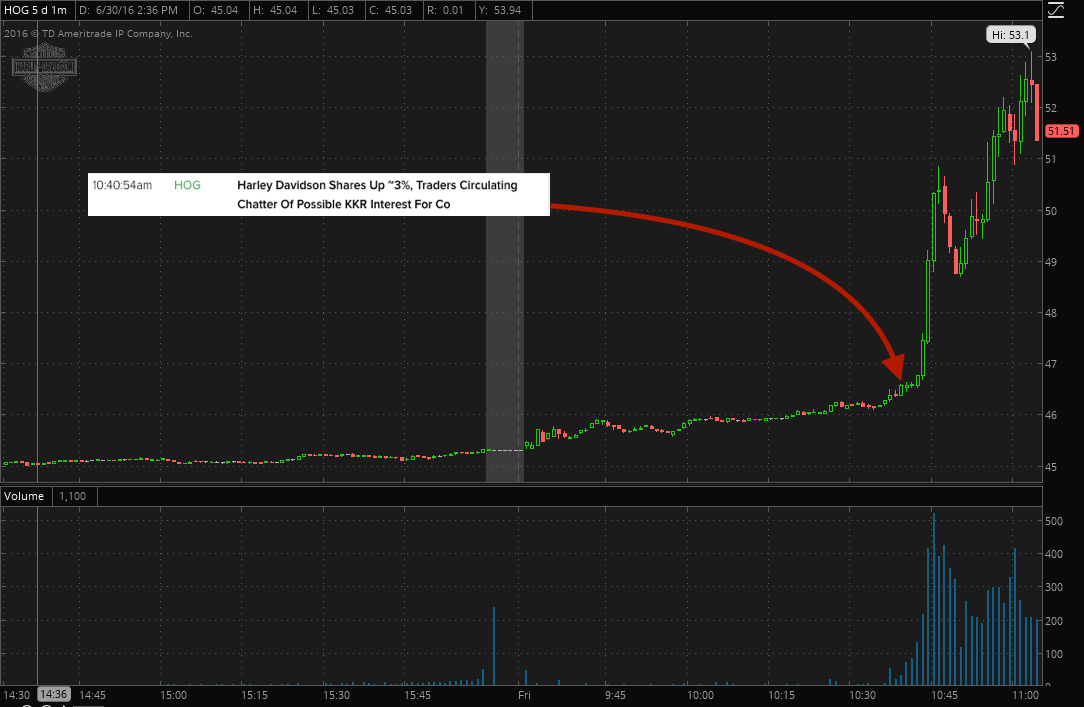 July 11-12:
Yesterday Benzinga's Market-Moving Exclusive feed told traders to watch for near term upside in Netsuite (NYSE: N). Benzinga Pro explained unusual trade volume to support this. Today Netsuite is up 12.8% after media outlets started reporting Oracle may be making an acquisition offer for Netsuite.
Our users had a full day to take a position for 12.8% upside. $884 Million of market cap moved on this news.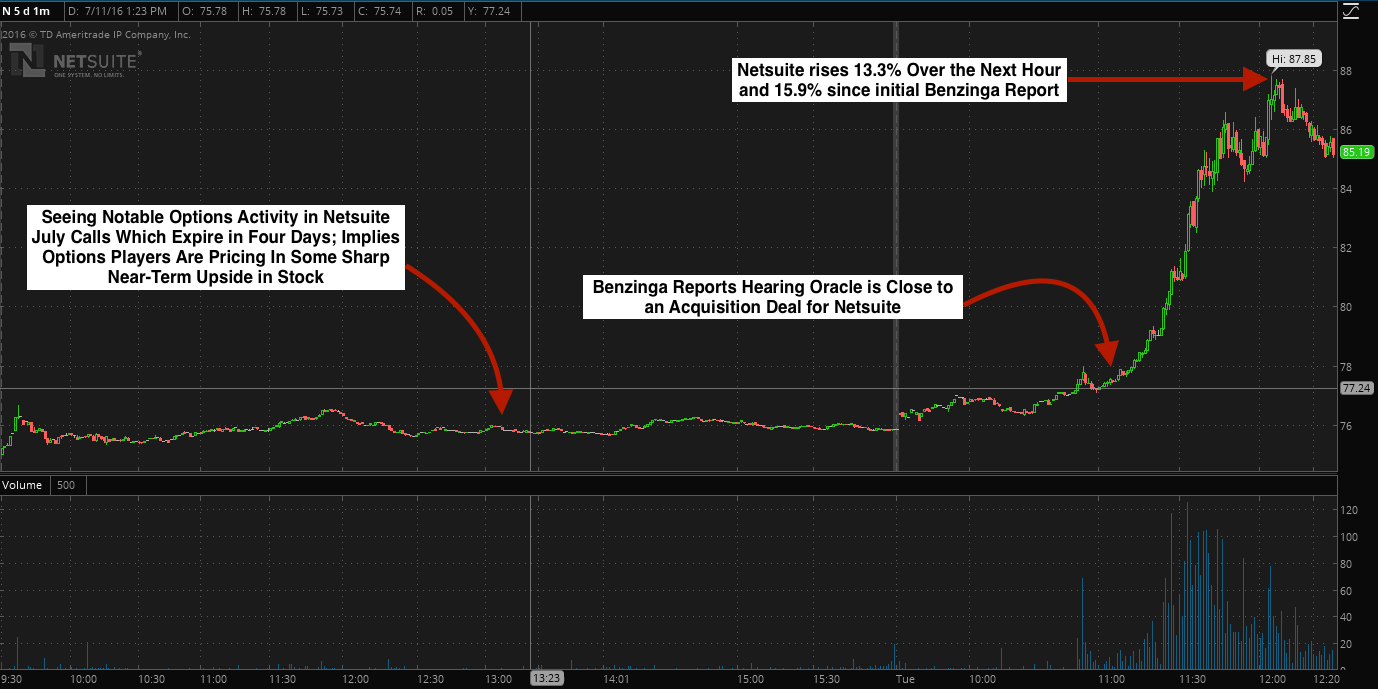 July 13:
At 9:43:55am the Benzinga newsdesk reported that Comcast could be a suitable buyer for Level 3 Communications.
Minutes later Level 3 Communications, a $19 billion company, jumped 6% from this news provided by the Benzinga newsdesk.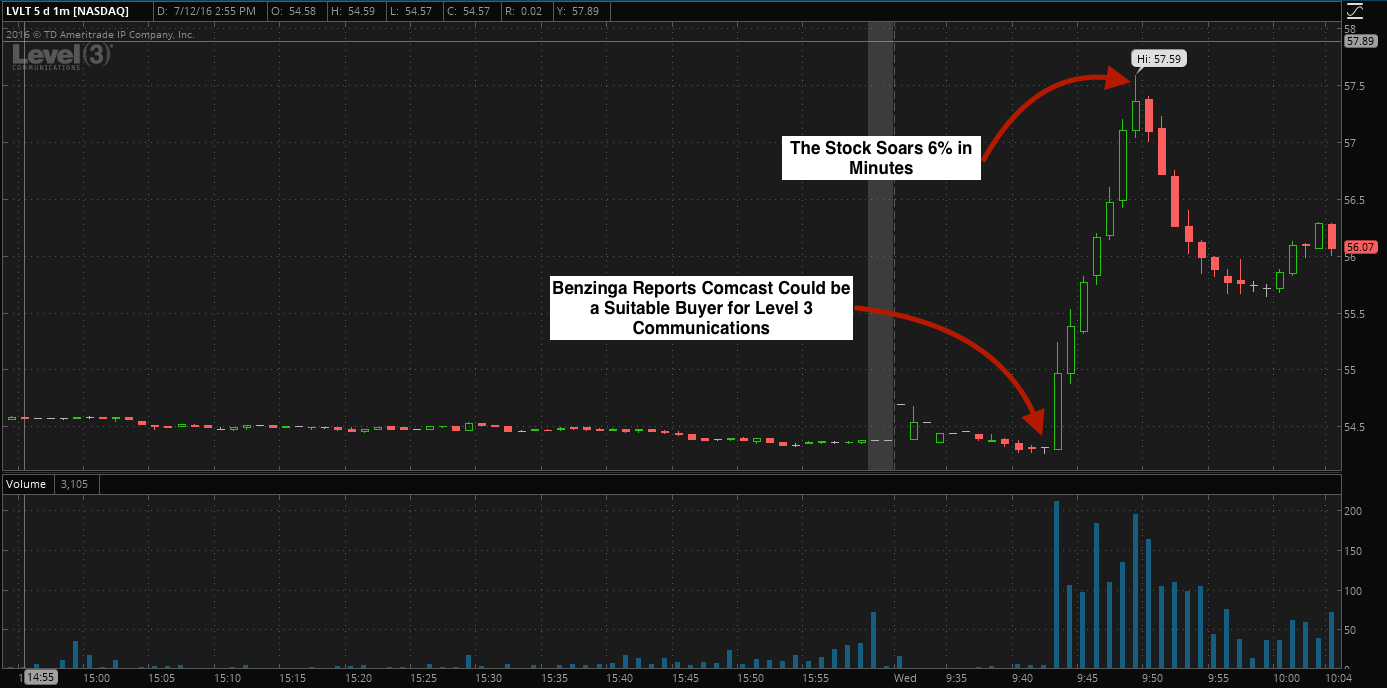 July 28:
On July 11th, the Benzinga newsdesk reported seeing near-term upside in NetSuite after unusual options activity. Benzinga noted that the action followed a $14 billion bond sale by Oracle on June 29th and that Larry Ellison owns ~24% of Oracle, and ~43% of Netsuite.
On July 12th, rumors surfaced that Oracle was going to buy NetSuite.
16 days later, the stock is up 42.62% since Benzinga's initial report after Oracle acquired NetSuite for $109/share.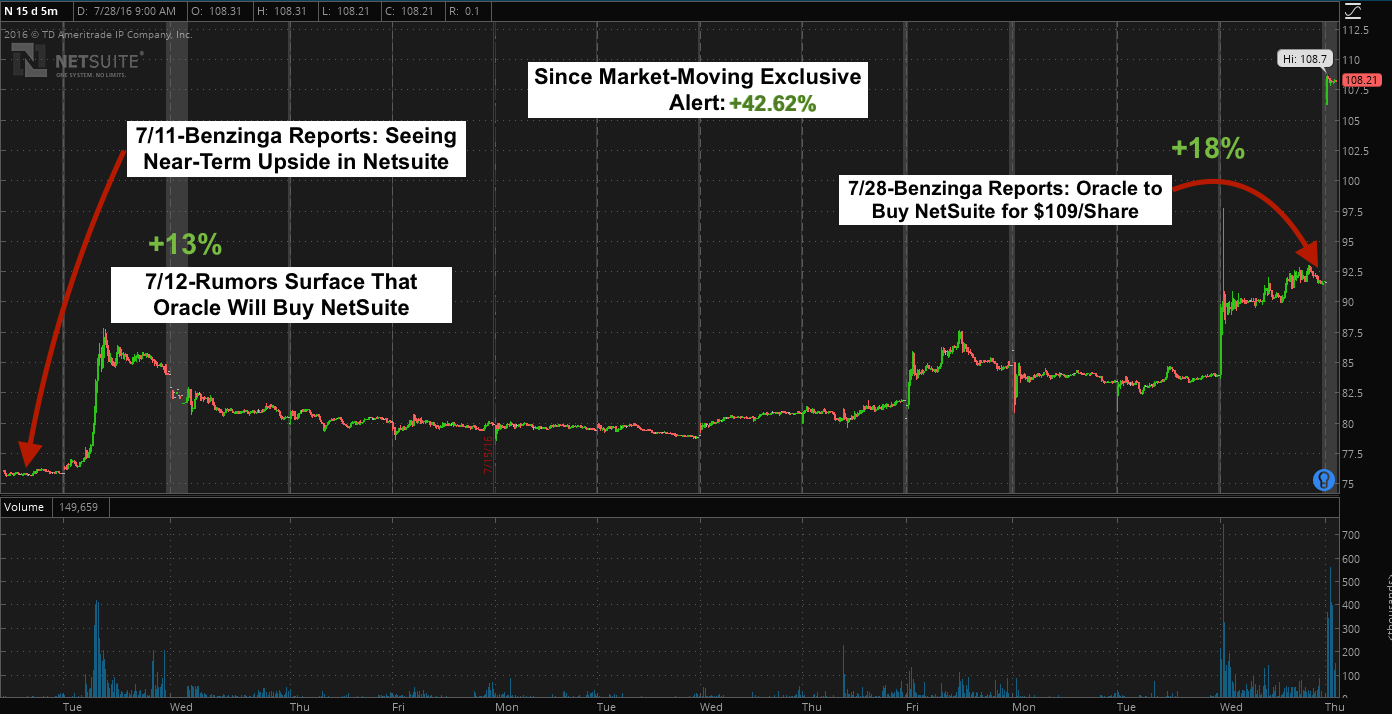 August 11:
A source familiar with the matter spoke with the newsdesk regarding possible interest in WYNN from Icahn. Shares of WYNN were up ~3% on a rumor that he was going to be taking a stake. The Benzinga newsdesk exclusively reported that "Icahn has no interest in buying a casino.
Immediately following the report, shares sold off on heavy volume.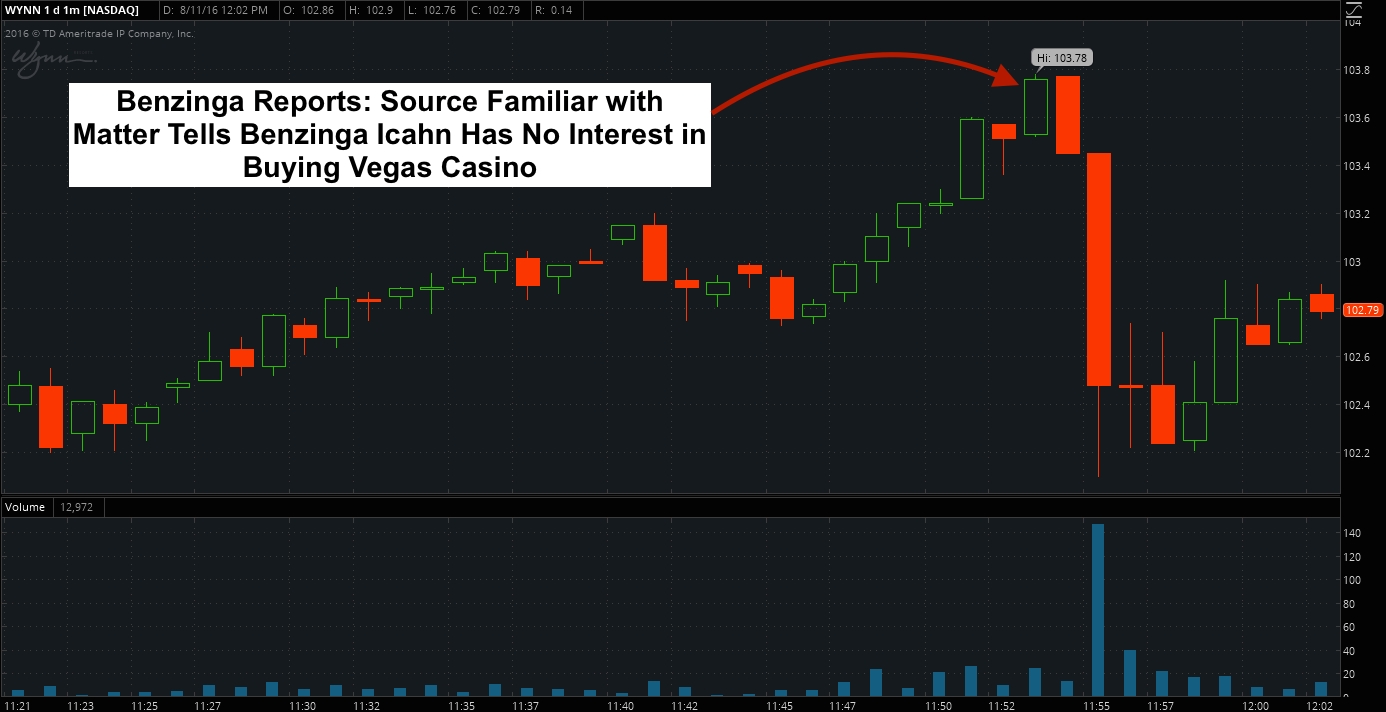 Posted-In: TheStreetSweeperShort Sellers Movers & Shakers Exclusives General
View Comments and Join the Discussion!