The Fed: Will They or Won't They?
Fed Rate Hike Back in Play
Yesterday, the U.S. Federal Reserve released the minutes from its last meeting on April 27. Markets have interpreted the message from the minutes as hawkish, once again putting speculation of an imminent Fed rate hike back in play.
As seen in the chart below, prior to the Fed minutes, markets had only attached a 4% likelihood to a June rate hike (July meet was at 19%-not shown). 24 hours later, markets now price in a 26% probability of a hike in June (July now at 39%-not shown).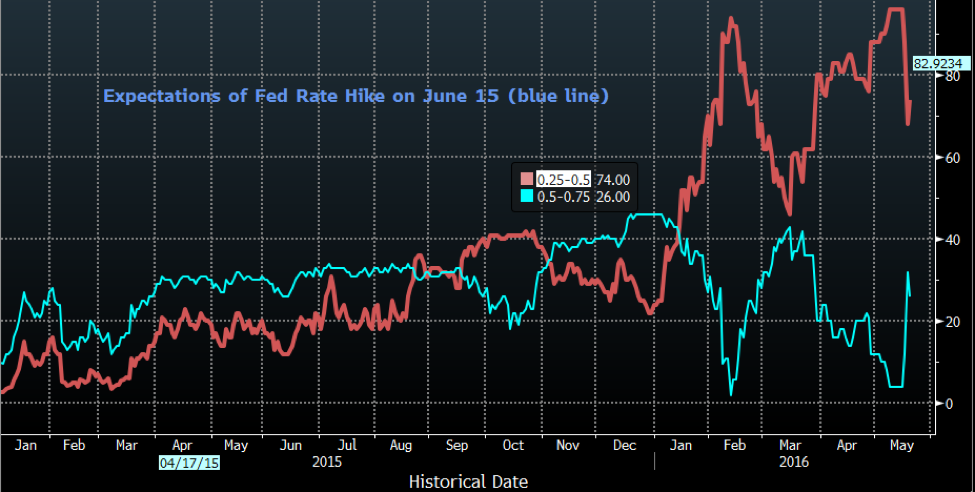 Source: Bloomberg; DriveWealth
The Fed clearly wanted to deliver a message—markets were significantly underestimating the likelihood of a Fed rate hike—and the markets got the message: U.S. 2-year yields (the most sensitive to Fed rate hike expectations) jumped about 12 bps.
Since Monday (about 20%); stocks reversed gains before the minutes and are continuing to creak lower, having dropped below the 50 day mov. avg. on Tuesday. The U.S. dollar jumped on higher rate expectations, and commodities took a hit, too.
The market reaction to the minutes was clearly driven by surprise, as markets had indeed become complacent about Fed rate hike risks. The Fed is keen to get on with the process of normalizing (raising) interest rates and they were justified in reminding markets of their intentions to avoid a larger disruption when they eventually do hike. But the Fed left itself a fair amount of wiggle room, making any rate increase dependent on continued positive data developments, which is far from certain.
June is the set-up; July is More Likely
While I maintain my view that the Fed will only hike one more time this year, if at all, near-term market moves seem likely to revolve around the June vs. July rate hike contest, which means that short-term volatility is likely to rise. This will certainly be the case surrounding important US data releases in coming weeks.
Of note: April durable goods orders, personal spending/income, PCE inflation; May Chicago PMI/ISM, NFP jobs data, retail sales and everyone's favorite, the Beige Book. Fed Chair Janet Yellen is also schedule to speak on June 6, the last scheduled speaker before the June 15 FOMC decision.
The market has embraced the Fed message that June will be a 'live' meeting, meaning the Fed may take action then. My own view is that the Fed will not have enough fresh information to hike at the June 15 meeting. If the incoming data up to that meeting supports the case for a Fed hike, and that's a big 'if' given the weakness in 1Q and the mixed data signals since then, I think they will use the June meeting to indicate they will move in July, giving markets more time to adjust and prepare.
This will also allow them to sidestep making any changes just prior to the June 23 UK referendum on EU membership. (the Brexit vote remains close, last at 44% stay/40% exit/15% undecided.) Fed Chair Yellen can also use the press conference to lay out the case for a rate hike and solidify the Fed's message.
What Should Investors Do?
While the market commentariat will be fixated on the 'Will they/Won't they,' 'June or July' debate, investors should look beyond the noise and stay focused on the bigger picture. After all, does it really matter whether rates are notched up in June or July, and by only 25 bps?
In the short-run, investors can expect increased volatility, especially around data releases, as noted earlier. To my thinking, the market dynamic is most likely to play out based on risk sentiment, with Fed rate hike prospects as the key lever. The more incoming data points to a Fed rate hike (positive/better- than-expected), the more likely it will be negative for risk sentiment and risk assets (stocks & commodities). Greater expectations of higher US rates will lead to rising US yields, US dollar strength/commodity weakness, and undermine US corporate profitability, denting stocks.
But is the flip side equally true? If incoming data suggests the Fed should stay on hold, is that positive for risk sentiment and assets? I would suggest the answer is no. If incoming data disappoints (negative/weaker-than-expected), the Fed is likely to stay on hold because of deteriorating economic conditions, which is typically not a risk-positive environment. While U.S. yields and the U.S. dollar may fall on reduced Fed rate hike expectations, stocks and commodities may not receive much support if the broader outlook is softening.
Then there is the 'Goldilocks' scenario, where incoming data is not bad enough to keep the Fed on hold nor to suggest the economy is weakening sharply. This scenario suggests more sideways movement, but with a downside bias due to higher rates overall.
In the more positive Goldilocks scenario, where incoming data is unambiguously strong/positive, the Fed has made it known it would like to raise rates further if justified (remember, they want to normalize rates). The prospect of even more Fed rate hikes down the road is likely to constrain rallies in risk assets.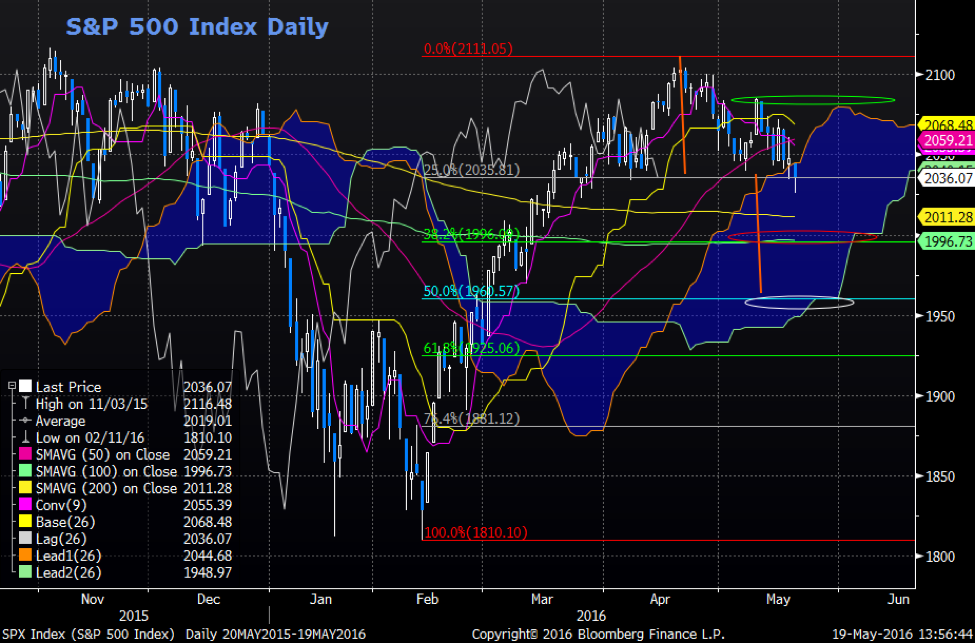 Source: Bloomberg; DriveWealth
Taken together, there does not appear much upside in the near-term for risk assets and investors may want to adjust strategies accordingly. Investors may also want to develop strategies to take advantage of downside corrections in risk markets, such as buying stocks on pullbacks at key support levels. Referencing the chart above, the S&P 500 has retraced a little more than 25% of the rebound since the Feb. 11 lows, leaving the 38.2% retracement/100-day mov. avg. at 1996 as the next objective (red oval).
Other technical analysis methods (Ichimoku cloud bottom/H&S measured move objective (orange vertical lines)/50% retracement) point to the 1955/60 area as potential support (white oval). Weakness below that level suggests even steeper declines. Strength above the most recent high at 2085 would be needed to reframe the outlook higher (green oval).
Looking beyond this summer, I remain positive overall on the US outlook, and for risk assets in general, and continue to pursue a buy dips/sell rallies strategy. I view the current pullback as an opportunity to begin re-building long-risk positions, but I don't see the need to hurry and miss out on more advantageous long-entry levels.
Posted-In: News Global Econ #s Economics Federal Reserve Markets General
View Comments and Join the Discussion!