The Market In 5 Minutes: The Oscars Of Fintech Is Coming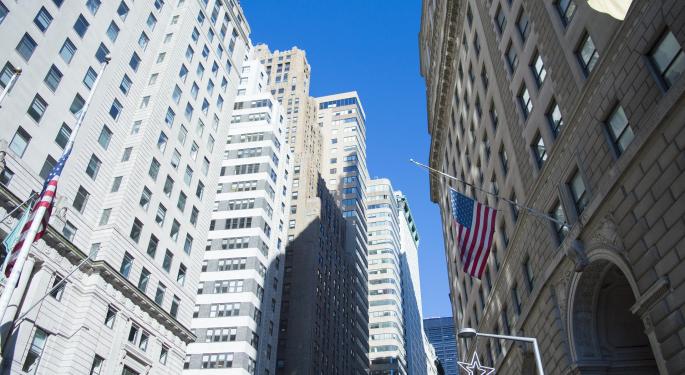 Below is a tool used by the Benzinga News Desk each trading day -- it's a look at everything happening in the market, in five minutes. Apply for daily AM access by clicking here or email minutes@benzinga.com.
Macro Focus
Global equities were mostly lower after the U.S. Federal Reserve's minutes from its April meeting point to a potential interest rate hike as soon as June. Higher interest rates in the U.S. could result in global investors pulling money out of riskier assets, particularly in emerging Asian stocks and into safer and more attractive U.S. assets. The U.S. dollar also moved higher following the Fed's minutes, which put pressure on global energy stocks and commodity prices.
Oil prices were also lower Thursday morning with the price of WTI crude lower by more than 2 percent and trading below the $48 per barrel mark. Commodity investors were reacting to the U.S. government's announcement that its crude oil inventories rose by 1.3 million barrels to 541.3 million last week.
USA Initial Jobless Claims for May 13 278.0K vs 275.0K consensus estimate. USA Continuing Claims for May 6 2.15M vs 2.16M consensus estimate.
Are you going to the Benzinga Fintech Awards next week? Grab your tickets now for the hottest gala in New York City! Some are even calling it the "Oscars of Fintech."
BZ News Desk Focus
Mohamed El-Erian, Allianz's chief economist told Benzinga the markets have been "under-estimating" the likelihood of an early Fed rate hike. He added that Fed officials have now "confirmed that they have been worried about this."
Joe Brusuelas, an economist for RSM, said the market's reaction to the Fed's minutes "was more hawkish than the text" appears to be. "Of interest was the committee felt comfortable enough to to note that risks to the outlook is balanced so one cannot rule out a June rate hike should employment and consumption data continue to demonstrate strength," he said.
Some of last night's and this morning's notable earnings:
Walmart (NYSE: WMT) Reports Q1 EPS $0.98 vs $0.88 Est., Sales $115.9B vs $113.22B Est.
DICK'S Sporting Goods (NYSE: DKS) Reports Q1 EPS $0.50 vs $0.49 Est., Sales ~$1.7B vs $1.63B Est.
salesforce.com (NYSE: CRM) Reports Q1 Adj. EPS $0.24 vs $0.23 Est., Sales $1.92B vs $1.89B Est.
Cisco (NASDAQ: CSCO) Reports Q3 EPS $0.57 Vs Est $0.55, Sales $12B Vs Est $11.97B
Take-Two Interactive (NASDAQ: TTWO) Reports Q4 EPS $0.46 Vs Est $0.26, Sales $342.5M Vs Est $305.95M
Urban Outfitters (NASDAQ: URBN) Reports Q1 EPS $0.25, Inline, Sales $763M vs $759.4M Est.
Sell-Side Themes
CLSA started coverage across the rail sector, with Norfolk Southern (NYSE: NSC) the top pick.
JPMorgan weighed in on the big players in pharmaceuticals. Stay tuned for a recap later today.
Sell-Side's Most Noteworthy Calls
Raymond James downgrades Petrobas (NYSE: PBR) to Underperform.
RBC downgrades Lockheed Martin (NYSE: LMT) and Northrop Grumman (NYSE: NOC) to Sector Perform.
Griffen Securities upgrades Halliburton (NYSE: HAL) to Buy.
Berenberg upgrades Boston Beer (NYSE: SAM) to Hold.
Piper Jaffray starts coverage of Square (NYSE: SQ) at Neutral.
Chardan initiates Arrowhead (NASDAQ: ARWR) at Buy.
Deal Talk
Bayer has approached Monsanto (NYSE: MON) about a takeover that would fuse two of the world's largest suppliers of crop seeds and pesticides, the companies said. Details of the offer couldn't be learned and it was unclear whether Monsanto would be receptive to it. Should there be a deal, it could be valued at more than $42 billion.
In The News
Two Chinese fighter jets carried out an "unsafe" intercept of a U.S. military reconnaissance aircraft over the South China Sea, the Pentagon said on Wednesday, drawing a rebuke from Beijing, which demanded that Washington end surveillance near China.
Tesla (NASDAQ: TSLA) announced a $2 billion offering for Model 3 ramp. Some questioned Goldman Sachs' (NYSE: GS) morning upgrades after it was announced they would be one of the offering's underwriters.
New York Times has an interesting tale of Goldman Sachs' gay and Latino CIO, R. Martin Chavez, and how he puts the firm's "button-down culture" to the test.
Mark Zuckerberg met with about a dozen prominent right-wingers at the company's California headquarters. The meeting came on the fourth anniversary of the day Facebook (NASDAQ: FB) issued its IPO. In a statement afterward, Zuckerberg noted, "Donald Trump has more fans on Facebook than any other presidential candidate. And Fox News drives more interactions on its Facebook page than any other news outlet in the world. It's not even close."
Blogosphere
Farhad Manjoo says that Twitter (NYSE: TWTR) -- Donald Trump's "trusty weapon" -- could actually be his downfall.
"Wall Street is putting its old Washington ways on ice," Reuters' Gina Chon opines. "Big banks are infamous for lobbying against swathes of financial reform. Lately, though, they've cut back. Now they're actively pushing congressional Republican bigwig Jeb Hensarling to ditch a bill to repeal the Dodd-Frank Act."
Trending
TSLA WMT CRM CSCO AAP URBN GS ZIOP CHD AEO DKS NUGT COST BBRY
EgyptAir Flight 804 from Paris to Cairo disappeared from radar with 66 people on board. A distress signal was detected in the vicinity where the flight disappeared from radar 2 hours later, but it could have come from another vessel.
#MySummerPlans What are you doing this summer?
Posted-In: Market in 5 minutesNews Global Top Stories Markets Best of Benzinga
View Comments and Join the Discussion!