The Market In 5 Minutes: Friday The 13th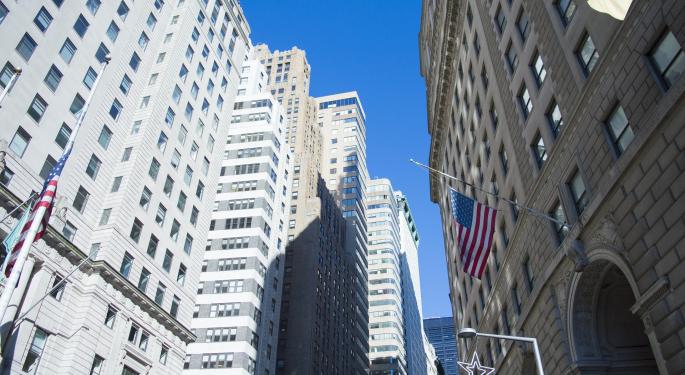 Below is a tool used by the Benzinga News Desk each trading day -- it's a look at everything happening in the market, in five minutes. Apply for daily AM access by clicking here or email minutes@benzinga.com.
Macro Focus
Asian equities closed mostly lower as lower commodity prices weighed in on commodity-linked stocks, while poor earnings from several Japanese companies disappointed investors. Oil prices were also lower early Friday morning. The price of brent crude fell 0.73 percent to trade at $47.73 a barrel, while WTI fell 1.22 percent to trade at $46.15.
Shrinking U.S. output and massive cuts to investment in new projects will reduce the global oil glut over the course of this year, OPEC said Friday, potentially pushing worldwide oil production lower than demand in 2017. OPEC forecast that production by countries outside the cartel will help rebalance a global crude market that is seen prices fall by more than half since 2014, even though OPEC has declined to rein in its own production.
Apple (NASDAQ: AAPL) hit a 52-week low on Thursday, falling below $90 and allowing Alphabet (NASDAQ: GOOG) to surpass its market capitalization once again — at least temporarily.
U.S. retail sales rose 1.3 percent in April vs. 0.8 increase expected, the biggest increase in a year.
BZ News Desk
Some of last night's and this morning's notable earnings:
JC Penney (NYSE: JCP) Reports Q1 Adj. EPS $(0.32) vs $(0.38) Est., Sales $2.81B vs $2.92B Est.
Concordia Healthcare (NASDAQ: CXRX) Reports Q1 Adj. EPS $1.35 vs $1.52 Est., Sales $228.535M vs $231M Est.
NVIDIA (NASDAQ: NVDA) Reports Q1 EPS $0.46 vs. Est. $0.32, Rev. $1.3B vs. Est. $1.26B
Shake Shack (NYSE: SHAK) Reports Q1 EPS $0.08 vs. Est. $0.05, Rev. $54.2M vs. Est. $52M
Long investors in the SPDR S&P Retail ETF (NYSE: XRT) have had a tough week to close out the Q1 earnings season. The ETF is down about 5 percent over the week, its lowest level in months. A portion of that weakness has been related to disappointing results out of the department store group.
Sell-Side Themes
Goldman Sachs added Allergan (NYSE: AGN) to its Conviction List, while taking Mylan (NYSE: MYL) off the list.
Deutsche Bank issued a big report on the restaurant sector following a mixed bag of Q1 results.
Sell-Side's Most Noteworthy Calls
Bank of America downgrades Western Digital (NASDAQ: WDC) to Underperform.
Stifel downgrades Lockheed Martin (NYSE: LMT) to Hold.
Bank of America upgrades CyberArk (NASDAQ: CYBR) to Buy.
Seaport Global upgrades Transocean (NYSE: RIG) to Neutral.
Citigroup initiated Howard Hughes (NYSE: HHC) at Buy.
JPMorgan initiated Arista (NYSE: ANET) at Neutral.
Deal Talk
Apple invested $1 billion in Chinese ride-hailing company Didi, one of Uber's biggest rivals.
Anheuser-Busch InBev (NYSE: BUD) has entered into an agreement with Ambev pursuant to which AB InBev has agreed to transfer SABMiller's (OTC: SBMRY) Panamanian business to Ambev, in exchange for which Ambev has agreed to transfer to AB InBev its business in Colombia, Peru and Ecuador.
Buy-Side
Speaking at the SALT 2016 Conference, Leon Cooperman of Omega Advisors said the hedge industry is "under assault."
In The News
The Obama administration will issue guidance on Friday directing public schools to allow transgender students to use bathrooms matching their gender identity. A joint letter from the Departments of Education and Justice will go out to schools on Friday with guidelines to ensure that "transgender students enjoy a supportive and nondiscriminatory school environment,"
A group of Bernie Sanders supporters who have worked or volunteered for his campaign have come up with a draft proposal calling for the Vermont senator to suspend his presidential bid after the June 7 California primary, eventually concede to Hillary Clinton and build an independent organization aimed at defeating Donald Trump.
Blogosphere
Hong Kong's property market is supposedly in a freefall: "What I still don't understand is how Kyle Bass plans to short Chinese banks?"
Gadfly's Max Nisen says Valeant (NYSE: VRX) is haunted by "ghost of past and future." The stock hit a 52-week low on Thursday.
Trending
JCP JWN NVDA KTOV SHAK UNG AMZN AAPL XRT TIF TGT X KSS CYBR WM [StockTwits]
Friday the 13th... The fear of the number 13 has been given a scientific name: "triskaidekaphobia." The superstition surrounding this day may have arisen in the Middle Ages, "originating from the story of Jesus' last supper and crucifixion" in which there were 13 individuals present in the Upper Room on the 13th of Nisan Maundy Thursday, the night before his death on Good Friday.
View Comments and Join the Discussion!
Posted-In: Market in 5 minutesNews Global Top Stories Best of Benzinga