Feel The Bern Burn? Analyst Says Sanders Presidency Would Add $21 Trillion To National Deficit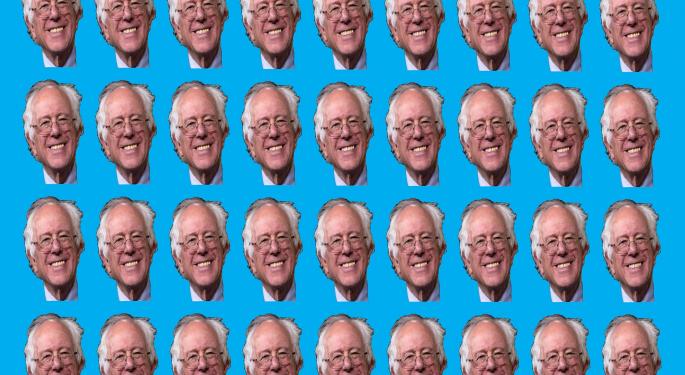 The national debt could swell by $21 trillion if Democratic candidate Bernie Sanders becomes president, according to an analysis by Tax Policy Center.
The analysis stated, "Over the next 10 years, the Sanders plan would increase federal revenues by $15.3 trillion but also increase federal outlays by $33.3 trillion, growing the cumulative budget deficit by about $18 trillion or roughly 7.5 percent of GDP."
Senior Research Associate Gordon Mermin continued, "If unfunded, the deficit increase would raise interest payments on the national debt by over $3 trillion over the next ten years." This brings the total change in deficit, including net interest, to $21.339 trillion.
Related Link: How Much Income Tax Would You Pay Under President Trump?
The Plans
Sanders' plans include tuition-free public colleges and universities, single-payer healthcare financed by the government, long-term services and supports, and family leave benefits – in addition to an expansion of Social Security benefits.
TPC's research came to the conclusion that new taxes would be more than offset by the new government benefits for all but 5 percent of households. However, "The combined tax and transfer plan would increase federal budget deficits by more than $18 trillion over the next decade."
In addition, the analysis found that the proposed tax plan would raise taxes across the income distribution and place most of the new burdens on the highest-income households. Although, it would benefit low-income households, the plan is expected to increase federal deficits and the national debt to "unprecedented levels."
TPC noted, "The ultimate distribution of benefits under the plan would depend upon whether the government financed that deficit through tax increases, spending cuts, increased borrowing, or some combination of these options. "
"A plan substantially financed by borrowing could raise interest rates and impose a substantial drag on the economy," TPC said in a statement.
The analysis further illustrated that a "dramatic increase in government borrowing would crowd out private investment, raise interest rates, further increase government borrowing costs, and retard economic growth."
"In combination with the dramatically higher tax rates, which would reduce incentives to work, save, and invest, the negative macroeconomic effects of the plan could be severe," TPC concluded.
Posted-In: 2016 presidential election Bernie SandersPolitics Top Stories Economics Federal Reserve Personal Finance General Best of Benzinga
View Comments and Join the Discussion!