The Market In 5 Minutes: The Most Exciting Two Minutes In Sports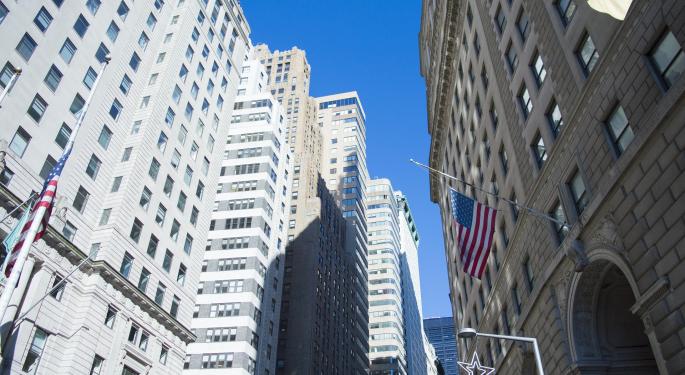 Below is a tool used by the Benzinga News Desk each trading day -- it's a look at everything happening in the market, in five minutes. Apply for daily AM access by clicking here or email minutes@benzinga.com.
Macro Focus
Global equities were mostly lower ahead of the U.S. payroll data. Investors also found reports out of China that Inner Mongolia Nailun Group, a fertilizer producer, said it defaulted on its bond payments. As noted by Market Watch, the announcement further hurt the sentiment in the stock market.
Oil prices were also trading lower. Brent futures and WTI futures were both lower by around $0.25 each at $44.77 a barrel and $44.07 a barrel, respectively.
USA Nonfarm Payrolls for April came in at 160,000 vs. 202,000 consensus estimate. The USA Unemployment rate for April came in as expected at 5 percent.
BZ News Desk Focus
Like many small-cap biotech stocks, Synergy Pharmaceuticals (NASDAQ: SGYP) is no stranger to the rumor mill. StreetInsider reported the company was exploring a sale on April 8, sending shares 8 percent higher. So, if Synergy buyout chatter emerges again, should investors take it seriously? It depends on the timeline.
Some of the most notable earnings reports from last night and this morning:
GoPro (NASDAQ: GPRO) Reports Q1 Adj. EPS $(0.63) vs $(0.60) Est.; Q1 Sales $183.536M vs $169M Est.
Yelp (NYSE: YELP) Reports Q1 Adj. EPS $0.08 vs $(0.16) Est., Sales $158.6M vs $155.6M Est.
Herbalife (NYSE: HLF) Reports Q1 EPS $1.36 vs. Est. $1.09, Rev. $1.11B vs. Est. $1.07B
Medivation (NASDAQ: MDVN) Reports Q1 Adj. EPS $0.11 vs $0.23 Est., Adj. Sales $182.5M vs $196.6M Est.
The SEC says it's finally cracking down on non-GAAP accounting. Wall Street companies have been using non-GAAP accounting since the 1990s. Now, only a couple of decades after it appeared, the SEC is springing into action to nip this non-GAAP fad in the bud. An American Accounting Association report claims that more than 60 percent of the companies in the S&P 500 were excluding GAAP expenses from their non-GAAP earnings as far back as 2001. Now, 16 years later, the SEC is on the case. Supposedly.
Find out what's going on in today's market and bring any questions you have to Benzinga's PreMarket Prep.
Sell-Side's Most Noteworthy Calls
General Motors (NYSE: GM) raised to Equal-Weight at Morgan Stanley.
Advance Auto Parts (NYSE: AAP) upgraded from Hold to Buy at Goldman.
Nokia (NYSE: NOK) raised to Market perform at Raymond James.
Medivation (NASDAQ: MDVN) upgrade to Buy at Citi.
United Rentals (NYSE: URI) cut to Sell at Goldman.
Williams Cos. (NYSE: WMB) downgraded to Market Perform at Raymond James.
Michaels (NASDAQ: MIK) cut to Neutral at Goldman Sachs.
MGM Resorts (NYSE: MGM) resumed Overweight at Morgan Stanley.
Intercontinental Exchange (NYSE: ICE) reinstated at Buy at Goldman.
Splunk (NASDAQ: SPLK) initiated at Neutral by MKM Partners.
Juno Therapeutics (NASDAQ: JUNO) rated Outperform at Cowen.
Deal Talk
A majority of FCC commissioners voted in favor of Charter's (NASDAQ: CHTR) purchase of Time Warner (NYSE: TWC) and Bright House Networks.
JCPenney (NYSE: JCP), faced with unexpected light sales in mid-April, slashed payroll, froze overtime and took other drastic cost-cutting steps in an attempt to protect its bottom line. As the end of its first fiscal quarter approached, the mid-priced department store told store managers to take the emergency measure because the chain faced "an expense challenge," according to an internal memo obtained by The New York Post.
Evonik Industries acquired specialty & coating additives business of Air Products & Chemicals (NYSE: APD) for $3.8 billion.
Telenor has reportedly hired bankers to explore sale of its $2 billion stake in VimpelCom (NASDAQ: VIP).
In The News
Apple (NASDAQ: AAPL) CEO Tim Cook plans to visit Beijing later this month to meet high-level government officials, at a time when it is facing some setbacks in its most important overseas market, a source familiar with the matter told Reuters. From weakening smartphone sales to the loss of an iPhone trademark dispute and the suspension of some of its online entertainment services, the U.S. tech giant has been facing a flurry of problems in recent weeks in its second-largest market.
Wealthy families, with $4 trillion up for grabs,are embracing their inner Warren Buffett, albeit on a smaller scale. As Bloomberg writes, "They used to hand most of their assets to managers to invest. Now, following the likes of Buffett, Michael Dell and Bill Gates, many are acting like private equity firms, buying large stakes in companies or acquiring them outright. Families can exert tighter control over their money, give the kids something to do and cut their deal fees."
Mike and Marian Ilitch announced a future succession plan for their Detroit-based pizza, sports and entertainment empires that says their youngest son, Christopher Ilitch, will eventually replace them in their respective roles. The announcement contained few surprise, as Christopher Ilitch, the sixth of Mike and Marian's seven children, has been at the helm of the family's holding corporation — Ilitch Holdings — for more than a decade.
Blogosphere
Given the success of Alibaba (NYSE: BAB) and Tencent (OTC: TCEHY), maybe it's time Beijing stopped oscillating between supporting fintech one day and demonizing it the next. Confused banks are never a good thing, says Gadfly's Nisha Gopalan.
Why is Justice suing one of the nation's most careful FHA lenders? Wall Street Journal takes a deeper look.
Trump, CNN and a missing airplane. Media norms have shifted, Bloomberg columnist Jonathan Bernstein says, and that may affect how the general election plays out. It certainly affected Republican nomination politics.
Trending
GPRO JCP SQ FEYE ENDP SPY HLF KMPH APD CYBR FXCM YELP ATVI DATA TSLA
Prince's infamous "vault" has finally been unlocked. Take a look at what's inside.
The 142nd Kentucky Derby takes place on Saturday afternoon. Check back with Benzinga for a full preview and a little history of the event.
View Comments and Join the Discussion!
Posted-In: Market in 5 minutesNews Global Top Stories Markets Analyst Ratings Best of Benzinga