Politics Prove Problematic For The Spain ETF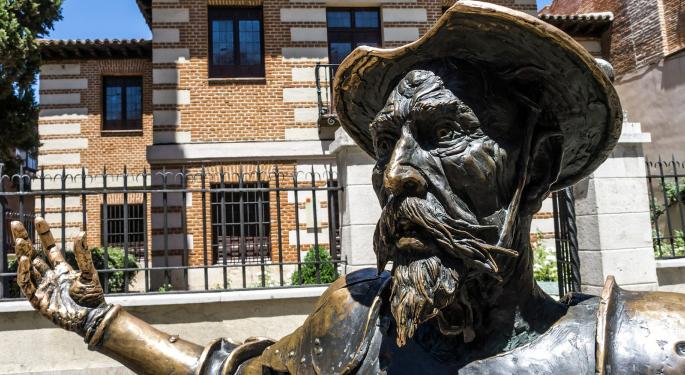 The iShares MSCI Spain Capped ETF (NYSE: EWP), the largest exchange-traded fund tracking stocks in the eurozone's fourth-largest economy is off 2.9 percent year-to-date. That does not sound too shabby, but it lags the year-to-date showings by the Vanguard FTSE Europe ETF (NYSE: VGK) and the iShares MSCI EMU Index (ETF) (NYSE: EZU) by a decent margin.
Spanish Stocks Lag Thanks To Political Instability
Political instability is a big reason why Spanish stocks and EWP are lagging broader European benchmarks and diversified Europe ETFs. Political uncertainty, a problem that can plague stocks in any developed or emerging market, is seen as derailing Spain's long, tenuous economic recovery.
Related Link: Banking On Good News For The Spain ETF
EWP's struggles and those of Spanish stocks could be signs that interested investors should approach the largest Spain ETF and its rivals with caution. Late last year, as stocks on Spain's benchmark IBEX Index became heavily shorted, Spain ETFs became popular with global investors. However, the eurozone's fourth-largest economy faces renewed headwinds.
"Spain is set for a further period of political uncertainty as the deadline passed for the country's political parties to come to an agreement on the formation of a government following the December 20th election. A new vote has been called for June 26th, with parliament likely to meet again towards the end of July. If, as seems likely, the result of the new election is similar to that of the first, it could be late into the third quarter of the year before Spain has a permanent government in place," said Markit in a new research note.
Investor Concerns And Reactions
Investors are already displaying concerns about Spanish stocks. Year-to-date, EWP has bled more than $375 million in assets, total that is about $165 million more than has been lost by the iShares MSCI Italy Index (ETF) (NYSE: EWI). EWI, the largest Italy ETF, has performed more than four times more poorly than EWP this year.
During the worst days of the eurozone crisis, Spanish banks offered investors scrip dividends as a means of preserving cash. As Markit noted, scrip dividends do not really help or harm investors, but they do help the banks using that option because it helps avoid dividend cuts, a message that is rarely warmly received by financial markets.
However, the outlook for Spanish dividends is improving, which is notable when considering EWP yields nearly 3.9 percent on a trailing 12-month basis.
"The European Commission has already increased the length of time Spain has to bring its government deficit within the 3.0 percent of GDP target in the past, and another extension seems likely as a result of there being a lack of government in place to enact reforms needed in order to redress the missed target of 2015. This situation is unlikely to entice investors to increase their exposure to Spain, despite GDP rising solidly," added Markit.
Posted-In: Short Ideas Specialty ETFs Eurozone Politics Top Stories Markets Trading Ideas ETFs Best of Benzinga
View Comments and Join the Discussion!