The Market In 5 Minutes: Happy Cinco De Mayo!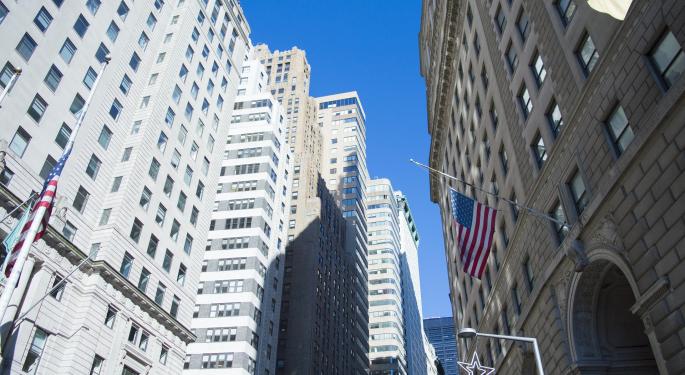 Below is a tool used by the Benzinga News Desk each trading day -- it's a look at everything happening in the market, in five minutes. Apply for daily AM access by clicking here or email minutes@benzinga.com.
Macro Focus
Asian stocks were mixed after the Chinese government reported its services activity expanded in April, although at a slower pace when compared to March. India's Mumbai Sensex index gained 0.64 percent as investors found a decline in the index to a three-week low as being excessive, according to Bloomberg.
Oil prices gained as a huge wildfire near Canada's oil sands region showed no signs of slowing down and many oil pipelines have been shut off as a precaution. Tensions in Libya are also adding to ongoing supply concerns. Brent crude futures and WTI futures each gained more than $1 a barrel to trade at $45.81 and $45.23, respectively. Reuters quoted Petromatrix strategist Olivier Jakob as saying, "The market is becoming much more sensitive to supply disruptions."
"U.S. crude inventories will expand to a record 550 million barrels this month before starting their seasonal slide, according to a forecast by Citigroup," Bloomberg noted. "Stockpiles rose 2.8 million barrels to 543.4 million last week, the most in more than 86 years, according to data from the Energy Information Administration. Inventories reached the highest ever at 545.2 million barrels in October 1929, according to monthly EIA data."
USA Initial Jobless Claims for Apr 29 274.0K vs 260.0K consensus estimate. USA Continuing Jobless Claims for Apr 22 2.12M vs 2.13M consensus estimate.
BZ News Desk
Tesla (NASDAQ: TSLA) reported a net loss of $(0.57) per share, beating the Street's consensus by $0.01, on revenue of $1.6 billion, up 45.5 percent year-over-year. An important note was the advancement of the target date to hit production of 500,000 cars annually by 2018 (it originally forecast for 2020). This was boosted by strong demand for the Model 3.
A few of Thursday's notable earnings:
Alibaba (NYSE: BABA) Q4 EPS $0.47 vs $0.60 est, Revenue $3.75B vs $3.59B est.
3D Systems (NYSE: DDD) Reports Q1 Adj. EPS $0.05, Inline, Sales $152.6M Vs $156M Est.
Mobileye Reports (NYSE: MBLY) Q1 Adj. EPS $0.15 vs $0.14 Est., Sales $75.2M vs $73.3M Est.
Need to get caught up on everything that happened at the Ira Sohn Conference? We have you covered!
Sell-Side Themes
Analysts began weighing in on Tesla's result, as well as Fitbit (NYSE: FIT). One analyst even called Fitbit a "piece of junk."
Sell-Side's Most Noteworthy Calls
Marketo (NASDAQ: MKTO) raised to Neutral at Bank of America.
Genesee & Wyoming (NYSE: GWR) cut to Hold at Stifel.
Walker & Dunlop (NYSE: WD) upgraded to Market Outperform at JMP.
Dick's Sporting Goods (NYSE: DKS) cut to Underweight at Morgan Stanley.
Advance Auto Parts (NYSE: AAP) downgraded to Market Perform at Raymond James.
GNC Holdings (NYSE: GNC) cut to Equal-Weight at Morgan Stanley.
Papa Murphy's (NASDAQ: FRSH) downgraded to Hold at Jefferies.
Intercontinental Exchange (NYSE: ICE) reinstated Buy at Deutsche Bank.
Waste Connections (NYSE: WCN) initiated at Outperform by Oppenheimer.
Deal Talk
Tribune Publishing (NYSE: TPUB) said Gannett's (NYSE: GCI) offer "understates the company's true value and is not in the best interests of its shareholders." Industry expert John Hartman suggested to Benzinga that Tribune is in a "weak financial position and getting weaker."
Buy-Side
Is the hedge fund business model broken? A recent out flow of $17 billion may suggest so.
In The News
A substantial number of big-money Republican donors have spent the last few months either actively spending against Donald Trump or sitting on the sidelines, frustrated with their options in the presidential race. Now, facing the reality of a Trump victory, they may take their money down-ballot to help Republicans in House and Senate races.
The U.S. attorney's office and the Drug Enforcement Agency both announced they're joining the Carver County Sheriff's office investigation into Prince's death. Authorities found prescription opioid medication on Prince and in his Minnesota home during the investigation of his death. So far, investigators have not found evidence that Prince had a valid prescription for the painkillers, leading the U.S. Attorney's Office and the DEA to launch a formal investigation into their source.
Planned Parenthood has filed a federal lawsuit against the state of Kansas over a plan to strip it of government healthcare funding, court records showed. Planned Parenthood says at least 24 states have cut its clinics of funding since mid-2015, when anti-abortion activists released videos purporting to show group officials negotiating prices for aborted fetal tissue.
Blogosphere
Michael Lewis just wrote about "the book that will save banking from itself."
Former top Federal Reserve official Peter Fisher has joined the growing chorus calling for reform of the U.S. central bank: "The Fed's decision-making and communications process is broken and has been for some time." MarketWatch points out that he's "no progressive or libertarian upset with the secrets of the temple. He is a consummate insider, a former Fed staffer promoted to run the New York Fed's open market desk who then moved to Washington to become Treasury under secretary for domestic finance under President George W. Bush. His name was often on the short-list for even more senior economic policy jobs."
Trending
BABA TSLA CHK TSA TU REGN LB FCEL CDK DISCA KHC PEIX SCTY K WTW FOXA [StockTwits]
An alleged gang rape laid out on an anonymous Twitter account has sparked investigations at two elite Atlanta universities and set off a social-media firestorm. The president of Atlanta's Spelman University urged the voice behind the @RapedAtSpelman account to come forward, saying "our hearts go out to you… Please identify yourself to me, so that I may offer you my full support and assistance."
Posted-In: Market in 5 minutesNews Events Global Top Stories Best of Benzinga
View Comments and Join the Discussion!