Bloomberg: Japan's Central Bank Is 'Quietly' Acquiring 'Huge' Stakes In Japanese Companies And ETFs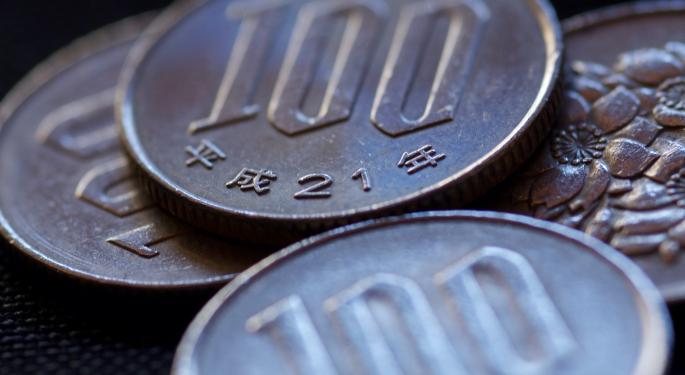 According to a report by Bloomberg, Japan's central bank is "quietly" acquiring "huge stakes" in Japanese stocks and exchange-traded funds (ETFs).
Bloomberg stated that compiled data suggests the Bank of Japan is a larger shareholder of Japanese blue-chips and even owns more assets than some of the world's largest money managers, including BlackRock and Vanguard Group.
Bloomberg continued that the central bank's buying activity is part of its stimulus plan. Of note, the central bank buys approximately 3 trillion yen ($27.2 billion) of ETF's every year.
Even though policy makers and the central bank itself don't disclose how much of a stake it owns in individual companies, Bloomberg's data suggests its ownership stake is "rivaled by few other investors."
Related Link: Asia, Europe Stocks Mostly Lower Ahead Of Bank Of Japan And Federal Reserve Meetings
The Bank of Japan is a top 10 shareholder of more than 200 out of the 225 companies that are included in the Nikkei index. The publication added that if the central bank were to accelerate its ETF purchases to an annual rate of 7 trillion yen, as several analysts are suggesting, the Bank of Japan will become the number one shareholder in approximately 40 companies within the Nikkei index.
"For those who want shares to go up at any cost, it's absolutely fantastic that the BOJ is buying so much," Shingo Ide, chief equity strategist at NLI Research Institute in Tokyo was quoted as saying by Bloomberg. "But this is clearly distorting the sanity of the stock market."
View Comments and Join the Discussion!
Posted-In: Asset Managers Bank of Japan Bank Of Japan Stimulus Program BloombergNews Emerging Markets Rumors Markets Best of Benzinga