The Market In 5 Minutes: ECB Leaves Rates Unchanged, Under Armour And GM Lead Today's Earnings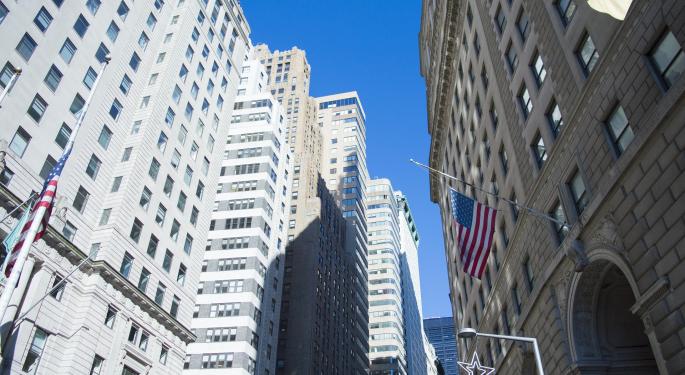 Below is a tool used by the Benzinga News Desk each trading day -- it's a look at everything happening in the market, in five minutes. Apply for daily AM access by clicking here or email minutes@benzinga.com.
Macro Focus
The European Central Bank left rates unchanged, leaving borrowing costs at record lows.
As part of efforts to ease domestic steel and coal overcapacity, widely blamed for triggering a global industry crisis, China said it will do more to help its firms shift capacity overseas while keeping tight control on adding new capacity at home. A joint statement issued by the central bank and several other government bodies said China would "strengthen financing support for enterprises 'going out'", and use loans, export credits and project financing to encourage coal and steel businesses to build capacity abroad.
Asian stocks were mostly higher, led by Japan's Nikkei index. Bloomberg reported that Japan's stock market likely gained on positive commentary that the Bank of Japan will likely increase their asset purchase program at next week's meeting on monetary policy. The price of a barrel of crude was nearly unchanged at $44.22, while gold futures for April delivery were higher by 0.53 percent.
BZ News Desk Focus
USA Initial Jobless Claims for April 15 came in at 247,000 vs. 263,000 estimates. USA Continuing Claims for April 8 were 2.14 million vs. 2.17 million estimates.
Las Vegas Sands (NYSE: LVS) was trading lower by more than 7 percent after reporting first quarter results. CEO Sheldon G. Adelson said, "The operating environment in Macao remained challenging during the quarter." Could this be a sign for the casino sector?
Under Armour (NYSE: UA) - up 9 percent - and General Motors (NYSE: GM) - up 3 percent - posted beats with raised guidance. Look for earnings this afternoon from Alphabet (NASDAQ: GOOGL), Microsoft (NASDAQ: MSFT) and Starbucks (NASDAQ: SBUX).
Sell-Side Themes
Axiom's Gordon Johnson looked at a way to play stronger poly prices in the solar sector.
Sell-Side's Most Noteworthy Calls
Caterpillar (NYSE: CAT) was upgraded from Underperform to Neutral at Credit Suisse.
ConocoPhillips (NYSE: COP) was downgraded from Hold to Underperform at Jefferies.
Worried about Apple (NASDAQ: AAPL)? JPMorgan says there's no evidence of any iPhone cuts.
Imperva (NYSE:IPMV) was cut to Underweight by Morgan Stanley. The analyst maintained the $36 price target and said Imperva's path to an FCF growth was now "less certain."
Tyson Foods (NYSE: TSN) was initiated with a Buy rating at Argus.
Deal Talk
Consolidated Edison (NYSE: ED) said its unit would purchase a 50 percent stake in a new entity that will hold Crestwood Equity Partners (NYSE: CEQP) natural gas pipeline and storage business for $975 million. The joint venture will own natural gas pipelines and storage facilities that provide a critical link between natural gas fields and Northeast U.S. markets.
In The News
Taxis aren't the only ones that may be stressing out about Uber: The ride-hailing service accounted for 43 percent of ground transportation business transactions last quarter on Certify, the second-largest provider of expense software in North America.
Japanese officials raided a facility belonging to Mitsubishi after the carmaker admitted to overstating the fuel efficiency of 625,000 cars, a revelation that has sent its shares into a tailspin. Earlier, Mitsubishi shares slid for a second straight day, hitting a record low amid concerns about the potential cost of compensation and fines from the biggest scandal to hit the company since a defect cover-up a decade ago.
Former Super Bowl hero Justin Tuck wants to change what football players think about. The newly-retired defensive end is making it his mission to help low-income and minority kids get money-smart. Tuck and his wife, founders of the nonprofit R.U.S.H. for Literacy rushforliteracy.org/ are being honored this week by Columbia University in New York for their leadership in financial literacy.
The $2 trillion project to get Saudi Arabia's economy off oil: Bloomberg spent eight hours with "Mr. Everything" Prince Mohammed bin Salman.
Blogosphere
Michael Bloomberg penned a column on why "The federal government is not the primary force in the U.S. fight against climate change, and even if the court ultimately strikes down certain parts of the plan, the U.S. will meet and probably exceed its commitment to reduce emissions by 26 to 28 percent by 2025."
I'm trying to remember a time in which stocks were on the verge of a breakout and people were so angry about it," Josh Brown writes. "The Dow just broke above 18,000 for the first time in nearly a year, and no one wants to even smile."
Trending
Harriet Tubman, a black woman, escaped slavery to become a conductor on the Underground Railroad, risking her life to lead slaves to freedom. President Andrew Jackson, the son of Scots-Irish immigrants and owner of slaves, was elected president as a war hero and became known for policies that led to the deaths of countless Native Americans. Soon, though, the two will share prominent placement on a new $20 bill — with Tubman, the former slave, getting top billing.
Joanie Laurer, better known to just about everyone as Chyna, passed away at the age of 45. She starred in World Wrestling Entertainment (NYSE: WWE) from 1997-2001. Chyna's large frame led her to many ground-breaking moments with the company. #RIPChyna
View Comments and Join the Discussion!
Posted-In: Market in 5 minutesNews Global Top Stories Best of Benzinga