CinemaCon 2016: Universal Primed For Continued Success With Diverse Slate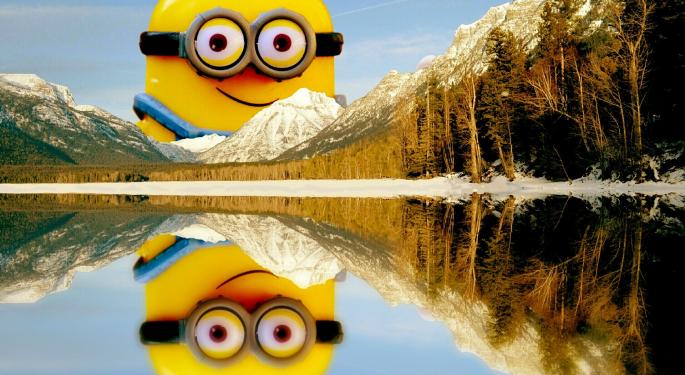 Over the last few days, Hollywood took a trip to Las Vegas for the annual CinemaCon event. It was there that exhibitors from all around the country came to see what movies are going to be burning up their screens through the rest of the year and beyond. This is a studio-by-studio recap of the biggest news to come out of the week-long event.
Here are Universal (Comcast Corporation (NASDAQ: CMCSA))'s top takeaways.
Bourne's Back
Universal's action franchise revolving around Jason Bourne took a unique path back to the box office, but in the end the studio got what it wanted – and so did its star. When Matt Damon agreed to return to the series (along with longtime collaborator Paul Greengrass) the studio re-shuffled its plans for a Damon-less spinoff.
Exhibitors know the power of this brand and so do Universal's investors. The film's debut trailer during the Super Bowl racked up an impressive number of hits and in turn set the pace for what's to come. Universal dominated the summer last season and theaters will see shades of that success with "Jason Bourne."
Related Link: Trio Of New Freshman Series Off To Slow Ratings Start
'Gone Girl' 2.0
While "The Girl On The Train" wasn't written by Gillian Flynn, it is still drawing comparisons to the author's runaway "Gone Girl" hit. The adaptation starring Emily Blunt debuted its first trailer at CinemaCon, and the reaction was as positive as expected.
With "The Help's" acclaimed director Tate Taylor at the helm, the film will likely try to follow the same roadmap "Gone Girl" did back in 2014. If successful, that means box office success and award recognition, which would be a boon for investors.
Animation Masterclass
It's hard to look at Universal's animated portfolio and not be impressed with what the studio has accomplished. Universal's partnership with Illumination Entertainment has been extraordinarily lucrative and as such its clear why when the pair release a new film, exhibitors, investors and analysts pay attention.
This year, Universal is putting out two such collaborations in "The Secret Life Of Pets" and "Sing," which both have the potential to mimic the success of previous releases "Despicable Me" and "Minions."
Universal also used CinemaCon to reveal the exciting news that Benedict Cumberbatch would voice the Grinch in its animated reboot of "How The Grinch Stole Christmas."
Next: CinemaCon 2016: Disney Brings Classics To Life While Staying The Course With Iconic IP
Posted-In: Benedict Cumberbatch CinemaCon Despicable MeNews Events Tech Trading Ideas General
View Comments and Join the Discussion!