The Market In 5 Minutes: Monday, April 11, 2016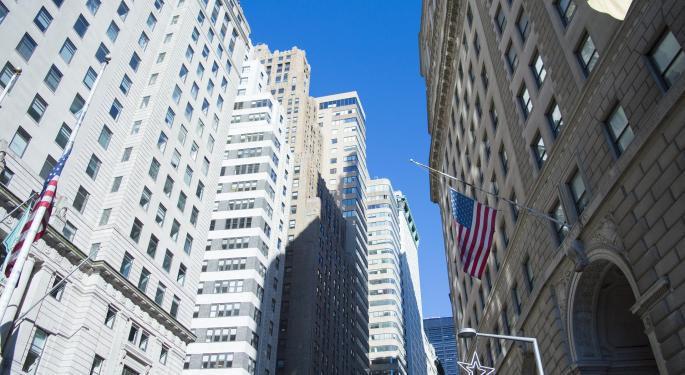 Below is a tool used by the Benzinga News Desk each trading day -- it's a look at everything happening in the market, in five minutes. Apply for daily AM access by clicking here or email minutes@benzinga.com.
Macro Focus
A strong rebound in Italian bank shares lifted European and world stocks on Monday, putting the brakes on risk-averse moves that had earlier lifted the yen to a 17-month high against the dollar and pushed German bond yields to a one-year low.
"The International Monetary Fund said on Sunday that a move to negative rates by some of the world's central banks would help deliver extra monetary stimulus and ease lending conditions," Reuters noted. "Six of the world's central banks have introduced negative rates, most notably the Bank of Japan and the European Central Bank, and around a quarter of the world economy by output is now experiencing official rates that are less than zero."
Gold futures continued trading higher and reached its highest levels in almost three weeks. Gold miners were trading at 52-week highs.
"When adjusted for inflation, wages for investment bankers and securities-industry employees, including salary and bonuses, increased 117 percent from 1990 through 2014, according to U.S. Bureau of Labor Statistics data," Bloomberg reported. "Over the same period, wages for all other industries rose just 21 percent, to $51,029 in 2014, about one-fifth of the $264,357 that bankers and brokers earned that year."
BZ News Desk Focus
Goldman Sachs acknowledges the only source of demand for equities comes from corporate buybacks. The desk determined it would be of value to our readers to highlight some of the recent notable comments from analysts regarding Q1 earnings expectations, along with some focus point comments on Financials and Credit markets.
Hertz (NYSE: HTZ) plunged more than 8 percent early Monday after the company provided an update to its outlook. Hertz said it expects its first quarter and full year U.S. car rental revenue and consolidated first-quarter earnings per share to be lower than previously expected. The company cited "excess industry capacity" for its poor outlook.
Sell-Side Themes
Shares of Qlik Technologies (NASDAQ: QLIK) surged following news of a possible buyout. However, Citi and Deutsche Bank both downgraded the stock.
Sell-Side's Most Noteworthy Calls
Concerned about Facebook (NASDAQ: FB)? Bob Peck pointed out that industry conversations indicate that several of Facebook's distribution partners expect Facebook to witness above consensus growth, quarter on quarter, with Instagram delivering strong year on year performance for the Core Facebook product.
Morgan Stanley believes that while Procter & Gamble's (NYSE: PG) shares do not appear compelling at present, lower-than-peer organic sales growth would limit multiple expansion going forward.
Deal Talk
Daily Mail and General Trust are teaming with private equity firms to acquire Yahoo's (NASDAQ: YHOO) internet assets. UK-based Daily Mail and General Trust is best known for its daily newspaper and tabloid website, the Daily Mail. A spokesperson for the publication was quoted by The Wall Street Journal as saying "we have been in discussions with a number of parties who are potential bidders" and that "discussions are at a very early stage."
According to a report by the Korean Herald, McDonald's (NYSE: MCD) has put its Korean operations up for sale. The business has about 415 mostly company-operated units. It's not known whether McDonald's is shopping the whole Korea operation or just a stake.
What's Up In The News?
U.S. Secretary of State John Kerry said his visit to the Japanese city of Hiroshima was a "gut-wrenching" reminder of the need to get rid of nuclear weapons. He made the comments at a press conference after laying a wreath at the city's atomic bomb memorial. He is the first U.S. secretary of State ever to visit the memorial or the city. Around 140,000 people, most of them civilians, were killed when the US dropped its atomic bomb on the city in 1945.
A U.S. Navy officer with access to sensitive U.S. intelligence faces espionage charges over accusations he passed state secrets, possibly to China and Taiwan, a U.S. official told Reuters.
Blogosphere
A decade ago, Brazil was a poster child for "emerging market" countries whose surging economies would ultimately make them wealthy nations. Now, there's no end in sight for the political and social upheaval in Latin America's largest country.
A funny video about the "day in the life of an analyst" is making the rounds. What do you think?
Trending
It was not a happy sophomore experience for Under Armour's (NYSE: UA) Jordan Spieth on #Masters2016. A gut-wrenching 12th hole -- infamous for previous Masters disasters -- cost last year's Master champion a big lead Sunday lead and, ultimately, a repeat victory. Danny Willett won his first major as a pro golfer.
Quote Of The Day
"Buddy, it seems like we're collapsing."
22-year-old Jordan Spieth to his caddie, as they approached the 13th hole on Sunday. You're not alone, Jordan.
Posted-In: Market in 5 minutesNews Events Global Top Stories Best of Benzinga
View Comments and Join the Discussion!