The Market In 5 Minutes: Friday, April 8, 2016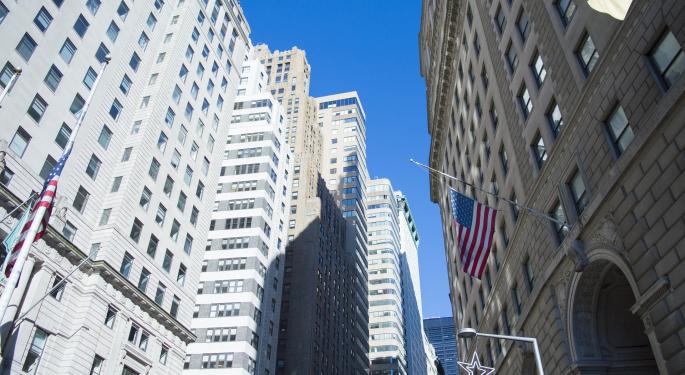 Below is a tool used by the Benzinga News Desk each trading day -- it's a look at everything happening in the market, in five minutes. Apply for daily AM access by clicking here or email minutes@benzinga.com.
Macro News
"The U.S. economy is on a solid course with some hints of inflation so the Federal Reserve is on track for further interest rate hikes, Federal Reserve Chair Janet Yellen said in a defense of her decision to tighten policy late last year," Reuters noted.
The report continued, "In a rare spectacle, Yellen spoke on a New York panel alongside her three predecessors who ran the world's most powerful central bank. She said the U.S. labor market was now "close" to full strength, again arguing that inflation would not be held down much longer by the strong dollar and low oil prices."
Pope Francis insisted individual conscience be the guiding principle for Catholics negotiating the complexities of sex, marriage and family life in a major document released Friday that rejects the emphasis on black and white rules for the faithful. In the 256-page document "The Joy of Love," Francis makes no change in church doctrine and strongly upholds that marriage is a lifelong commitment.
"China rattled markets around the world last year when vast sums of money began flowing out of the country. Estimated at nearly $1 trillion, the money flows represented growing skepticism that China would be able to fix its deep problems and resume its place as a driver of global economic growth," New York Times said.
The report continued, "Doubts remain about Beijing's ability to rev up slowing growth and patch up its frayed financial system. But new data suggests China has stanched, at least for now, the flow of money that had been pouring out of the country."
BZ Newsdesk Focus
Intercept was up more than 4 percent after the FDA accelerated approval for its Ocaliva drug. Stay tuned as analysts start to weigh in on the issue.
Check out these 10 stocks making big moves in the pre-market session, and keep up with them throughout the day.
Sell-Side Themes
Steel alert: UBS downgraded AK Steel (NYSE: AKS) and U.S. Steel (NYSE: X) to Sell.
RBC started coverage on nearly the entire entertainment sector. Its top bull pick might surprise you.
Morgan Stanley offered a pair trade in the fast-food space: The firm upgraded Jack in the Box (NASDAQ: JACK) and downgraded Restaurant Brands (NYSE: QSR).
Sell-Side's Most Noteworthy Calls
LinkedIn (NYSE: LNKD) was downgraded by MKM Partners.
PBF Energy (NYSE: PBF) was named a Top Pick at JPMorgan.
Citi is Neutral in the beer space, holding the same rating on Boston Beer (NYSE: SAM) and Molson Coors (NYSE: TAP).
Deal Talk
On Thursday afternoon, Fox's Charlie Gasparino reported that bankers said Valeant (NYSE: VRX) officials were actively discussing sale of its Bausch and Lomb unit. However, CNBC's Scott Wapner reported Bill Ackman told him Valeant "is not selling Bausch and Lomb...it is a core part of the company." Ackman said it's "only considering sale of non core assets."
Yahoo Japan shares rose more than 6 percent on reports of a potential Verizon Communications (NYSE: VZ) stake.
Buy-Side
What's Up In The News?
In a prolonged exchange, former President Bill Clinton forcefully defended his 1994 crime bill to Black Lives Matter protesters in the crowd at a Hillary Clinton campaign event. He said the bill lowered the country's crime rate, which benefited African-Americans, achieved bipartisan support, and diversified the police force.
More recent college graduates in the U.S. are finding work, but in jobs that don't require college degrees, according to new data from the Federal Reserve Bank of New York. The unemployment rate for recent graduates fell to 4.6 percent on average last year, after rising to a post-recession high of 7.1 percent in the year through March 2011. The previous expansion saw the rate hit a low of 3.3 percent for the year through May 2007.
The Federal Bureau of Investigation paid for the tool it used to break into a dead terrorist's iPhone and is considering whether to tell Apple (NASDAQ: AAPL) how it was done, FBI Director James Comey said.
Blogosphere
Rob Cox: Dan Loeb helps one Abenomics arrow hit target. "The public tussle between American activist investor Dan Loeb and one of the top retailers in the Land of the Rising Sun illustrates how corporate-governance reforms may hold the most long-term promise."
Conundrum: You have $144,306 in student loan debt and are freaking out. Are you screwed?
Trending
AVXL RLYP ICPT UA YHOO DUST SPY VXX LEI AFOP GPS PDCE
"American Idol" came to a close last night, ending the once-dominant series after 16 years. #IdolFinale
Posted-In: Market in 5 minutesNews Global Top Stories Best of Benzinga
View Comments and Join the Discussion!