The Market In 5 Minutes: Tuesday, April 5, 2016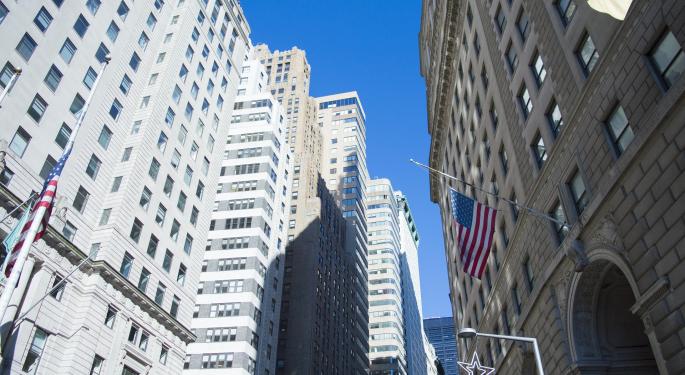 Below is a tool used by the Benzinga News Desk each trading day -- it's a look at everything happening in the market, in five minutes. Apply for daily AM access by clicking here or email minutes@benzinga.com.
Macro Focus
China banned imports of gold and rare earths from North Korea, as well as exports to the country of jet fuel and other oil products used to make rocket fuel, a move in line with new United Nations sanctions on Pyongyang.
Centers for Medicare and Medicaid Services (CMS) says the United States is raising payments to insurers by 0.8 percent on average, down from February's proposed 1.35 percent increase.
The International Monetary Fund issued a stern warning that policy choices made by China would have "increasing implications for global financial stability." According to the Telegraph, the IMF's warnings were quite stern, as the organization warns of a looming "bloodbath" if China's economy were to suffer.
BZ Newdesk Focus
Allergan (NYSE: AGN) shares fell as much as 20 percent amid fears that the U.S. Treasury Department and the IRS have revamped their efforts to limit domestic companies from doing so-called "tax inversion" deals.
Sell-Side Themes
Pfizer (NYSE: PFE) could revisit GlaxoSmithKline (NYSE: GSK) or AstraZeneca (NYSE: AZN) if the Allergan deal now falls through. Several analysts weighed in on the issue.
Goldman Sachs is concerned about record VIX longs and fears event risk.
Ruckus Wireless (NYSE: RKUS) was downgraded across the board, after Monday's announcement that it's being acquired by Brocade (NASDAQ: BRCD).
Evercore initiated coverage on nearly the entire restaurant sector, including Chipotle (NYSE: CMG), Dominos (NYSE: DPZ) and McDonald's (NYSE: MCD).
Sell-Side's Most Noteworthy Calls
Trip Chowdhry believes the pullback in Tesla (NASDAQ: TSLA) shares offers an attractive buying opportunity, especially given that Model X production issues seem to be reaching an end and meaningful catalysts are expected for the remainder of FY16.
Pacific Crest's Evan Wingren mentioned that while the total demand for WrestleMania beat the estimates, churn was likely to lead to a decline in paid subscribers in Q2. The analyst said WWE (NYSE: WWE) is worth $20 per share.
Deal Talk
In a somewhat surprising move, Twitter (NYSE: TWTR) won a new deal with the National Football League to stream its Thursday Night Football game.
Toyota (NYSE: TM) announced an enhanced relationship with Microsoft (NASDAQ: MSFT) aimed at delivering connected car services to drivers in ways they probably never could have imagined.
Accenture (NYSE: ACN) -- a management consulting, technology and outsourcing services company -- acquired a majority stake in Japan's IMJ; Terms weren't disclosed.
What's Up In The News?
Trailing in recent polls, Republican-frontrunner Donald Trump's march to the nomination could stall tonight in Wisconsin, while Bernie Sanders looks to build on his recent momentum.
A retired U.S. tax judge and her husband have been charged in Minnesota with cheating the government of $400,000 in taxes in a scheme that treated personal spending such as jewelry, pilates classes and overseas vacations as business expenses, prosecutors said.
Opening the portals of hell? "The European Organization for Nuclear Research, or CERN, is gearing up for another run at smashing particles together to unlock the secrets of the universe," WSJ says. "That means anticipating a new round of conspiracy theories that its real aim is to blast open a gateway for apocalyptic demons."
DJI, 3DR, Parrot and GoPro (NASDAQ: GPRO) have formed the Drone Manufacturers Alliance, a group that will specifically focus on "policies that promote innovation and safety, and create a practical and responsible regulatory framework" for consumers.
Blogosphere
A dystopian movie about Hong Kong's future won top honors at the prestigious Hong Kong Film Awards, and the Chinese government is displeased. "Ten Years," which imagines Hong Kong in 2025, underscores the resistance of the city's youth to Beijing's attempts to silence dissent in the former British colony.
There are winners and losers on the field and on the books of MLB. A University of Detroit professor compared Revenue and Team Payroll to offer insights as to which teams need menu changes such as battered BBQ pork on a stick with a pickle.
Trending
Villanova won the NCAA National Championship after a breath-taking 5 seconds to end the game. After a North Carolina heave tied the game up, Villanova won 77-74 with a buzzer-beater, the school's first title since 1985.
The hashtag #TaxHavens was also a worldwide trending topic, amid the Panama Papers scandal that everyone is talking about.
View Comments and Join the Discussion!
Posted-In: Market in 5 minutesNews Global Top Stories Best of Benzinga