The Market In 5 Minutes: April, Come She Will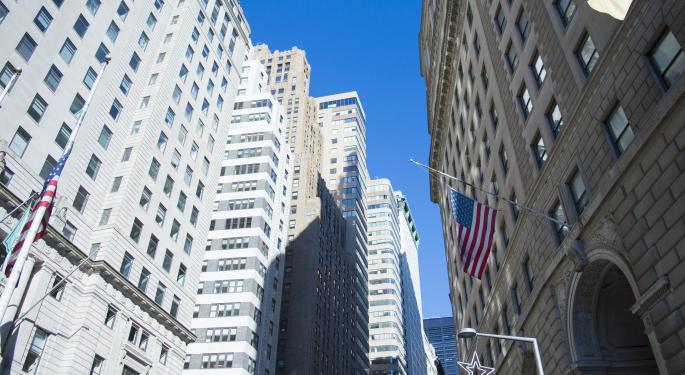 Below is a tool used by the Benzinga News Desk each trading day -- it's a look at everything happening in the market, in five minutes. Apply for daily AM access by clicking here or email minutes@benzinga.com.
Macro Focus
The Miami Herald, in association with the International Consortium of Investigative Journalists, might have busted open the story of the year: How secret offshore money helps fuel Miami's luxury real-estate boom.
People linked to wrongdoing abroad are buying condos in South Florida; The buyers turned up in a massive leak of secret files from offshore companies; And a flood of foreign cash helps crowd locals out of hot housing market. These "Panama Papers" are the largest leak in history and show businessmen and politicians of all types evade taxes.
Oil prices hit one-month lows as prospects of top exporters agreeing to curb chronic oversupply faded, while other commodities also lost ground as the dollar steadied after Friday's strong U.S. data.
Futures in West Texas Intermediate oil retreated last week for the first time since mid-February. Prices had surged from a low of almost 13 years on a proposal by Saudi Arabia, Russia, Venezuela and Qatar to cap oil output and reduce a global surplus. They'll meet with other countries in Doha on April 17.
Global investment banking fees fell 29 percent in the first quarter of 2016 from a year earlier as market volatility put a brake on dealmaking and equity and debt capital markets activity, Thomson Reuters data showed.
BZ Newsdesk Focus
Wall Street Journal on Saturday reported Alaska Air (NYSE: ALK) would purchase Virgin America (NYSE: VA). A $57 per share agreement was confirmed this morning.
Sunedison (NYSE: SUNE) fell 35 percent to $0.29 amid a report from Dow Jones that the solar company plans to file for bankruptcy protection in the next few weeks.
World Wrestling Entertainment will hold a conference at 3 p.m. ET to discuss WrestleMania and its network subscriber count. Check back later to see how the stock has traded following these events.
Sell-Side Themes
Barclays looked at who to play in the solar sector following Sunedison's bankruptcy report. Two names that stick out: Canadian Solar (NASDAQ: CSIQ) and SolarEdge Technologies (NASDAQ: SEDG).
Apple (NASDAQ: AAPL) was added to Credit Suisse's Focus List and the firm said shares could be worth $150, while Brean cut its Apple target to $155. Both firms have a Buy rating on the tech giant.
Disappointing March auto sales spells trouble for 2016 forecasts, according to Deutsche Bank.
Sell-Side's Most Noteworthy Calls
Can Amazon (NASDAQ: AMZN) get AWS to $100 billion? Bob Peck says Amazon was not only a dominant player in the cloud market, but also a pioneer in this space. With current market share of about 42 percent, the company is likely to see significant opportunity going forward.
There are six catalysts to watch for ahead of Yahoo's (NASDAQ: YHOO) proxy holder vote.
Deutsche Bank said Valeant (NYSE: VRX) could be worth $18, $30 or $36, depending on a number of scenarios. The stock last closed at $28.09.
Deal Talk
Blackstone (NYSE: BX) will buy Hewlett Packard Enterprise's (NYSE: HPE) stake in India's MphasiS for $1.1 billion.
Brocade (NASDAQ: BRCD) will acquire Ruckus Wireless (NASDAQ: RKUS) in a deal valued at $1.5 billion.
A source told the New York Post that Jon de Mol has made a standing offer to acquire World Wrestling Entertainment's (NYSE: WWE) should controlling owner Vince McMahon, 70, ever decide to sell. However, WWE "isn't in any discussions about a potential sale."
What's Up In The News?
The second installment of our on-the-ground report from Brazil looks at how Millennials feels about the country's political crisis.
The attacks in Paris and Brussels show Islamic State's strategy of mobilizing assailants to strike in the West. WSJ has a terrific interactive piece on how ISIS infiltrated Europe.
Some researchers examining recent energy data and the slowing Chinese economy are asking whether emissions of carbon dioxide are already falling in China, more than a decade earlier than expected.
The Washington Post looked at Donald Trump's "nonsensical" claim he can eliminate $19 trillion in debt in eight years.
Buy-Side
Condor Capital Management's update of ski industry trends: Lofty prices at the slopes, but deals are to be found.
Blogosphere
Convergex's Nicholas Colas looked at some off-the-grid indicators to get a sense of the true state of the U.S. economy.
"A hungry person, focused on learning, sharing and self-improvement can go very far," says the Reformed Broker. "A thirsty person who doesn't check his or herself will not go far. They will be stunted by their own rhetoric."
Trending
SUNE FB TSLA VA ALK JBLU EW ZFGN CSIQ GREK HD MON
AMC Network's (NYSE: AMCX) "The Walking Dead" season six left fans with yet another cliffhanger, but the social media reaction was not very positive.
WWE's annual WrestleMania event lasted nearly seven hours. The show saw Roman Reigns win the World Heavyweight title from Triple H, as well as some surprise appearances from wrestling legends and even Shaquille O'Neal.
Quote Of The Day
"The only thing I think is that you always get everybody's best shot. You don't ever catch somebody on a bad night. But I'd take all those advantages over that disadvantage."
North Carolina Head Coach Roy Williams, speaking about the tradition of Tar Heel basketball. Top-seeded UNC faces off against Villanova tonight in the 2016 NCAA National Championship.
View Comments and Join the Discussion!
Posted-In: Market in 5 minutesNews Events Global Top Stories Best of Benzinga