The Market In 5 Minutes: April Fool's Day!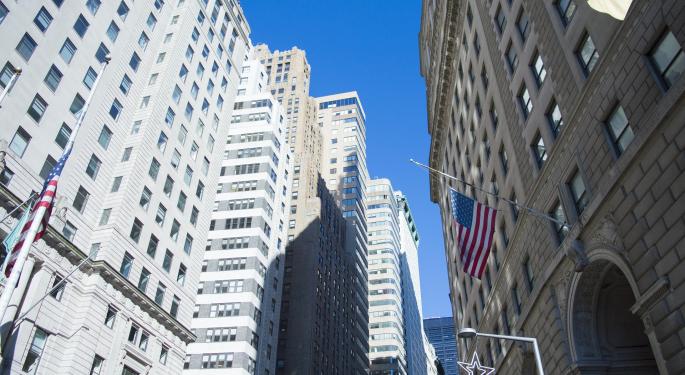 Below is a tool used by the Benzinga News Desk each trading day -- it's a look at everything happening in the market, in five minutes. Apply for daily AM access by clicking here or email minutes@benzinga.com.
Macro Focus
"Gloomy Japanese manufacturing data on Friday ensured a downbeat start to the second quarter, driving stocks lower and supporting safe-haven assets like gold and the yen," Reuters said. "Still bruised from a turbulent first quarter, investors took their cue from the Japanese data rather than more encouraging figures from China's manufacturers."
Saudi Arabia will only freeze its oil output if Iran and other major producers do so, the kingdom's deputy crown prince Mohammed bin Salman said, challenging the country's main regional rival to take an active role in stabilizing the oversupplied global crude market.
The Model 3 was finally unveiled last night, and appears to already be a big hit for Tesla (NASDAQ: TSLA) The electric vehicle will start at a base price of $35,000 (before tax credit, which could lower the price to about $27,500), with a range of 215 miles. Production is set to begin towards the end of 2017.
BZ Newsdesk Focus
US nonfarm payrolls for March came out at 215,000, about 10,000 higher than estimates. The unemployment rate was a tick higher than expected at 5 percent (4.9 percent estimates). Benzinga will speak with some notable economists throughout the day.
BlackBerry (NASDAQ: BBRY) posted EPS of $(0.03) vs. $(0.10) estimates. Revenue came in much lower than anticipated ($487 million vs. $563 million), sending the stock down 7 percent.
Sell-Side Themes
UBS came out cautious on the airline sector, while Deutsche Bank downgraded several names in the space.
Several analysts had very positive comments on Microsoft's (NASDAQ: MSFT) cloud business, as well as its Windows 10.
Citi still likes the FANG index -- Facebook (NASDAQ: FB), Amazon (NASDAQ: AMZN), Netflix (NASDAQ: NFLX), Google (NASDAQ: GOOG) -- but the firm slightly trimmed its price targets on the stocks.
Sell-Side's Most Noteworthy Calls
The recent pullback in the stock offers an attractive entry point for new investors in J2 Global (NASDAQ: JCOM), according to Citi.
Credit Suisse called Apple (NASDAQ: AAPL) users around the world "remarkably similar."
Trip Chowdhry thinks Tesla Model 3 preorders could reach 300,000, which would be a $10 billion value for the company.
Just six weeks after upgrading the stock, Citi downgraded Viacom (NASDAQ: VIAB).
Deal Talk
In an unexpected development in the Starwood (NYSE: HOT) acquisition battle, Chinese firm Anbang Insurance Group decided to walk away from its proposed takeover for almost $14 billion, which means Marriott (NASDAQ: MAR) could walk away the winner very soon.
CBS (NYSE: CBS) plans to spinoff its radio unit into an IPO, according to a New York Post report. "CBS plans to use the same playbook for spinning off its radio division as it did for unloading its billboard business two years ago, according to the company," the Post said. "The divestiture of CBS Outdoor began with a public offering of 19 percent of the division's stock — followed in three months by the distribution of the remaining 81 percent to existing CBS shareholders."
ON Semiconductor (NASDAQ:ON) extended its $20 per share offer to acquire Fairchild Semiconductor (NASDAQ: FCS). The offer was initially made on March 18.
General Electric (NYSE: GE) will sell GE Capital's majority stake in Bank BPH's core bank to Alior Bank LR.
What's Up In The News?
North Korea fired a short-range missile into the sea on Friday, Seoul officials said, hours after the US, South Korean and Japanese leaders pledged to work closer together to prevent North Korea from advancing its nuclear and missile programs.
Apple was founded 40 years ago today. Fortune took a look at the tech company's storied history.
Saudi Arabia plans $2 trillion megafund for a post-oil era. Read this Bloomberg report for more.
Academia
The risk of injury associated with American football is significant, with recent reports indicating that football has one of the highest rates of all-cause injury, including concussion, of all major sports. There are limited studies examining risk factors for injuries in the National Football League. A new study evaluated extrinsic risk factors for injury in the NFL. A hazardous association was identified for risk of concussion and ankle injury with colder game-day temperature.
Blogosphere
The single biggest story of the spring? It could be the reversal of emerging market underperformance vs. the S&P 500 and U.S. dollar.
Is it still worth getting a CFA? Read what dozens of people have to say.
Buy-Side
David Tepper raised his stake in Terraform Power (NASDAQ: TERP) from 9.5 percent to 10.9 percent.
Trending
BBRY TSLA GNCA SPY UWTI NFLX DUST DIA USO JCOM UAL DE TERP
#ONALondon is reaching a worldwide audience. The day-long conference dives into how audiences find and interact with news.
Quote Of The Day
Everybody plays the fool sometime
There's no exception to the rule
Listen, baby, it may be factual, may be cruel
I ain't lyin', everybody plays the fool
"Everybody Plays The Fool" - The Main Ingredient
Posted-In: Market in 5 minutesNews Events Global Top Stories Best of Benzinga
View Comments and Join the Discussion!