The Market In 5 Minutes: The Madness Continues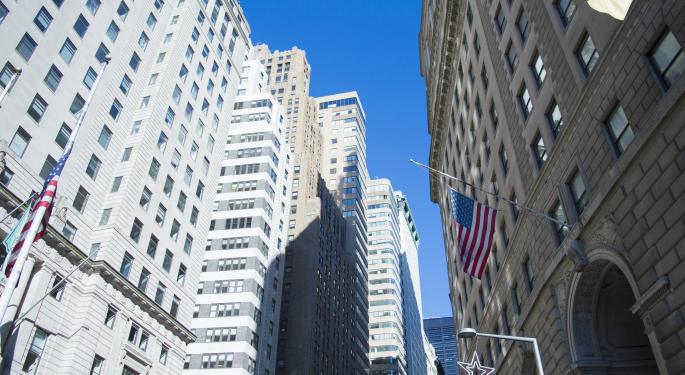 Below is a tool used by the Benzinga News Desk each trading day -- it's a look at everything happening in the market, in five minutes. Apply for daily AM access by clicking here or email minutes@benzinga.com.
Macro Focus
The Dow wiped out all of its 2016 losses yesterday, just the sixth time in the last 50 years it's done that. The last time that the S&P 500 had seen such a rebound was in late 2011, when it managed to erase a loss of 11 percent.
The VIX volatility index is down 45 percent over past five weeks, which Morgan Stanley says is the largest five-week decline in history. Traders who have betted on upside in oil and downside in volatility in S&P 500 index could have profited from their strategy this month.
Chinese stocks were soaring amid rumors that the country will give investors more margin financing. Barron's pointed out there were also rumors that commercial banks may resume non-brokerage margin financing, and may push the leverage ratio.
BZ Newsdesk Focus
Starwood Hotels (NYSE: HOT) determined that an unsolicited bid from Anbang Insurance Group, J.C. Flowers and Primavera Capital Constitutes a "superior proposal." The company notified Marriott (NASDAQ: MAR) of intention to terminate their merger agreement and it can submit a counterproposal by March 28.
However, another release said Starwood's Board has not changed its recommendation in support of Starwood's merger with Marriott. Stayed tuned to Benzinga for further analysis into this deal.
Valeant (NYSE: VRX) continued its sell off, despite CEO Mike Pearson telling his employees in a memo that the company won't go bankrupt and apologizing for the recent turmoil. Wells Fargo had earlier said the company had a 50 percent chance of going bankrupt.
Looking to continue the trend of a Detroit comeback, Lear (NYSE: LEA) is pressing the United Auto Workers to agree to lower wages in exchange for relocating jobs from Mexico to the Detroit area.
Sell-Side Themes
Shutterfly (NASDAQ: SFLY) hired Amazon (NASDAQ: AMZN) executive Christopher North as president and CEO, effective May 31. Analysts cheered the move, but were mixed on whether Shutterfly should still get acquired.
Jabil's (NYSE: JBL) poor guidance could be a bad sign for Apple (NASDAQ: AAPL). Find out what Argus and Goldman Sachs had to say about the reduced growth outlook.
Regarding this political election season, Citi is watching fair trade and healthcare comments the closest for potential market impacts.
Sell-Side's Most Noteworthy Calls
In an intense note, Bernstein blasted Tesla's (NASDAQ: TSLA) strategy ahead of the Model 3 unveil event slated for late this month. The firm is still wondering where the electric automaker's growth strategy is.
Susquehanna downgraded Micron Technology (NASDAQ: MU) from Positive to Neutral, reducing the price target from $15 to $10. The analyst expects the company's balance sheet to be under further pressure.
Global Equities Research's Trip Chowdhry still has "zero confidence" in Apple and again recommended replacing CEO Tim Cook and CFO Luca Maestri.
Deal Talk
Alphabet's (NASDAQ: GOOG) Google has assembled a working list of possible acquisition targets in enterprise that include a number of startups for cloud and app work, according to a Re/code report.
An Alibaba (NYSE: BABA) executive told Business Insider it's not increasing state in Paytm, despite rumors.
Intel (NASDAQ: INTC) and Advanced Micro Devices (NASDAQ: AMD) may be in talks for a licensing partnership.
Viacom (NASDAQ: VIAB) has received interest from three dozen companies for a minority stake in its Paramount Pictures studio, CEO Philippe Dauman told Wall Street Journal.
What's Up In The News?
A federal judge in Brazil issued an injunction to suspend the appointment of Luiz Inacio Lula da Silva as President Dilma Rousseff's chief of staff, further deepening a political crisis that has paralyzed Latin America's largest nation.
Michigan Gov. Rick Snyder admitted his emergency manager law failed Flint, leading to its ongoing water crisis. Several Michigan Democrats called for the governor to resign, echoing similar comments from Bernie Sanders and Hillary Clinton.
Movies based on iconic PC games "Portal" and "Half-Life" are in the making. Director J.J. Abrams confirmed in an interview, although he didn't offer any extra details about either movie.
The $10 million lawsuit thought to have been filed by Kalamazoo, Michigan, shooting suspect Jason Dalton against Uber is a hoax. "We have confirmed there is no way Jason Dalton wrote or had this lawsuit written," Kalamazoo County Undersheriff Paul Matyas told ABC News.
Apple encryption engineers could resist the FBI if they are ordered to unlock iPhones. The New York Times said this potential resistance adds a wrinkle to the public fight between the world's most valuable company and the authorities.
Academia
For the first time since Gallup first asked the question in 1994, a majority of Americans say they oppose nuclear energy. The 54 percent opposing it is up from 43 percent a year ago.
In Science, New Horizons scientists authored the first comprehensive set of papers describing results from last summer's Pluto system flyby.
While researching the brain's learning and memory system, "scientists at Johns Hopkins say they stumbled upon a new type of nerve cell that seems to control feeding behaviors in mice. The finding adds significant detail to the way brains tell animals when to stop eating and, if confirmed in humans, could lead to new tools for fighting obesity."
Blogosphere
Do too many VCs spoil the startup? Mattermark says party rounds are not as bad as you've heard.
Bronte Capital asks: What happens to distributorships upon death of distributor? "Herbalife (NYSE: HLF) and Advocare have very different policies as to what happens to the ownership of a distribution business on the death of a distributor."
A new analysis from Lux Research has identified four primary concerns with regard to the raw sales numbers from China.
Buy-Side
Steve Cohen's investment firm, Point72 Asset management, has a perfect regulatory compliance record. Point72 Asset Management, which manages about $11 billion and took over after regulators barred Cohen's SAC Capital Advisors from dealing with the public, has had "zero point zero" compliance and regulatory problems, Point72 President Doug Haynes said in an interview with Reuters.
Trending
TSLA ADBE DIS WYNN OPK BAC CMG MSFT BA AMZN X PYPL (StockTwits)
#MarchMadness will be disrupting office environments for another day, as people await to see if they still have the perfect bracket.
View Comments and Join the Discussion!
Posted-In: Market in 5 minutesNews Events Global Top Stories Best of Benzinga