The Market In 5 Minutes: Thursday, March 17, 2016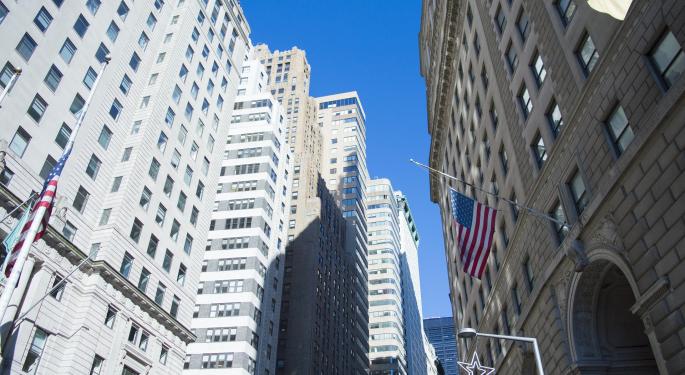 Below is a tool used by the Benzinga News Desk each trading day -- it's a look at everything happening in the market, in five minutes. Apply for daily AM access by clicking here or email minutes@benzinga.com.
Macro Focus
USA Initial Jobless Claims for March 11 came in at 265,000 vs. 268,000 estimates. Continuing Claims for March 4 came in at 2.23 million, inline with estimates.
USA Philadelphia Fed Manufacturing Index for March came in at 12.40 vs. -1.70 estimates.
The "Report on the Work of the Government" and the 13th Five-Year Plan for the country's economic and social development were released via Xinhua News Agency. The plan outlines the policy framework, priorities and economic and social development goals for 2016-2020, including an innovation-driven development strategy and an average annual growth rate of above 6.5 percent.
The dollar tumbled on Thursday morning, lifting world shares to their highest level of the year, after the Federal Reserve scaled down its own expectations of the number of U.S. rate hikes likely over the next nine months.
BZ Desk Focus
Peter Schiff, in an email to Benzinga, had some harsh words for the U.S. Fed and Janet Yellen: "The public knows that the economy is weak (that's why Trump and Sanders are doing well). But the Fed can't admit it and they are looking stupid as a result."
Central banks are maintaining loose monetary policy in the face of persistent risks to global economic growth. Switzerland's central bank held interest rates at a record low, while Norway cut its benchmark rate. The Bank of England will review interest rates on Thursday.
Caterpillar (NYSE: CAT) adjusted its Q1 guidance. The company now see adjusted EPS of $0.65-$0.70 per share, compared to estimates of $0.97. Keep an eye on the industrial sector and check back on Benzinga for further analysis.
Sell-Side Themes
Goldman Sachs considered three different implications for Amgen (NASDAQ: AMGN), Regeneron (NASDAQ: REGN) and Sanofi (NYSE: SNY) following the PCSK9 ruling. Piper Jaffray maintained its Overweight rating on Amgen.
FedEx (NYSE: FDX) reported a big Q3 earnings beat. The Street appeared to cheer the results, with multiple firms maintaining Buy or equivalent ratings. Check back soon on Benzinga for more coverage.
Sell-Side's Most Noteworthy Calls
Can Apple (NASDAQ: AAPL) grow its iPhone units again? Citi believes it would be able to grow its iPhone units in the September quarter, driven by the launch of iPhone 7, along with further expansion into the emerging markets.
Goldman reinstated coverage of Vivint Solar (NYSE: VSLR) with a Sell rating and $3 price target; Credit Suisse shared similar sentiment, cutting its target by $10 to $6.
Credit Suisse adjusted ratings on nine MLP stocks.
Jefferies made a big call, saying to exit Chipotle's (NYSE: CMG) stock that is worth just $350.
Deal Talk
Apple may be reducing exposure to Amazon.com (NASDAQ: AMZN)'s Web Services for Alphabet (NASDAQ: GOOGL)'s Google, according to "multiple sources" reported by CRN. The news may be notable as Google "has quietly scored a major coup in its campaign to become an enterprise cloud computing powerhouse."
According to the New York Post, a prominent activist investor has taken a stake in Office Depot (NASDAQ: ODP), believing the workplace supply chain could be near a deal that will clear all regulatory barriers to its merger with Staples (NASDAQ: SPLS). The deal would involve Amazon, which is believed to be eyeing the corporate business unit of Office Depot.
Coherent (NASDAQ: COHR) will buy Rofin-Sinar (NASDAQ: RSTI) for nearly $1 billion amid a harsh proxy fight.
Scandal plagued Japanese electronics maker Toshiba is selling its medical unit to Japanese camera maker Canon (NYSE: CAJ) for $5.9 billion.
What's Up In The News?
A British research organization warned that a Donald Trump presidency could have a dangerous impact on the world economy, increasing the potential of Islamic terror attacks and of a trade war with Mexico and China.
The Obama administration tightened the U.S. trade embargo on North Korea, placing sanctions on the Pyongyang government, its ruling party and broad sectors of the country's economy.
Merrick Garland was introduced as the newest Supreme Court nominee, replacing the seat of the late Antonin Scalia. Reuters says Garland has been sympathetic to government regulators in his almost two decades as an appeals court judge, frequently rejecting business-led challenges to federal action; but his overall record suggests he's a moderate who follows Supreme Court precedent and isn't eager to spearhead efforts to adopt novel legal theories.
The Uber driver charged with killing six people in Kalamazoo has filed a federal civil rights lawsuit for $10 million against the online transportation company, alleging it treated him poorly and ruined his life.
Netflix's (NASDAQ: NFLX) foray into the talk show format will officially begin May 11. Chelsea Handler, who has come on board to host the currently unnamed new series, made the announcement on Wednesday. She said her new show will air three a days week (Wednesday-Friday) and will run for 30 minutes with no commercial breaks.
Academia
Quartz says mathematicians are geeking out about a bizarre discovery in prime numbers. Researchers studying prime numbers at Stanford University stumbled upon a new phenomenon: The study showed that consecutive prime numbers try hard not to be similar and may not be as random as once thought.
Good news for those who suffer or know anyone who suffers from Alzheimer's disease: Patients may recover lost memories and form new ones, according to a study from MIT. Scientists discovered that although people with early stage AD can't remember recent events, they still have it in their brains; The problem is they can't easily access it.
Some concerning news out of a Mayo Clinic: Researchers found that medical students were having twice the rate of alcohol problems compared to the general public. Burnout factors and education debt put medical students under so much pressure that they look to ease pressure by consuming alcohol.
Blogosphere
The Great Debate, according to Reuters' Mohamed Bazzi: The oil collapse is forcing Saudi Arabia to cut back on its checkbook diplomacy.
Answer: Twitter (NYSE: TWTR), LinkedIn (NYSE: LNKD), Yahoo (NASDAQ: YHOO) and Groupon (NASDAQ: GRPN). Question: What beaten-down Internet companies does MarketWatch think are takeover targets?
"Fannie and Freddie and the 10% Moment." The Wall Street Journal says they can keep their profits once they stop freeloading off the taxpayers.
Redditors are loving what Bloomberg's Matt Levine wrote about Bill Ackman's disastrous Valeant (NYSE: VRX) loss.
Buy-Side
Ackman, founder of $12 billion Pershing Square Capital, is having the worst year in his fund's history. Pershing Square Holdings, his fund's publicly traded vehicle, has fallen 26.4 percent. Separately, Pershing Square reduced its stake in Mondelez (NASDAQ: MDLZ) to 5.6 percent.
Berkshire Hathaway energy subsidiary bought new solar garden portfolio in 21 different locations. BHE Renewables has purchased a 66 megawatt solar garden portfolio from Geronimo Energy, according to recent reports, which brings the BHE Renewables solar garden portfolio up to 100 MW.
Bain Capital is betting on an aging China. As WSJ says, the $150 million deal for control of a China-focused hospital operator is the first for the private-equity firm's new Asia fund.
Trending
VTAE FDX CTRP CAT AMZN SRPT AQXP JBL RSTI GES NKE [StockTwits]
SeaWorld (NYSE: SEAS) announced it will begin phasing out breeding of its Orca killer whales, to the happiness of many in the world. The resort has been under fire the past couple years after the release of the documentary "Blackfish."
Have a safe and joyous St. Patrick's Day! And be sure to thank Charlie Mops for any liquid treats you down today.
View Comments and Join the Discussion!
Posted-In: Market in 5 minutesNews Events Global Top Stories Best of Benzinga