The Market In 5 Minutes: Wednesday, March 16, 2016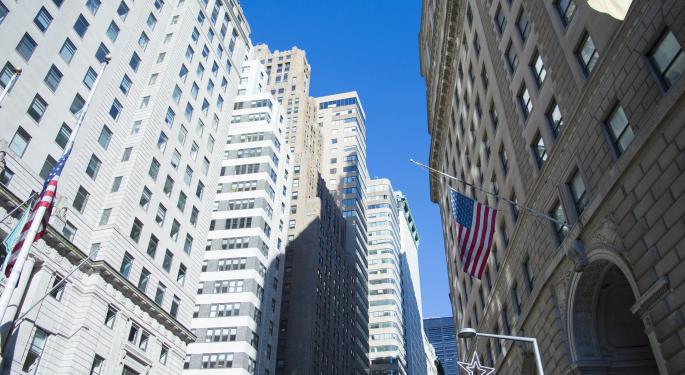 Below is a tool used by the Benzinga News Desk each trading day -- it's a look at everything happening in the market, in five minutes. Apply for daily AM access by clicking here or email minutes@benzinga.com.
Macro Focus
USA CPI month-over-month for February came in at 0.30 percent vs. -0.20 percent estimates. USA CPI year-over-year for February came in at 1.00 percent vs. 0.90 percent estimates.
USA Housing Starts for February were 1.18 million vs. 1.15 million estimates. Starts were up 5.20 percent month-over-month vs. 4.60 percent estimates. USA Building Permits for February came in at -3.10 percent vs. -0.10 percent estimates.
OPEC, non-OPEC producers to hold meeting in Qatar on April 17; 15 Producers to support initiative. Crude prices have risen in recent weeks on expectations that major producers will freeze production in an effort to drain excess supply from the market and boost prices.
Regarding Tuesday's retail sales data, an economist told us, "given the increase in gasoline prices, an early Easter holiday and the probability that outlays on home building and furniture will pick up along with residential starts should underscore slightly better overall retail sales over the next couple of months."
BZ Desk Focus
Analysts just can't stop talking about Valeant (NYSE: VRX), but after crashing 50 percent in one day, that's bound to happen. The stock started to recuperated, albeit slightly (3 percent) on Wednesday. Check back on Benzinga to see what the rest of the Street has to say.
Mallinckrodt (NYSE: MNK) fell more than 14 percent on Tuesday, after Citron's Andrew Left said the company makes Valeant look like a "bunch of choirboys." On Wednesday morning, Probes Reporter said Questcor SEC investigation remains a material exposure to post-deal company.
Sell-Side Themes
Chipotle's (NYSE: CMG) slashed sales outlook has the Street mixed. Some think the restaurant's recovery is intact, while others are selling the stock.
Goldman Sachs and Morgan Stanley both highlighted some concerning data points about primetime television.
Most Oracle (NYSE: ORCL) analysts remain bullish following the tech company's Q3 earnings beat. Check back on Benzinga for further analysis.
Sell-Side's Most Noteworthy Calls
Morgan Stanley downgraded LinkedIn (NYSE: LNKD), with a $60 bear-case scenario. The firm thinks the business-networking site won't be as big of a platform as originally thought.
BlueFin warned that a negative pre-announcement on Intel (NASDAQ: INTC) is a strong possibility: "While we view INTC's long term prospects favorably due to increasing Data Center exposure and a corresponding reduced reliance on the PC market, we would be cautious on the name in the near term based on the current state of PC demand."
Goldman said food companies are still witnessing demand headwinds, but these are no longer worsening, and some companies are able to boost margins with improved price discipline and productivity. The firm upgraded Kellogg (NYSE: K) and added Kraft Heinz (NASDAQ: KHC) to its Conviction Buy List.
Morgan Stanley also downgraded Gap (NYSE: GPS), as analyst Kimberly Greenberger believes the company's value proposition is not competitive, as two of its main brands - Banana Republic and Gap – have "lost relevance with consumers."
Deal Talk
Mitel (NASDAQ: MITL) and Polycom (NASDAQ: PLCM) are said to be in merger talks; Elliott Management has called for companies to merge.
Verizon (NYSE: VZ) has agreed to acquire Volicon, a multi-channel video content logging and monitoring system for compliance, analysis, content repurposing and quality of service.
Alibaba (NYSE: BABA) may use a $3-$4 billion loan to acquire Groupon (NASDAQ: GRPN), according to a Chinese business outlet.
The FCC has reportedly moved closer to approving deal a takeover deal deal between Charter (NASDAQ: CHTR) and Time Warner (NYSE: TWC).
What's Going On In The News?
Super Tuesday 3 has come and gone. Florida's Marco Rubio fell to Donald Trump in the GOP race in his home state, and ended his presidential campaign. Ohio Governor John Kasich took his home state, a big win for him and anti-Trump voters. Elsewhere, Hillary Clinton dominated the Democratic side of things.
President Barack Obama is scheduled to announce the new nomination for Supreme Court; The AP reported that Merrick Garland could be his choice. Justice Antonin Scalia had served in the Supreme Court since 1986 until his death in February.
Euro exchanges merge: The London Stock Exchange (LDNXF) has agreed to join forces with Deutsche Boerse, which operates the main German stock market in Frankfurt.
Amazon.com (NASDAQ: AMZN) is under investigation in Italy for alleged tax evasion, Francois Nuyts, Amazon's chief for Italy and Spain, said Tuesday.
Academia
The Bermuda Triangle no longer a mystery? A research paper by Arctic University of Norway found Oceanic methane bubble can lead to "enormous blowouts," air pockets large enough to swallow ships.
What should health care be trying to accomplish? "Zero pain is not the goal," Dr. Thomas H. Lee, chief medical officer of the healthcare consulting firm Press Ganey, wrote in the Journal of the American Medical Association. "The reduction of suffering is — and that is something more complex than analgesia alone."
Thousands of pregnant women caught in an ongoing outbreak of the mosquito-borne virus spreading from Brazil risk having a baby with the birth defect microcephaly, according to the results of a new study.
Blogosphere
Ronald Reagan's "protectionism is destructionism" message was true—and it would be derided in the 2016 race, according to The Wall Street Journal.
What would have happened if the U.S. government did not bail out the big banks after the mortgage crisis of 2008? Redditors are curious.
Bloomberg's Christopher Langner says "[t]here's one thing Japanese Prime Minister Shinzo Abe could learn from a Korean woman: respect -- for minority shareholders, that is."
Buy-Side
Bill Akcman came out in defense of Valeant on Tuesday afternoon. Ackman and Perhisng Square may have lost close to $1 billion on the stock's fall.
Trending
VRX LNKD MNK TWTR CMG ORCL TERP RLYP FSLR DB CERS [StockTwits]
Everyone is talking about #Budget2016 after British Conservative Party politician and Chancellor of the Exchequer George Osbourne slapped a tax on sugar.
Did you hear Disney (NYSE: DIS) announced Steven Spielberg and Harrison Ford are returning for a fifth installment of the Indiana Jones movie franchise? The movie is due out in 2019...when Ford will be 76 years old.
Posted-In: Market in 5 minutesNews Events Global Top Stories Best of Benzinga
View Comments and Join the Discussion!