The Market In 5 Minutes: Monday, March 14, 2016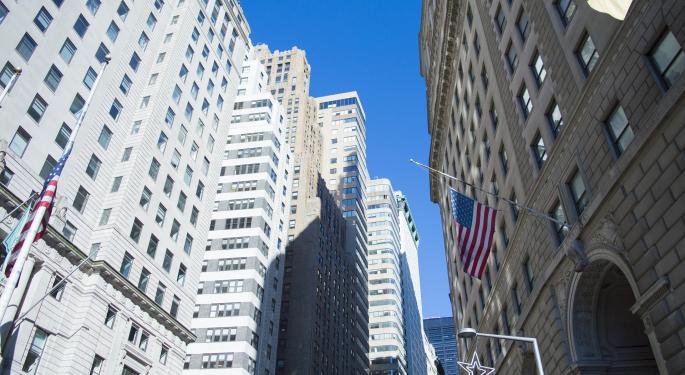 Below is a tool used by the Benzinga News Desk each trading day -- it's a look at everything happening in the market, in five minutes. Apply for daily AM access by clicking here or email minutes@benzinga.com.
Macro Focus
Oil fell under $40 on Monday morning, trading in the $37 handle. Reuters noted that Iran dashed hopes of a coordinated production freeze, returning bearish sentiment to the market over a supply glut that sent prices crashing.
German Chancellor Angela Merkel took a hit after Deutschland (Alternative for Germany) entered state parliament for first time. Pro-refugee candidates also achieved two victories in the elections – the first to take place in Germany since the chancellor embarked on her flagship open-doors approach to the migration crisis, as noted by The Guardian.
BZ Desk Focus
The Federal Reserve will meet on Wednesday, as central banks all around the world convene. Interest rates, as always, will be the hot topic for investors and the populace alike.
GW Pharmaceuticals (NASDAQ: GWPH) more than doubled in share price following positive trials of its Epidiolex drug. A marijuana stock expert warned that "this is a clinical trial and not a drug approval, so there remains considerable binary risk, as most of the value of the company is in this key drug."
A rumor roundup of what to expect from Apple's (NASDAQ: AAPL) March 21 event.
Sell-Side Themes
The FOMC meeting was on many firms minds. Check back soon on Benzinga for further analysis of the meeting.
Sandisk (NASDAQ: SNDK) received downgrades from Citi and Redstone.
Sell-Side's Most Noteworthy Calls
Baird sent Tesla Motors (NASDAQ: TSLA) higher with its upgrade. The firm said Model X concerns are similar to the Model S introduction -- read more here about its analysis.
UBS asked if the iPhone 5se is a reflection of a more proactive Apple.
In the current agriculture downturn, Citi thinks Monsanto (NYSE: MON) is not only facing intense competition in older seeds segment, but also higher-than-expected pricing pressure in high-tech biotech seeds.
Deal Talk
Starwood Hotels (NYSE: HOT) rose over 8 percent following confirmation from the company that a consortium has offered an unsolicited cash bid at $76 per share.
Following a 20 percent rise in February, The Fresh Market rallied another 23 percent on Monday morning following confirmation that Apollo Global Management LLC will buy the company.
Hertz (NYSE: HTX) will reduce its equity position in Japanese company CAR, and will sell 203 million shares for proceeds of $240 million.
What's Up In The Media?
Nielsen said (NYSE: NLSN) research shows that Taylor Swift music videos are more popular and have a bigger audience than some network TV shows.
Oregon, Kansas, North Carolina and Virginia earned No. 1 overall seeds in the NCAA's annual March Madness tournament. Big 10 champion Michigan State, notably, was looked over for a top seed.
Comcast's (NASDAQ: CMCSA) NBC will be re-visiting the variety show format as part of its summer roster.
Goldman Sachs (NYSE: GS) wanted to revamp its electronic stock trading in March 2015. Reuters spoke with Raj Mahajan, who has hired dozens of technologists and support staff to elevate Goldman's position in a fast-growing slice of the market and win back business from its chief competitor, Morgan Stanley (NYSE: MS).
A judge tentatively ruled Bill Gross met minimum requirements to go forward with wrongful termination lawsuit against Pimco.
Academia
Magnetic chips could dramatically increase energy efficiency in computing, according to research done by engineers at the University of California, Berkeley.
Amid the annual South By Southwest (SXSW) conference, Pew Research Center analyzed eight key conversations about internet and technology today.
Blogosphere
Michael Batnik breaks down Brian Portnoy's new book "The Investor's Paradox" -- looking into confusion traders and investors face in the marketplace.
One biotech author's opinion? Wall Street analysts have little understanding of the complexity of SunEdison's (NYSE: SUNE) accounting, which led analysts and short-sellers to create the havoc in the stock's decline.
Larry Swedroe looks into using liquidity as a key price factor.
See what is on dozens of investors' Spring reading list. Are any of your favorites on there?
Trending On Social
GWPH TSLA TWTR DDD NFLX LCI INO UWTI DWTI USO HOT TFM [Stocktwits]
The #DemTownHall was making waves, much in the same way every debate and election special will do for the better part of 2016.
Happy 3.14, better known to many as #PiDay!
Posted-In: Market in 5 minutesNews Events Global Top Stories Intraday Update Best of Benzinga
View Comments and Join the Discussion!