Two-Month Highs in Oil, China Easing Help Stocks Stage Early Rally
March is traditionally a strong month for the U.S. stock market, and stocks appeared primed to rally Tuesday on fresh stimulus news out of China and rising oil prices. Strength in overseas equity markets also contributed to the bullish mood.
China's surprise move to cut banks' reserve requirement ratio, designed to inject more money into its flagging economy, was among the factors behind Tuesday's early strength, market watchers said. China's economy continues to struggle, with manufacturing falling sharply in February, according to data released Tuesday. Though the data were weak, China's stock market rose, and CNBC reported that Goldman Sachs (NYSE: GS) said the cut in the reserve requirement might boost market sentiment.
The cut in China's reserve requirement helped stimulate a rally in oil prices early Tuesday, as traders contemplated the possibility of stronger Chinese oil demand. Front-month U.S. oil futures rose 2% to $34.43 a barrel, near two-month highs. Recently, oil has been an important signal of how equity markets perform, with strength in oil often feeding strength in equities.
Early strength in stocks Tuesday may also reflect bullish sentiment about the month of March being a strong one for the markets. Over the past 65 years, the S&P 500 (SPX) index has posted March gains almost twice as often as losses, with an average gain of 1.06%, according to financial education site Moneychimp.com. There's also sentiment among some market watchers that the market may have bottomed out last month, when it fell to two-year lows.
The ISM Manufacturing Index is due at 10 a.m. ET, and consensus is for a slight drop. Auto sales come out today as well.
From a technical standpoint, the SPX has moved back and forth around the 1950 level recently, and a few closes above 1950 would signal further technical strength. In Treasuries, 10-year yields moved close to 1.75%, up from recent lows.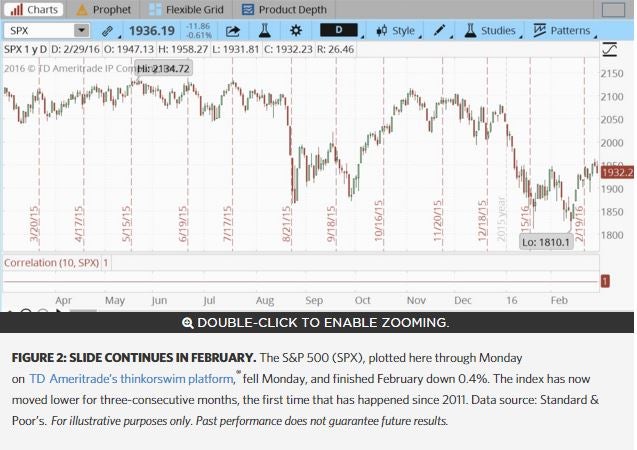 Hop in the Car: Investors have been watching closely for signals of whether the higher wages reported in last month's jobs report have translated into more robust consumer spending. So far, signals are unclear, with large retailers reporting mixed earnings and various economic reports coming in both above and below Street expectations. Tuesday's new vehicle sales data will likely give another clue. Edmunds.com projects February industry sales of more than 1.35 million vehicles, which would represent about an 8% gain over February 2015. Seasonally-adjusted annual sales rate is seen at a robust 17.7 million, the highest for February since 2000. Low gas prices, easy credit, and hefty discounts typically support sales of pickups and sport utility vehicles.
Gold Still Shines: February marked the best monthly gain for gold in about four years, Marketwatch and other media outlets reported. Spot gold rose 1.8% to $1,238.80 late Monday, locking in an approximately 10.6% gain for the month. Turbulent trading in stocks is likely a factor behind gold's rise, some analysts said, as investors continue to seek save havens. In what may be another sign of investor nerves, U.S. 10-year Treasury notes saw yields slip under 1.74% late Monday, down from recent peaks above 1.8%.
Beige Book Coming: On Wednesday, investors will get a look at the Fed's Beige Book, which gathers data on current economic conditions, including wages and prices, around the U.S. The report follows last Friday's core personal consumption expenditures (PCE) data, which came in higher than expected at 1.7% for the 12 months through January, the largest rise since July 2014. With the Fed's March meeting approaching, the Beige Book is likely to be viewed closely for any further signs of inflation. However, most market watchers and traders have long since written off the possibility of a March rate hike.
Posted-In: News Economics Analyst Ratings
View Comments and Join the Discussion!