Bill Gates Predicts An 'Energy Miracle' To Happen In the Next 15 Years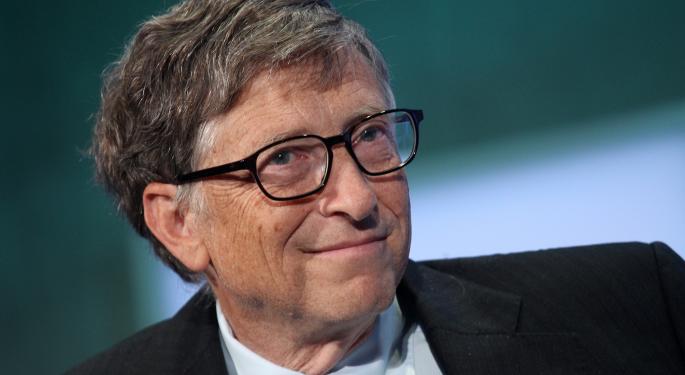 Microsoft Corporation (NASDAQ: MSFT) founder Bill Gates expects an "energy miracle" to happen in the next 15 years that would power the world and "change everything."
According to Gates, who heads Bill and Melinda Gates Foundation, the biggest challenge we face is to find a source of cheap and clean energy that will transform the lives of millions of the poorest families. Gates, who has invested in a lot of energy companies, is optimistic that will happen sometime in the future.
A Prediction...
"I'm so optimistic about the world's ability to make a miracle happen that I'm willing to make a prediction. Within the next 15 years—and especially if young people get involved—I expect the world will discover a clean energy breakthrough that will save our planet and power our world," Gates said in his 2016 annual letter.
He further elaborated the concept of "energy miracle" in an interview to TechInsider.
Miracles
"When I say "an energy miracle," I mean that there will be some form of energy whose 24 hour cost really is competitive with hydrocarbons given, say, 20 years of learning curve. You invent it, then you look at how much its costs go down over the next 20 years, that it really beats hydrocarbons. You might say, well, aren't people saying that about wind and solar today? Not really. Only in the super-narrow sense that the capital costs per output, when the wind is blowing, is slightly lower," Gates told TechInsider.
In 2015, the world emitted 36 billion tons of carbon dioxide to produce energy. Scientists say that to avoid these dramatic long-term changes to the climate, the world must cut greenhouse gas emissions by up to 80 percent by 2050, and eliminate them entirely by the end of the century. In fact, most scientists agree that by 2050 we'll be using 50 percent more energy than we do today, the letter said.
Posted-In: Bill Gates TechInsiderNews Commodities Markets Tech Best of Benzinga
View Comments and Join the Discussion!