What's Happening To Europe's Banks?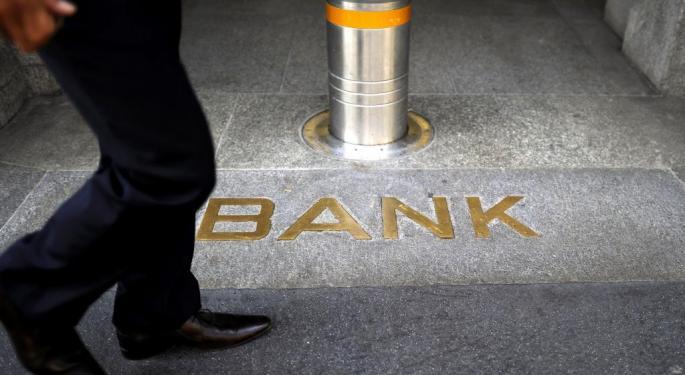 2016 was supposed to be the year of the banks. As investors counted down the final moments of 2015, they looked hopefully toward the banking sector as economic recovery, rising inflation and improving bond yields were seen benefitting the industry.
However, those hopes were quickly dashed, as markets took a nosedive at the beginning of the year due to worries about China and persistently low oil prices. Banks around the world have suffered from a lack of investor confidence, but concerns about the sector are especially evident in Europe, where shares the region's largest banks have tumbled more than 20 percent so far this year.
What Happened?
One of the biggest factors weighing on Europe's banks is oil prices. Like their U.S. counterparts, European banks have been under the microscope as investors worry about upcoming energy firms' defaults and how that will impact banks' stability.
However, a larger concern in Europe is how oil prices will affect the larger economy. Banks have been hard hit by low inflation because it has prompted the European Central Bank to keep interest rates low and take its deposit rate into negative territory. Prolonged low oil prices are likely to support low inflation, thus continuing the ECB's accommodative policies.
Related Link: Big Bank Investors Relieved With Dimon Purchase, Deutsche Bank Commentary
Negative Rates Are Killing Banks
Many believe that the ECB's decision to charge banks for parking money at the central bank has been detrimental to the industry, according to Market Watch. The issue arises as it essentially imposes a banking tax that the companies can't pass on to their consumers.
Some expect that the ECB is planning to take its deposit rate even lower to counter the rocky economic climate in Europe— something that could further drag down banking shares.
Investment Opportunity?
With big names like Deutsche Bank AG (USA) (NYSE: DB) and Credit Suisse Group AG (ADR) (NYSE: CS) down 28 percent and 37 percent respectively since the beginning of the year, many investors are wondering whether now is a good time to buy.
The answer to that question is dependent on how much risk traders are willing to stomach. On one hand, a long position in European banks could prove profitable, especially if market fears have been overdone. However, there is a good chance that they face a rocky road ahead, or in the worst-case scenario there could be a meltdown brewing in Europe's financial sector.
Posted-In: bankingNews Eurozone Global Economics Markets Trading Ideas General Best of Benzinga
View Comments and Join the Discussion!