Lions Gate's Stock Takes Tumble As Studio Begins Life After 'Hunger Games'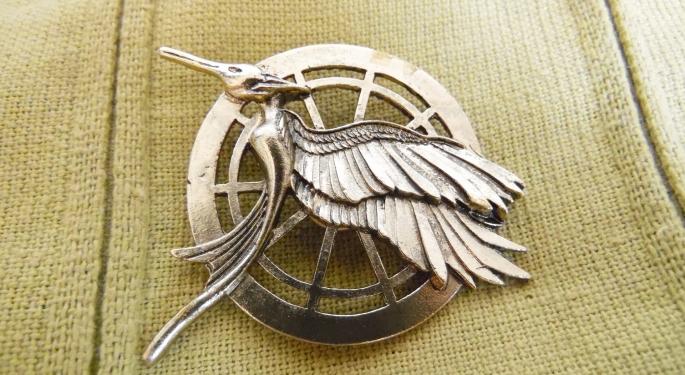 Investors in Lions Gate Entertainment Corp. (USA) (NYSE: LGF) have always been cognizant of the fact the studio's bottom line has heavily relied on the success of "The Hunger Games" trilogy.
That was made all the more clear on Thursday when, following an earnings report that missed expectations, the stock dipped.
What's interesting is that for as much as "Hunger Games" helped the studio, its under-performance is what led to the lower earnings report. Regardless, Lions Gate enters 2016 "Hunger Games"-less for the first time since it launched the series in 2012.
Analysts believe the series peaked following its second entry, as viewers didn't respond well to the decision to split the final film into two parts.
Without "Hunger Games," that leaves the "Divergent" films as its bread-and-butter franchise, but the movies have never reached the same heights. As a result, the studio is more dependent on original fare to sell tickets, while at the same time, rumors continue to swirl about a merger with premium channel Starz.
Lackluster Start To 2016
Lions Gate thus far in 2016 has released two films: "Norm of the North" and "Dirty Grandpa." While neither has set the box office ablaze, both have done respectable by comparison to their price tags. The animated "Norm" is just shy of recouping its reported $18 million production costs, while adult comedy "Grandpa" has more than doubled its reportedly small $11 million budget.
Related Link: How Major Studios Are Advertising During Super Bowl 50
Friday, Lions Gate will release its third film of the year, "The Choice." The latest adaptation from romance author extraordinaire Nicholas Sparks, the movie opens the same weekend as previous Sparks film "Dear John." While the studio would love the same type of $30 million opening, a $9 million debut is more likely.
"Dear John" opened in 2010 and starred Channing Tatum and Amanda Seyfried, while "The Choice" stars Benjamin Walker and Teresa Palmer. Neither Walker nor Palmer has anywhere the same momentum Tatum or Seyfried did at that point in their career.
Similarly, Sparks doesn't have the same draw he previously did, as his films have declined in earnings as well.
The point that shouldn't be overlooked here is that Lions Gate acquired the film for $10 million, so the risk to the studio and its investors is nil. Even without an A-lister in the lead, the supporting cast of Maggie Grace, Alexandria Daddario, Tom Welling and Tom Wilkinson still carries some promotional power to help boost revenue.
At the time of this publication, Lions Gate was down 33.18 percent on the day, trading at $17.00, and down 47.45 year to date.
Image Credit: Public Domain
Posted-In: Alexandria Daddario Amanda Seyfried Benjamin WalkerNews Movers Tech Trading Ideas General
View Comments and Join the Discussion!