Obama Introduces Clean Transportation Initiative; $10 Per Barrel Charge On Oil A 'Shocking Plan'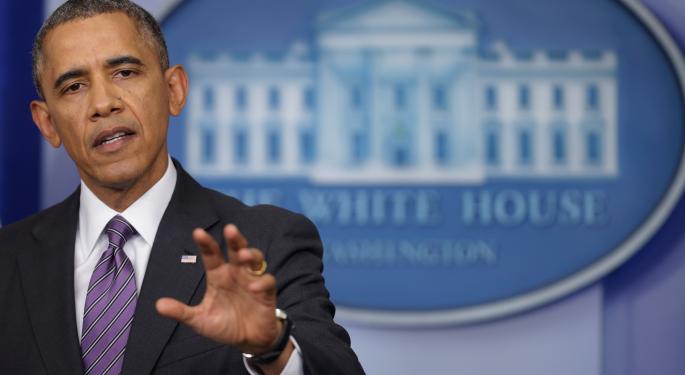 The White House just introduced a new initiative to finance clean transportation.
President Barack Obama is proposing a $10 per barrel charge on oil to fund green transportation initiatives as part of his final budget request. Oil companies will be responsible for the fee, which will be introduced over the course of the next five years.
The White House also noted that the plan has a three-point objective: 1) reduce carbon pollution by creating incentives to reduce the reliance on oil, 2) strengthening the economy as the plan would support hundreds of thousands of new jobs each year, and 3) create safer transportation methods including public transit and rail.
Related Link: Is Oil Driving The Stock Market? And Should Traders Care?
"For too long, bipartisan support for innovative and expansive transportation investment has not been accompanied by a long-term plan for paying for it," the White House said in its press release. "We need a sustainable funding solution that takes into account the integrated, interdependent nature of our transportation system. Travelers choose between walking, biking, driving, flying, and taking the train; and companies choose between trucks, barges, airplanes and rail lines. So to meet our needs in the future, we have to make significant investments across all modes of transportation."
'Pretty Shocking'
"A $10 per barrel tax would most likely be passed completely on to consumers," GasBuddy Senior Analyst Patrick DeHaan told Benzinga. "Doing some simple math on a barrel, that could amount to 23.8 cents per gallon. As with almost every tax increase on fossil fuels whether at the state or federal level it will likely be completely passed to consumers in the years ahead."
DeHaan said this is almost like raising "the 18.4c/gal fed tax to 42.2c/gal. Pretty shocking plan."
He said a tax on crude oil would mean trickle down on all refined products, hitting gasoline, jet fuel, diesel, heating oil and kerosene, among others.
Posted-In: Green TransportationNews Commodities Politics Economics Exclusives Markets General Best of Benzinga
View Comments and Join the Discussion!