Wal-Mart, Coke And Pepsi Will Supply Flint With Water For The Rest Of The Year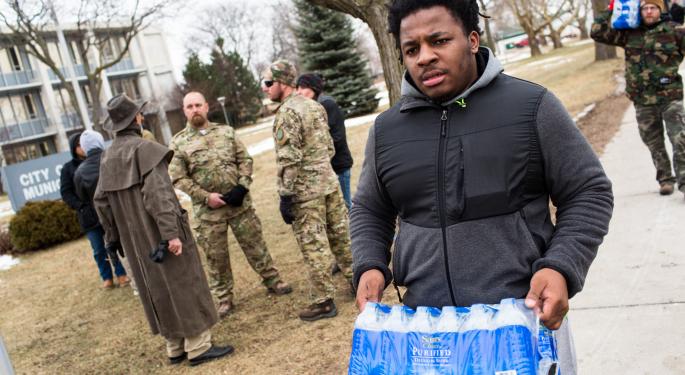 Wal-Mart Stores, Inc. (NYSE: WMT) announced on Tuesday it will team up with The Coca-Cola Co (NYSE: KO), PepsiCo, Inc. (NYSE: PEP) and Nestle to provide up to 6.5 million bottles of water for approximately 10,000 Flint, Michigan public school students.
Wal-Mart is also encouraging other members of the corporate community to support the Flint community by working with Good360, a notable charitable organization group.
"The water crisis is personal to us here in Flint," said Beth Harris, store manager at Walmart, Flint. "Those affected include our own associates, customers and their families. Our associates are proud to be a part of the effort to help our friends and neighbors."
The Flint water crisis has received national attention in recent weeks. The issues began in early 2014, when the city switched water suppliers. The contaminated water has affected up to 12,000 residents, with residents having high levels of lead in their blood.
"At Walmart, we take pride in using our strengths to help communities like Flint during times of crisis, as we've done around the world in times of need," said Dan Bartlett, executive vice president of Corporate Affairs for Walmart. "We're working to ensure that the children of Flint, the city's most vulnerable citizens, have access to safe water."
"PepsiCo believes that access to safe water is a basic human right," said Tony West, executive vice president, PepsiCo Government Affairs. "We are committed to supporting the communities where we operate, and our action today will allow Flint school children and their parents to focus on their education rather than where they can find clean water."
"We are committed to supporting Walmart and other groups in water relief efforts for the Flint community," said Lori George Billingsley, vice president of Community Relations, Coca-Cola North America. "Over the past 19 months, we have donated bottled water, volunteer hours and supported our employees in the affected area and will continue to look for ways to help meet the community's needs."
Cameron Lorrain, plant manager for the Michigan-based Ice Mountain® and Nestlé Pure Life® brand operations said, "We will continue to work in partnership with other companies, local officials and relief organizations to ensure that families in Flint have access to a steady supply of safe drinking water."
Posted-In: Cameron Lorrain Charities Coca-cola Dan BartlettNews Health Care Events General Best of Benzinga
View Comments and Join the Discussion!