Chicago Dealerships Accuse Fiat Chrysler of Falsifying U.S. Sales; Shares Sink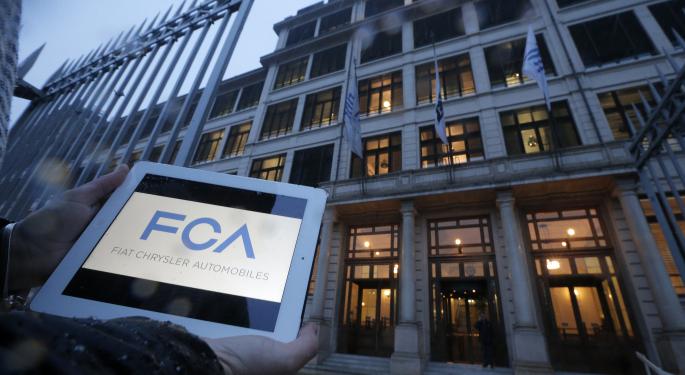 Shares of Fiat Chrysler Automobiles NV (NYSE: FCAU) plunged more than 8 percent early Thursday following a report that two dealerships in Chicago filed a civil racketeering suit against the company.
According to Automotive News, the two dealerships are part of a Chicago auto group and alleged Fiat Chrysler offered its dealers "large amounts of money" to report unsold vehicles as being sold.
Related Link: Auto Industry In Largest Credit Bubble Ever, Morgan Stanley's Jonas Warns
The publication noted that dealers were allegedly paid to report false sales on the last day of the month and then "back out or unwind" the sales the very next day. The suit also alleges that Fiat Chrysler's management were aware of the practice and even rewarded managers.
Finally, a spokesman for Fiat Chrysler, Mike Palese, told Automotive News that the company "has not been served with this lawsuit and cannot comment until we've had adequate opportunity to review what it alleges."
Update: Around 9:45 a.m. ET, Fiat Chrysler released this statement:
"Fiat Chrysler Automobiles has become aware that a lawsuit has been filed against FCA US LLC (FCA US) by a dealer in the U.S. alleging that FCA US offered it financial incentives to falsely report vehicle sales by reporting retail unit sales in one month and reversing them in the following month.
"While the lawsuit has not yet been served on FCA US, the company believes that the claim is without merit and was filed by internal counsel to the dealer group as FCA US has concurrently been discussing with the dealer group the need to meet its obligations under some of its dealer agreements.
"The company is confident in the integrity of its business processes and dealer arrangements and intends to defend this action vigorously."
View Comments and Join the Discussion!
Posted-In: Fiat Chrysler Fiat Chrysler Racketeering Mike PaleseNews Legal Movers Best of Benzinga