Russia Prepares 'Stress Test' For Economy As National Budget For 2016 Relies On $50 Oil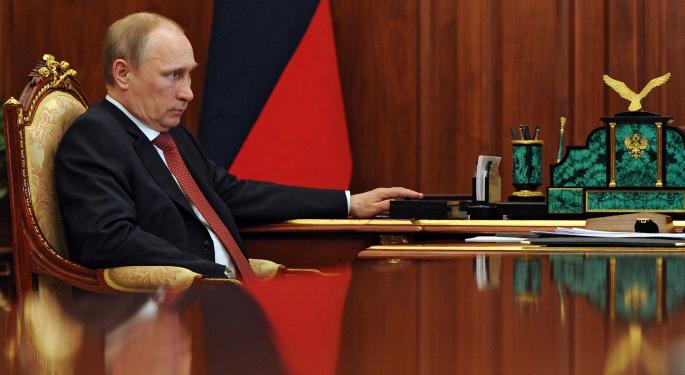 As oil prices continue trading lower, many governments worldwide that are dependent on the commodity are beginning to panic.
Saudi Arabia's government already unveiled its 2016 budget in late December and expects to record a deficit of $87 billion.
Related Link: Saudi Arabia To Post $87 Billion Deficit Amid Plunging Oil Prices
On Wednesday, Russia's government was the latest to sound the alarms as the country faces a similar threat as it saw in 1998-1999 when the government failed to implement a budget that was in line with the economic realities of the time.
According to RT, a Russian government-funded news network, Russia's 2016 federal budget assumes an average annual oil price of $50 per barrel. However, Russia's Urals blend of oil is currently trading at $27.14 per barrel.
RT added that the Russian government has ordered "stress tests" for its national economy by assuming a $25, $35 and $45 price of oil.
Meanwhile, recent collapses in energy prices since November implies the Russian government will lose out in $4 billion in oil revenue during the first two months of 2016 alone.
"It seems to me that you don't need to be afraid that oil will cost $20 or $15," Russia's Economic Development Minister Aleksey Ulyukaev said during an economic forum. "The logic of the markets says the lower something falls today, the more likely there will be a rebound tomorrow. It is not the biggest risk. The biggest risk is that oil prices could stay low for years or decades."
Russia's Finance Minister Anton Siluanov also spoke at the economic forum and said if the government fails to change its national budget to reflect lower oil prices, "then it will be the same as it was during the Russian crisis of 1998-1999, when the citizens paid with inflation for our failure to bring the budget into line with the new realities."
Posted-In: Aleksey Ulyukaev Anton Siluanov Oil oil pricesNews Commodities Global Markets Best of Benzinga
View Comments and Join the Discussion!