Slippery Oil, High-Yield Warnings Could Challenge Stocks' 'Santa Rally'
Sinking oil prices sapped what was shaping up to be sharp weekly gains for the broad stock averages early last week, leaving the major averages essentially flat when the final bell clanged. Commodities volatility isn't likely to fade from the trading picture any time soon, especially as traders look to a holiday-shortened week ahead that could introduce bouts of spiking, low-volume volatility.
With most eyes on commodities, oil futures dipped below $35 a barrel—their lowest level in nearly seven years—hammering energy and materials stocks in the process. And with those sectors under water, the broader S&P 500 (SPX) also struggled at times; even the largely defensive utilities sector found little traction late-week. The blue-chip Dow Jones Industrial Average ($DJI) dropped by triple digits more than once last week with volume behind the move, according to exchange data. Wide intraday price swings had a net result of sideways trading. It's a slight departure from the historic seasonal norm known as a "Santa Claus rally." Of course, the year isn't over yet. Is there still time for St. Nick to redeem himself for stock bulls?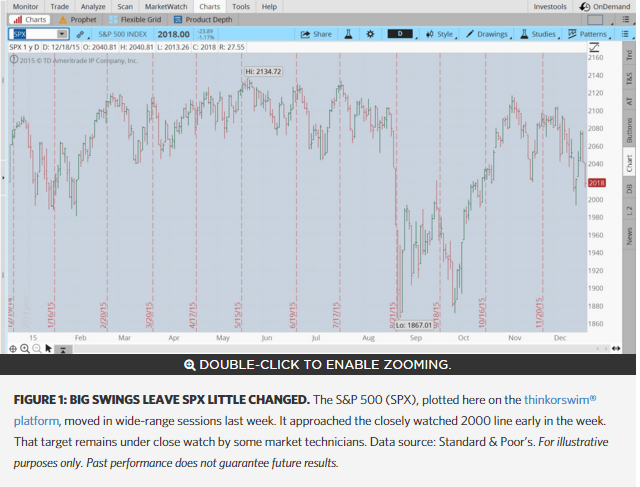 More Fed Scrutiny
What's more, teetering levels for high-yield bonds have kept some skittish stock traders sitting on their hands into these final weeks of the year. Most expect to keep close tabs on that market moving forward, as corporate bond markets reassess default risk and the fixed-income space in general adjusts to the first hike to U.S. interest rates in nearly a decade.
That hike came courtesy of the Federal Reserve's long-anticipated December 16 decision to nudge the Fed funds rate up by a quarter percentage point. At that meeting, the Fed began a rewind of overly accommodative, recession-era monetary policy and said it expects to move slowly in the months ahead, baring a dramatic change in inflation data and other factors.
The Fed's job was complicated somewhat by the Bank of Japan's (BOJ) decision on Friday to introduce more stimuli for its own economy. Its action sent some worries through stock markets but had mixed effects on currencies. All told, the BOJ stance reminded global markets of the notable gully between the direction for U.S. interest rates and the policy action (or inaction) for much of the rest of the world.
Busy Calendar in Short Week
Speculation on the next Fed move could be fueled by upcoming economic data. U.S. stock markets close early on Christmas Eve and will be shuttered on Friday for Christmas Day. That front-loads many of the week's wide-ranging economic reports, including a revised look at Q3 GDP, home sales data, and a read on factory activity through big-ticket goods demand in Wednesday's durable goods report.
Recall that other manufacturing data of late has reflected the ding of a stronger dollar on U.S. exports. Will rising-dollar impact show up in next week's reports?
Watch SPX 2000
Some technical analysts are watching the 2,000 level on the S&P 500. It's been called out several times over recent weeks and months as both a mark of significance for chart purists but also a potential psychological trigger for the broader market.
The market tickled this line to start trading last week but that test didn't last. Another true test of 2,000 could be a telling move for what's next in the SPX. A break of 2,000 to the downside would extend the downward trend initiated at the start of December and, as more bears may begin to point out, could potentially signal a broader correction.
Market volatility, volume, and system availability may delay account access and trade executions. Past performance of a security or strategy does not guarantee future results or success. Options are not suitable for all investors as the special risks inherent to options trading may expose investors to potentially rapid and substantial losses. Options trading subject to TD Ameritrade review and approval. Please read Characteristics and Risks of Standardized Options before investing in options. Supporting documentation for any claims, comparisons, statistics, or other technical data will be supplied upon request. The information is not intended to be investment advice or construed as a recommendation or endorsement of any particular investment or investment strategy, and is for illustrative purposes only. Be sure to understand all risks involved with each strategy, including commission costs, before attempting to place any trade. Clients must consider all relevant risk factors, including their own personal financial situations, before trading. TD Ameritrade, Inc., member FINRA/SIPC. TD Ameritrade is a trademark jointly owned by TD Ameritrade IP Company, Inc. and The Toronto-Dominion Bank. © 2015 TD Ameritrade IP Company, Inc. All rights reserved. Used with permission.
Posted-In: News Economics Federal Reserve
View Comments and Join the Discussion!