Could The NFL Be Driving Up Bids For Thursday Night Football?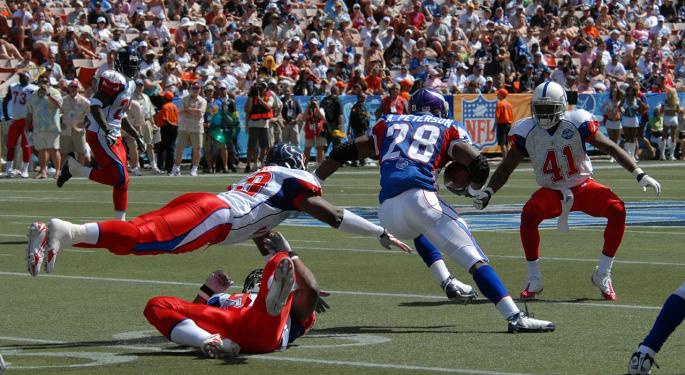 As a $10 billion business, it's of little surprise that everybody would like piece of The National Football League pie.
The NFL launched Thursday Night Football in 2006 on its eponymous network, and beginning last year, on CBS Corporation (NYSE: CBS). The Eyeball has consistently been the highest-rated network over the last decade, so it was natural the NFL would want that exposure even over its other long-time partner, Walt Disney Co (NYSE: DIS)'s ESPN. The NFL and CBS deal was worth $275 million in 2014, and rose to $300 million for the current season.
Related Link: NFL Commissioner Roger Goodell Spotted With Yahoo Execs: Is The League Going To OTT?
In the wake of these successful one-year deals, SportsBusiness Daily has reported the NFL is shopping TNF yet again. The usual suspects are included in this round of bidding: CBS, ESPN, Fox, Comcast Corporation (NASDAQ: CMCSA)'s NBC and Turner Sports.
However, tech names like Apple Inc. (NASDAQ: AAPL), Amazon.com, Inc. (NASDAQ: AMZN), Yahoo! Inc. (NASDAQ: YHOO) and Google Inc (NASDAQ: GOOG) (NASDAQ: GOOGL) are also said to be in the running.
According to SBD, "The league's initial plan would have the digital streams serve as a simulcast of the television production – with the same ads and in-game production features. The league expects bidding to start in the low $300 million for the television package, with a nominal escalator in year two, sources said."
Should these tech names be taken seriously? "NFL surely benefits from such a report. Shifts bids upward. Shrewd move by NFL if it 'leaked' names," Darren Heitner, founder of Heitner Legal and Professor of Sports Law at the University of Florida, told Benzinga.
A Closer Look
Earlier this season, Yahoo became the first digital platform to stream a live NFL game. The $20 million bid was a massive success for both parties, as about 15 million unique viewers tuned in to the stream with about 33 million worldwide streams.
"We believe it was a tremendous success. I have to give all the credit to Yahoo, they did a phenomenal job with the game," Hans Schroeder, SVP of media strategy for the NFL and NFL Network, told Fortune.
The Hollywood Reporter said TNF games are "a top priority for NBCUniversal CEO Steve Burke. Certainly, NBC Sports under Mark Lazarus has been aggressive in acquiring and keeping live contests. Last year, the company agreed to pay $7.75 billion for six Olympics, locking up the Games through 2032." NBC has broadcast the NFL's Sunday night football game since 2006; the game has been the highest-rated show on television in three of the past four seasons, according to Nielsen.
Popular sports media blog Awful Announcing also laid out several reasons NBC would makes sense, including cross-promotion with World Wrestling Entertainment, Inc. (NYSE: WWE). WWE has a desired demographic for the NFL and beginning in 2016 will have its two flagship shows (Monday Night Raw and Thursday Night Smackdown) broadcast on NBC Universal's USA Network.
ESPN took over control of Monday Night Football from ABC in 2006. In 2011, the NFL extended its MNF deal with ESPN for $15.2 billion through 2021.
With the massive popularity of streaming platforms, it seems natural the likes of Google and Amazon would also be considered.
Front-Runner?
Is there any one entity that has a firm grasp on the bid? Heitner said he isn't too keen on these big tech names.
"Based on reading recent comments from NFL executives, I find it hard to believe that the league is taking anything other than traditional broadcasters seriously," he said. "The experiment with Yahoo streaming one game this year seemed to be a success, but it was more of a Beta test than anything. The NFL must still work out bugs and bandwidth issues before it commits to a year-long streaming program."
Image Credit: Public Domain
View Comments and Join the Discussion!
Posted-In: NBC NBC Universal nfl Sports Business DailyNews Top Stories Exclusives Tech Best of Benzinga