Nike Just Signed LeBron James For Life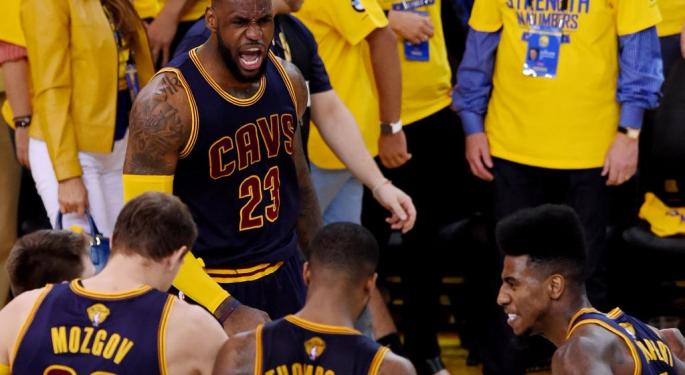 Score one for the king.
Nike Inc (NYSE: NKE) shares ticked up about 1 percent in Monday's after-hours session after an announcement that the company has signed LeBron James to a lifetime contact.
In a statement, the sports apparel and retail company said, "[W]e have agreed to a lifetime relationship with LeBron that provides significant value to our business, brand and shareholders. We have already built a strong LeBron business over the past 12 years, and we see the potential for this to continue to grow throughout his playing career and beyond."
Back in 2003, James infamously signed a record-setting $90 million contract after graduating high school -- before he even played an NBA game. James has since gone on to win two NBA titles, appear in three other Finals in a losing effort, and win the league's Most Valuable Player award four times.
He signed a two-year, $42 million contract with the Cleveland Cavaliers in the summer of 2014.
ESPN's Darren Rovell reported that, "A source close to the deal [said] it easily surpasses the 10-year, $300 million deal Oklahoma City Thunder forward Kevin Durant signed with the world's largest shoe and apparel brand last summer."
Rovell said Maverick Carter of LRMR (and James' business partner) will manage the deal, which was negotiated by Paul Wachter of Main Street Advisers, who also represented Beats By Dre in its $3 billion sale to Apple Inc. (NASDAQ: AAPL) last May.
"It intertwines the two brands forever. They become synonymous with each other," Darren Heitner, founder of Heitner Legal and Professor of Sports Law at the University of Florida, told Benzinga. "The sum is greater than its individual parts. No speculation as to whether LeBron will stay with Nike or whether the relationship is genuine." He did say the main drawback is that "each brand will not only succeed but potentially fall with the other."
Shares of Nike closed Monday at $131.63. The stock is up 37 percent year-to-date.
"It meant a lot to me even when I signed my first deal... and it means even more that they've given me this," James reportedly told ESPN's Dave McMenamin. "I don't want to be nowhere else. I'm Nike and swoosh for the rest of my life."
View Comments and Join the Discussion!
Posted-In: Darren Heitner Darren Rovell ESPN LeBron JamesNews Exclusives After-Hours Center Movers Best of Benzinga