China's Stock Market Is Crashing Again: Here Are The Real Problems At Play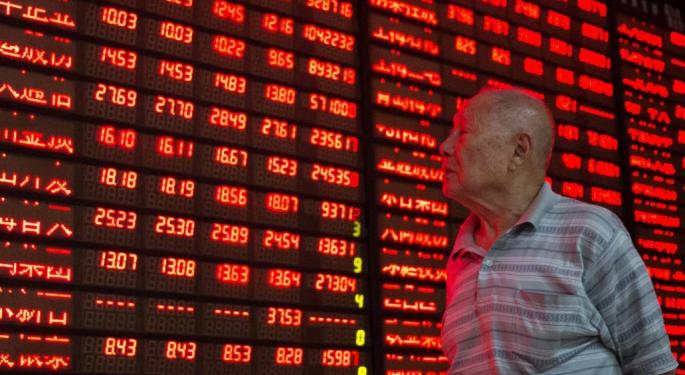 The Shanghai Stock Exchange Composite Index, the most widely accepted proxy of the Chinese stock market, dropped 5.5 percent on Friday. That marks the index's largest decline in three months -- it fell 8.5 percent on August 24.
That move, in fact, represented Shanghai's biggest one-day drop since February 27, 2007.
Although the index is still up a little over 6 percent on the calendar year, 2015 has been a volatility-driven nightmare for investors seeking growth in the world's most popular emerging market.
One driving factor for the selloff has been heavier regulation. On Thursday, Chinese brokerage Guosen Securities revealed it was under investigation, following larger peer Citic Securities, which announced a probe earlier this year. "The Securities Association of China (SAC) said on Wednesday CITIC Securities had overstated the value of some of its financial derivatives by more than 1 trillion yuan ($156.51 billion) in its monthly reports from April to September," CNBC reported.
The Real Problems: Industry And Policy
China's economy is also experiencing growing pains. The country revised its GDP growth estimates downward in September and manufacturing activity has shrank in four consecutive months.
A new report from Credit Suisse seeks to understand China's underlying problems. Several analysts visited the country and conducted investor tours in Beijing and Shanghai; in their mind, manufacturing and stimulus effectiveness are two major issues.
"There seems to be a clear divergence in China's current growth. The industrial sector is facing particular challenges...the industrial sector's nominal GDP is a key indicator of such challenges," the analysts wrote. Third quarter industrial GDP contracted by 0.2 percent, while headline GDP grew by 6.2 percent.
Investors Credit Suisse met with expect more stimulus, but "questioned the effectiveness" of such policies. Existing counter cyclical policy moves "may not be the right prescription for China's problems," the firm added.
Here's Credit Suisse's logic:
"Over the past decade, Beijing has been primarily using Keynesian-style policies to boost growth, without many structural reforms. That has failed to bring private consumption and investment back. Investment by the private sector remains muted. Chinese tourists have traveled in increasing numbers to many countries, spending an estimated RMB1tn per year, yet domestic spending is soft."
"In our view, China needs measures on the supply side, instead of on the demand side. We believe China needs to put forward structural reforms, breaking SOE monopolies, eliminating excess capacity, cutting tax rates, and encouraging innovation."
Of note, Chinese President Xi Jinping did mention supply side policies earlier this month -- the first time he's discussed them in public.
"We found that encouraging," the analysts concluded. Time will tell if their advice is taken.
Posted-In: China stock market Chinese stocksNews Emerging Markets Top Stories Markets Movers Best of Benzinga
View Comments and Join the Discussion!