Ben Bernanke Sees Serious Problems With Bitcoin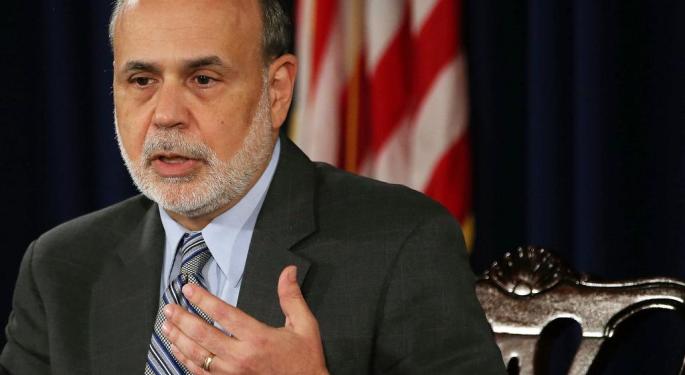 Speaking to Quartz, former Fed Chairman Ben Bernanke said that Bitcoin "has some serious problems."

Bitcoin's value peaked at $1,147.25 on December 4 and crashed to a low of $177.28 just a few months later.
Bernanke suggested that Bitcoin has yet to establish itself as a "widely accepted transactions medium."
Ben Bernanke has had plenty of time to reflect on his career and personal political views since removing himself as head of the Federal Reserve.
Bernanke, speaking to Quartz, discussed his time as leading the Federal Reserve, why he no longer considers himself a Republican, and why Bitcoin has "serious" problems.
According to Bernanke, we have entered an era where the payments system is "evolving quickly" with new approaches to payments "proliferating." However, Bitcoin itself may be flawed for two reasons: 1) the digital currency hasn't proven itself to be a "stable source of value," and 2) Bitcoin hasn't established itself as a "widely accepted transactions medium."
"But the real serious problem that it has is it's anonymity, which is a feature, and is also a bug, in that it has become in some cases a vehicle for illicit transactions, drug selling or terrorist financing or whatever," Bernanke added. "And you know, governments are not happy to let that activity happen, so I suspect that there will be oversight of transactions done in bitcoin or similar currencies and that will reduce the appeal."
Other Problems Facing Bitcoin
MIT Technology Review's Tom Simonite reported on August 28 that Bitcoin "will start to malfunction" as soon as early next year. Simonite spoke with Gavin Andresen, known in circles as Bitcoin's "chief caretaker" -- he says the currency can't process more than seven transactions per second. Visa processes thousands times that amount.
"Transactions will get unreliable and it'll get worse and worse over time," Andersen warned over the dangers of not addressing Bitcoin's issues. "My fear is there'll be no critical event that causes people to react—Bitcoin just kind of has a long slow death. I'm trying to set off alarm bells for 'You know, guys, if we don't do this, Bitcoin will be dead in four years.'"
Benzinga's Jake Mann offered Trading Academy another issue. Writing in 2013, Mann warned that a lack of central bank doesn't indicate there's a fool-proof supply control mechanism in place.
"While the sheer difficulty of [bitcoin] mining assures Bitcoin users that there won't ever be a massive supply shock in the digital market, the way that Bitcoins are created causes one enormous problem," Mann explained. "Primarily, it incentivizes miners to hoard the currency upon receiving it. This is one of the main causes of Bitcoin's price volatility."
At that time, consensus opinion at the time was that up to 25 percent of all Bitcoins mined have never entered the marketplace. Mann suggested that miners should be mandated to exchange all newly-mined Bitcoins for another currency of their choice.
Failure to do so could result in the currency experiencing additional volatility that would end up "killing" its potential, as a group of miners could essentially control the supply.
"Is that really any better than a central bank?" he questioned.
View Comments and Join the Discussion!
Posted-In: Ben Bernanke BitcoinShort Ideas Forex Top Stories Economics Markets Trading Ideas Best of Benzinga