The State Of Chinese Company Take-Private Offers: A Look At WuXi PharmaTech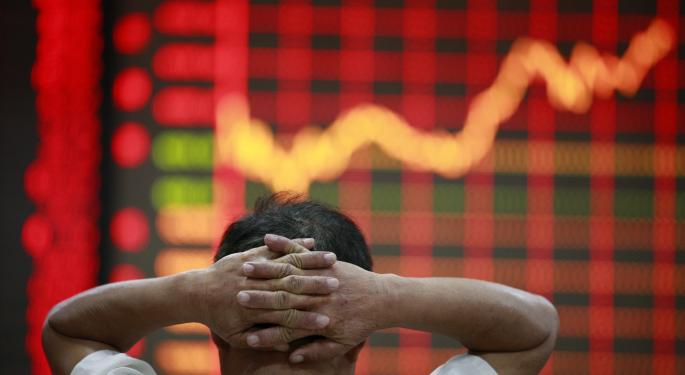 Chinese "Go-Private" deals have littered the PR feeds of investors with increased uncertainty in the global macro environment. Often times, executive management teams of these Chinese companies see value taking the company private and re-listing back in China. While nothing would look particularly interesting from a run-of-the-mill press release, diving deeper into WuXi PharmaTech (Cayman) Inc. (ADR) (NYSE: WX) SEC filings provide more insight into a conflicted buyout attempt led by Chairman and CEO Ge Li, PhD.
This specific takeout offer from WuXi highlights a trend of long standing transparency concerns, coupled with a large separation between management and investor interests.
The Takeout Offer
On April 29, 2015, a consortium to acquire WuXi Pharmatech for $46/ADS was comprised of Ally Bridge Capital Partners and Boyu Capital Fund led by Li. The independent special committee, comprised of three directors to determine fair value of the offer, discussed "tactics and strategy for negotiating an increase in consideration with the buyer group" with a Credit Suisse and Willkie Farr legal team.
Related Link: Tech Companies Hold Firm On Government Access To Encrypted Data
On August 12, Chairman of the Special Committee Walter T. Kwauk and William R. Keller met with Li to increase their takeout offer, which was an 8.9 percent premium to prior day adjusted close of $41.57/share. Li stated that the price was fair for the buyout group and would not increase their offer, citing potential financial impact of company, the RMB drop in exchange rates and volatility in the Chinese markets.
On August 14, the final documentation sent by Li's consortium was agreed by WuXi's special committee.
Li's Dominion
From the events above, which can be found in this SEC filing, the significant power Li and his group can flex during negotiations is apparent. To disregard two of the three directors recommendation on the special committee, one being the chairman of said committee, and then negotiate back to the original deal is impressive.
That being said, Li has motive to keep the deal at the original offer, as an increased consideration would cost his consortium a great deal of money. The inherent conflict of interests between Li – as WuXi's founder, chairman and CEO – and shareholders can further exacerbate a troubling trend in U.S. publicly traded Chinese companies. WuXi, however, is not the first to raise suspicion of U.S. investors.
Similar Past Situations That Raised Suspicion
Renren Inc (NYSE: RENN) recently took heat for its takeout offer from Chairman and CEO Joseph Chen. Some investors believe the go-private offer honed in on current share price instead of the potential value of their FinTech investments.
Corporate Governance Environments: Toxic Schisms?
Peter Halesworth, portfolio manager of Heng Ren Investments, has been outspoken regarding corporate governance and the schism between management and shareholder interest. For WuXi PharmaTech specifically, Halesworth told Benzinga his suspicion is geared toward the special committee.
"This should raise questions about the role of independent directors in the process and the effectiveness of the Special Committee to perform their fiduciary duty and show loyalty to shareholders by protecting their interests and pushing harder for a full and fair price.
"The Special Committee's purpose is to protect shareholders against conflicts of interest in the process. In this case, it seems the Special Committee, when confronted with this challenge, simply caved in to the Chairman and Buyers Group by not pursuing with vigor the increased bid that they recommended. It raises questions about their effectiveness, and whether shareholders are being paid a full and fair price."
Halesworth continued, "In the midst of a proposed transaction the specific objective of the Special Committee should be to maximize value for the company's shareholders."
Related Link: Depomed Validates Horizon Pharma Rejection Offer
Another Expert's Opinion And Concern
William Blair Healthcare Research Analyst John Kreger, a sell-side analyst who covers WuXi PharmaTech, is also somewhat concerned. However, he shared, "While it seems interesting, and perhaps troubling that Dr. Li was able to simply dismiss the committee's request for a higher price, if you look at the disclosure about the market check (June 30th disclosure from link), there appears to be no competitive bidders.
"It looks like they reached out to nine potential bidders and all declined to bid. At that point, the special committee had very little leverage to force a higher bid."
What's Known Thus Far
This is true; however, there is little information for the investors regarding the special committee's findings via their financial advisor Credit Suisse. They only disclose that of the nine bidders contacted, seven declined to comment and two did not respond.
Knowing how the market test was conducted, determining which companies were called and possessing a gauge of interest for each potential bidder would have provided much more transparency.
Benzinga attempted to call and send an email to WuXi PharmaTech, Li, as well as Walter Kwauk and William Keller to determine these details. No replies have been received at time of publication.
Despite no malfeasance proven, law firm Olshan Frome Wolosky partner, Andrew Freedman, said investors are often stuck with a double-edged sword, as there is little legal recourse in China and notably the Caymans, where WuXi PharmaTech is incorporated, due to lack of corporate governance.
Freedman, an expert in M&A and shareholder activism, stated these take-private deals by WuXi, Renren, Jiayuan.com International Ltd (NASDAQ: DATE), China Nepstar Chain Drugstore Ltd.(ADR) (NYSE: NPD) and other U.S.-listed Chinese companies continue to be grossly undervalued.
Looking Ahead
On November 25, shareholders will vote regarding the go-private offer. It seems likely that the offer will be completed, according to William Blair's Kegler. Whether Li's takeout offer is a fair deal remains subjective.
However, it is known from digging through WuXi SEC filings that there are details absent from the company's go-private dealings.
The SEC declined to comment regarding this article and WuXi PharmaTech specifically. Whether these takeout offers are or need to be addressed by SEC in the future will likely hinge on mainstream public knowledge of the issue. In the meantime, it's a worrisome trend for U.S. investors who continue to call out U.S.-listed Chinese companies with little to do but voice their displeasure.
View Comments and Join the Discussion!
Posted-In: Ally Bridge Capital PartnersNews Health Care Legal Management Global Exclusives General Best of Benzinga