Vetr Crowd Downgrades BlackBerry: Here's What It Means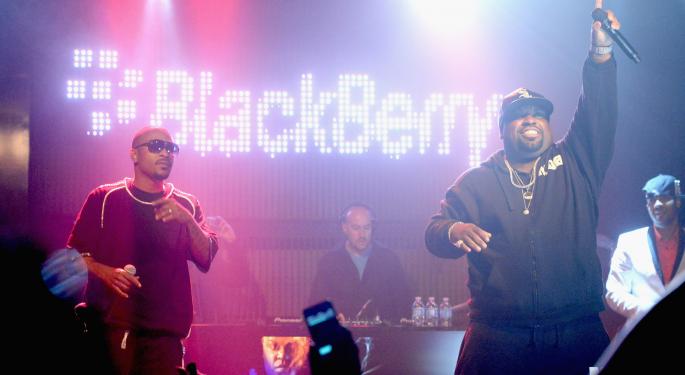 Shares of BlackBerry Ltd (NASDAQ: BBRY) have lost more than 30 percent over the past year.
The Vetr crowd, a crowd-sourced stock rating platform, downgraded BlackBerry to four stars.
Less than 2 percent of Vetr users are holding BlackBerry's stock in their watchlist.
BlackBerry's drop has prompted many investors to debate if the stock is trading at a compelling valuation at its depressed levels.
BlackBerry's stock hit a 52-week low of $5.96 shortly after the company reported its second-quarter results. The stock has since rebounded above the $7 per share level and gained momentum after its CEO, John Chen, stated that the company is making its new PRIV secure smartphone available in the US and Canada.
Vetr, a crowd-sourced stock rating platform, has downgraded BlackBerry's stock to four stars from a prior 4.5 stars. Less than 2 percent of Vetr users are holding BlackBerry's stock in their watchlists, while 66 percent of the crowd's ratings remain bullish.
The crowd has an $8.14 price target on BlackBerry's stock, representing nearly 10 percent upside to its current price.
Related Link: Is Good Technology Acquisition Good For BlackBerry?
User Garry Lewis argued that BlackBerry's stock is "simply oversold." He noted, "investors only look at one part of the company, the smart phones. Blackberry is much more then that."
BlackBerry Ranks Higher Than Microsoft, Trails Apple
BlackBerry's crowd-sourced four-star rating compares favorably to Microsoft Corporation (NASDAQ: MSFT)'s three-star rating. The Vetr crowd, on average, holds a $54.02 price target, representing a potential appreciation of less than 2 percent.
71.8 percent of Vetr's members have a Sell recommendation while 7.7 percent recommended a Hold rating. The remaining 20.5 percent recommend the stock as a Buy.
Finally, the Vetr crowd is more bullish on Apple Inc. (NASDAQ: AAPL)'s stock than they are on BlackBerry. The crowd-sourced price target of $129.26 represents a potential upside of more than 13 percent. Meanwhile, 82.5 percent of members have a Buy rating on the stock, 6.9 percent recommend a Hold rating and only 10.6 percent recommend a Sell rating.
Posted-In: john chen PRIV Secure Smartphone VetrDowngrades Crowdsourcing Analyst Ratings Tech General Best of Benzinga
View Comments and Join the Discussion!