Volkswagen's Troubles Continue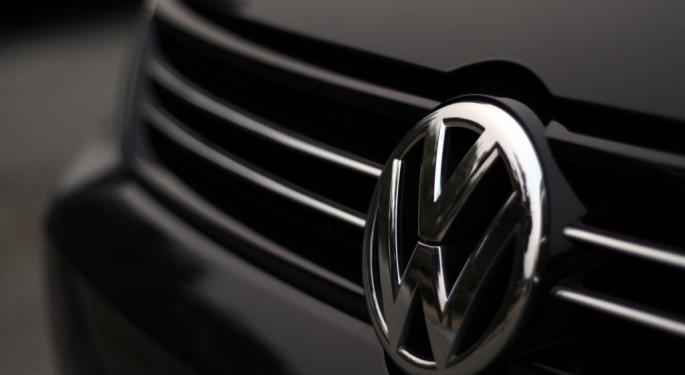 Volkswagen AG (ADR) (OTC: VLKAY) acknowledged that the emissions-testing scandal is in reality larger than what has previously been disclosed.
An approximate 800,000 additional cars could have been affected and could add at least $2 billion in incremental costs.
According to The Wall Street Journal, the scandal has widened and now includes a "broader set of infractions" that could affect 800,000 additional cars and may add an incremental $2 billion in costs and damages.
Volkswagen said it understated the level of carbon-dioxide emissions when it was asked to supply the relevant information to regulators. As such, the emission-testing scandal may have extended beyond diesel cars.
Related Link: Volkswagen Denies New EPA Allegations Regarding Porsche & Audi Motors That Cheat Emissions Tests
The company acknowledged in September that up to 11 million diesel-powered cars contained a "defeat device" that was able to alter tailpipe emissions of nitrogen oxides when the cars were being tested in a laboratory setting.
WSJ added that Volkswagen's supervisory board indicated they are "deeply concerned" about the new disclosures. The company's board of directors will soon gather to "consult on further measures and consequences."
"From the very beginning I set out to ensure that we mercilessly and completely clear up this situation," said Volkswagen Chief Executive Matthias Müller. "This is a painful process but there is no alternative."
Despite the ongoing scandal, Volkswagen recorded a 6 percent increase in diesel-powered car sales in Germany throughout October. Meanwhile, Volkswagen's U.S. October auto sales rose 0.24 percent year-over-year, although the increase in sales were overshadowed by double-digit percentage gains recorded by Ford Motor company (NYSE: F), General Motors Company (NYSE: GM), and Fiat Chrysler Automobiles NV (NYSE: FCAU).
View Comments and Join the Discussion!
Posted-In: Emissions Testing Scandal Matthias Muller VolkswagenNews Global Best of Benzinga