A Look At Earnings Season So Far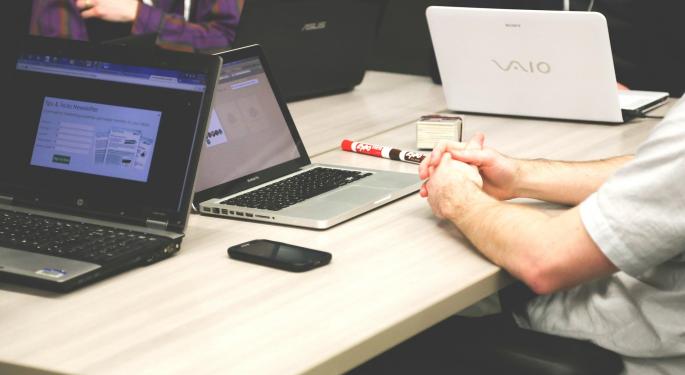 While earnings season is still in full swing, enough companies have released in order to provide traders with a clear picture of how the market has been performing.
The third quarter has been a disappointing one for most firms, leading analysts to predict that combined earnings for S&P 500 companies will be down -2.7 percent from the same period last year.
What Happened?
A stronger dollar has limited the success for many U.S. firms, which have seen the greenback's strength eat away at their margins. Slower economic activity has also weighed on many firm's bottom lines, and low oil prices took their toll on energy stocks.
Were There Any Bright Spots?
While this quarter's earnings season has painted a gloomy picture, there were some sectors that appeared to be weathering the storm.
The tech sector has a particularly strong performance with Apple Inc. (NASDAQ: AAPL), Microsoft Corporation (NASDAQ: MSFT) and Google's parent firm Alphabet Inc (NASDAQ: GOOG) (NASDAQ: GOOGL) all showing solid growth.
Related Link: 25 Tactical Trades Goldman Sachs Is Watching Amid Earnings Season
Airline stocks also came out on top with low oil prices boosting their margins. American Airlines Group Inc (NASDAQ: AAL), United Continental Holdings Inc (NYSE: UAL), Delta Air Lines, Inc. (NYSE: DAL) and Southwest Airlines Co (NYSE: LUV) saw passenger numbers increase, as more people traveled at the same time that their expenses decreased.
Stocks That Rallied
While earnings reports as a whole may have missed the mark, that doesn't mean investors haven't been reacting to guidance.
Several stocks have seen huge movements over the past few days following upbeat reports. The technology and healthcare sectors have seen the largest positive swings, with several companies gaining more than 20 percent during the 24 hours following their earnings release.
NetGear, Inc. (NASDAQ: NTGR) beat its earnings and revenue forecast and saw its stock increase 28.87 percent on its earnings reaction date.
Other impressive performances from the tech sector included a 21.29 percent increase from Gigamon Inc. and a 20.36 percent increase from QLogic Corporation.
In the healthcare space, athenahealth, Inc (NASDAQ: ATHN) gained 26.90 percent following its earnings release and IGI Labs saw a 23.44 percent lift.
Stocks That Sank
Pandora Media Inc (NYSE: P) has been one of the biggest losers so far this earnings season, as the company's disappointing third-quarter revenue and cautionary guidance led investors to flee from the stock.
Following its third quarter earnings release, shares of Pandora lost 35.49 percent. Other firms that also suffered from dismal results were Skechers USA Inc., which fell 34.29 percent, and Apollo Education Group Inc., which lost 32.22 percent.
What Do The Swings Mean?
Big changes during earnings season can mean different things to different investors. For some, a poor result is reason to sell, while for others it can be an opportunity to buy.
Long-term investors can use times like earnings season to buy companies struggling in the current environment, but from which long-term improvements are expected.
Earnings season can also be stressful, as some investors may see some of their holdings decline sharply following a lackluster report. However, for a portfolio that is diversified with long-term investments, the swings earnings season brings about shouldn't be a cause for concern.
Separating What Matters
Some analysts believe that earnings season is a good time to take a look at which stocks are trading on verifiable strength and which have been artificially inflated by the Fed's easy money policies.
The market's reaction to an earnings report could provide some insight as to whether a stock is a strong pick. Regardless of whether a company hits or misses its earnings expectations, a positive market reaction suggests that the stock will continue to perform going forward.
By this logic, companies like eBay, Amazon and 3M Co are all destined to continue improving as their earnings results were met with an upbeat reaction. Companies like Netflix, YUM! Brands and Wynn Resorts all had poor reactions.
Image Credit: Public Domain
Posted-In: 3M Amazon Apollo Education Group earnings season EBAYTop Stories Markets Trading Ideas Best of Benzinga
View Comments and Join the Discussion!