Michigan Vs. Michigan State: The Trademark Battle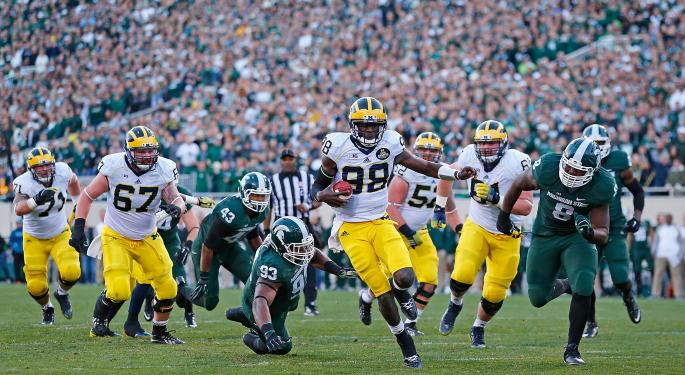 When it comes to licensing, Michigan is the clear victor over rival university Michigan State.
MSU currently has 17 live registrations, while U of M has 54.
The two schools report millions of dollars in annual revenue from athletic licensing and royalties.
Some new data collected by Ann Arbor office of intellectual property law firm Brinks Golson & Lione provides an offbeat perspective on the rivalry between the University of Michigan and Michigan State University that culminates in the head-to-head cash between the two top-15 ranked football teams this Saturday. Shareholder Michael Spink and associate Briana Emerson dug through registered trademarks to determine exactly what and how much each school has trademarked.
Trademark Battle
While the victor on the gridiron remains to be determined, Spink found that Michigan is the clear winner of the trademark battle. "MSU has 17 live registrations, 6 pending registrations, ad 8 unregistered trademarks; while U of M has 54 live registrations, 12 pending registrations, and 16 non-registered trademarks," he explained.
Michigan State's live registrations include the block "S" and Spartan helmet. Michigan's live registrations include the block "M" and a word mark for the "BIG HOUSE," as well as "MAIZE RAGE" and "M GO BLUE."
See Also: For Michigan Football, Is It Harbaugh Or Bust?
The Hog Call
While these trademarked phrases may seem odd to Michigan outsiders, Spink notes that they are not nearly as odd as some of the trademarks by other NCAA schools. For example, the University of Arkansas overcame an initial 2014 trademark rejection for the school's Razorback "hog call" before submitting additional information and eventually obtaining a registration.
According to Spink, the hog call is defined as "Woooooooo. Pig. Sooie! Woooooooo. Pig. Sooie! Woooooooo. Pig. Sooie! Razorbacks!"
Big Business Of Licensing
The offbeat college athletic trademarks may be entertaining, but NCAA licensing is big business for colleges. In financial documents covering June 2013 to July 2014, Michigan State reported more than $1.7 million in athletic licensing and royalties, while Michigan reported a whopping $7.4 million in licensing and royalties over the same period.
View Comments and Join the Discussion!
Posted-In: Brinks Golson & Lione Michael Spink michigan Michigan State MSU NCAAEvents Top Stories Best of Benzinga